The future of print was on full display at the company's recent analyst briefing.
(Above: Vanessa Yanez, world wide head of print communications and Tuan Tran, president, imaging, printing, and solutions business for HP Inc. receive analyst feedback after the two-day event.)
HP's Power of Print analyst briefing in Palo Alto, CA, January 22-23 was more than just an homage to print. It offered the 40+ imaging industry analysts from around the world a look at the printing giant's current initiatives, strategies, and future roadmap.
A revolving roster of HP executives made presentations and hosted small roundtable discussions during the day and a half event. Product demos and lab tours were also on the agenda.
These are the lessons learned from this well-structured, engaging, and informative event.
Print is Alive and Well – In HP's view, print is still alive and well, but is transforming. HP executives cited inkjet, industrial print, and 3D printing as transformative print-related growth opportunities.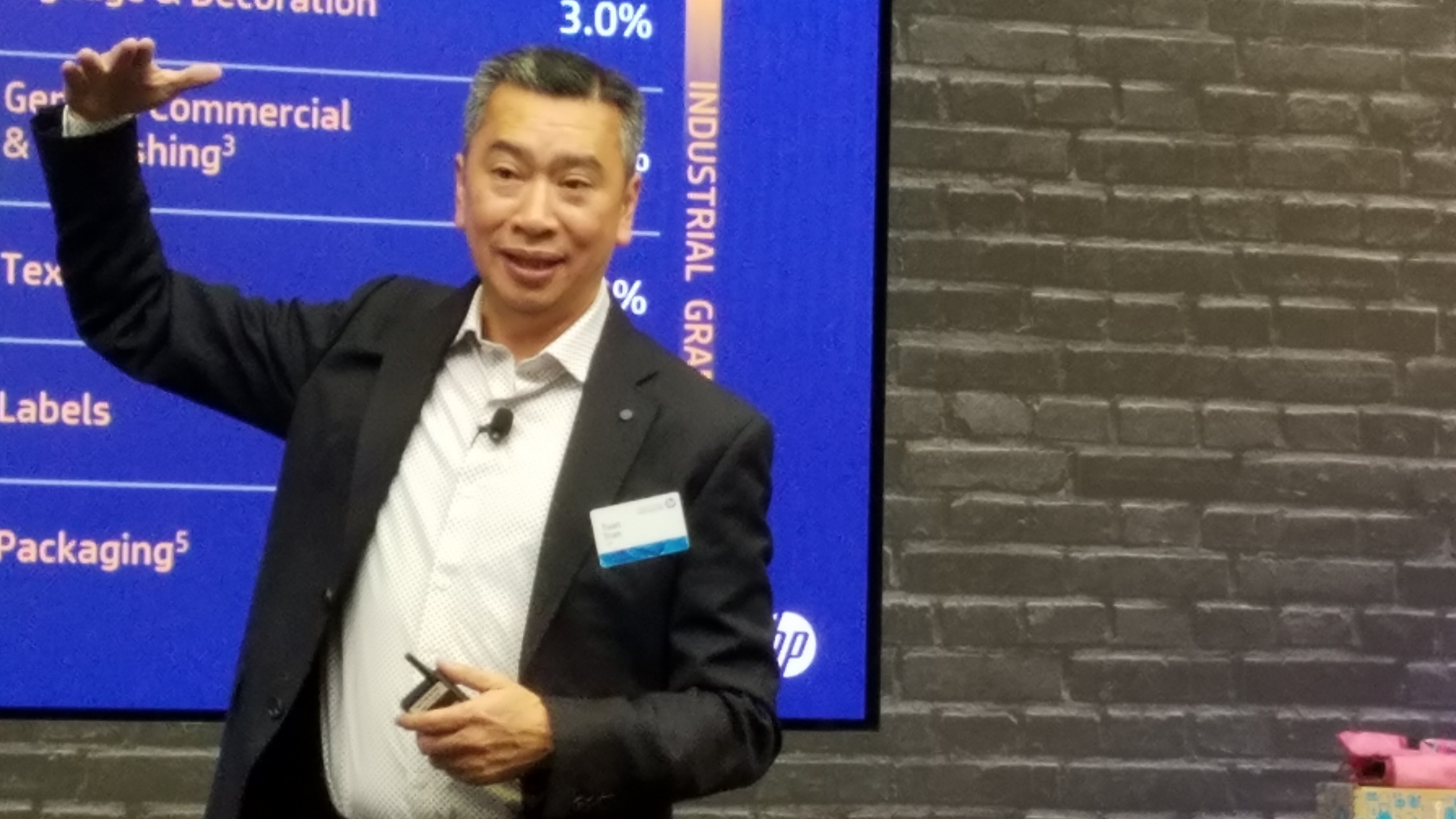 Above: Tran describes Segment of One and the many opportunities this approach will bring to HP.
Introducing Segment of One – Think of Segment of One as personalization. As Tuan Tran, president, imaging, printing, and solutions business, HP, Inc., explained in his opening remarks, "Segment of One is about getting closer to customers and using data and analytics to design better solutions, products, and experiences tuned towards the individual." HP will apply the Segment of One concept to products targeting office and graphics customers as well as home users.
Rethinking HP's Business Model for Print – The 4½% decline in the home market for its products was described by Tran as HP's biggest challenge even though HP's printing business represents $20 billion of the $200 billion printing market. The office and graphics markets represent HP's best opportunities for growth. HP is changing its business model so it can grow in this environment. "Our business model is centered around hardware at low prices and supplies at high prices," explained Tran. "When the market is in a growth phase you want to drive that model and get printers in every single office. When you're in a state where you're flat, you want to relook at that model. We've driven supplies so high we have created an arbitrage opportunity." The new model is centered around higher hardware prices and lower supply costs. "We want to give [customers] the best printing experience and the lowest printing costs," emphasized Tran. "We have an opportunity not only to grow in terms of revenue but reinvent the printing market."
Instant Ink Program Poised to Expand – HP's Instant Ink program is a monthly subscription service for ink. Currently, HP has more than 5-million customers worldwide in the Instant Ink program. That number is sure to rise as the company expands the program beyond home users into micro-businesses and SMBs. Instant Ink is available in 18 countries today and the plan is to offer the program in more countries in Europe and Asia. More devices will be included in future Instant Ink programs and a wider variety of Instant Ink programs will be available for customers to choose from. For example, one plan offers 700 pages a month for $19.99.
Subscriptions, the Next Wave – The subscription economy is here to stay and continues to evolve, observed Anneliese Olson, global head, print category for HP. Thanks to Instant Ink, HP is at the head of the curve with a subscription model for the print world. Look for HP to leverage a subscription model even more with its hardware, supplies, solutions, and services going forward.
HP's Large Print Vision – HP is ramping up its development of large format, industrial print (think commercial and packaging), and high-value solutions. It is focused on disrupting the industrial print market with its Indigo and PageWide technologies. Packaging was identified as a significant growth area along with workflow solutions for vertical markets such as publishing. Look for personalization (Segment of One again) to impact the large format and industrial print space as well with Santi Morera, general manager and global head, graphic solutions business, noting there is a need for personalized products today and no supply chain to produce it efficiently.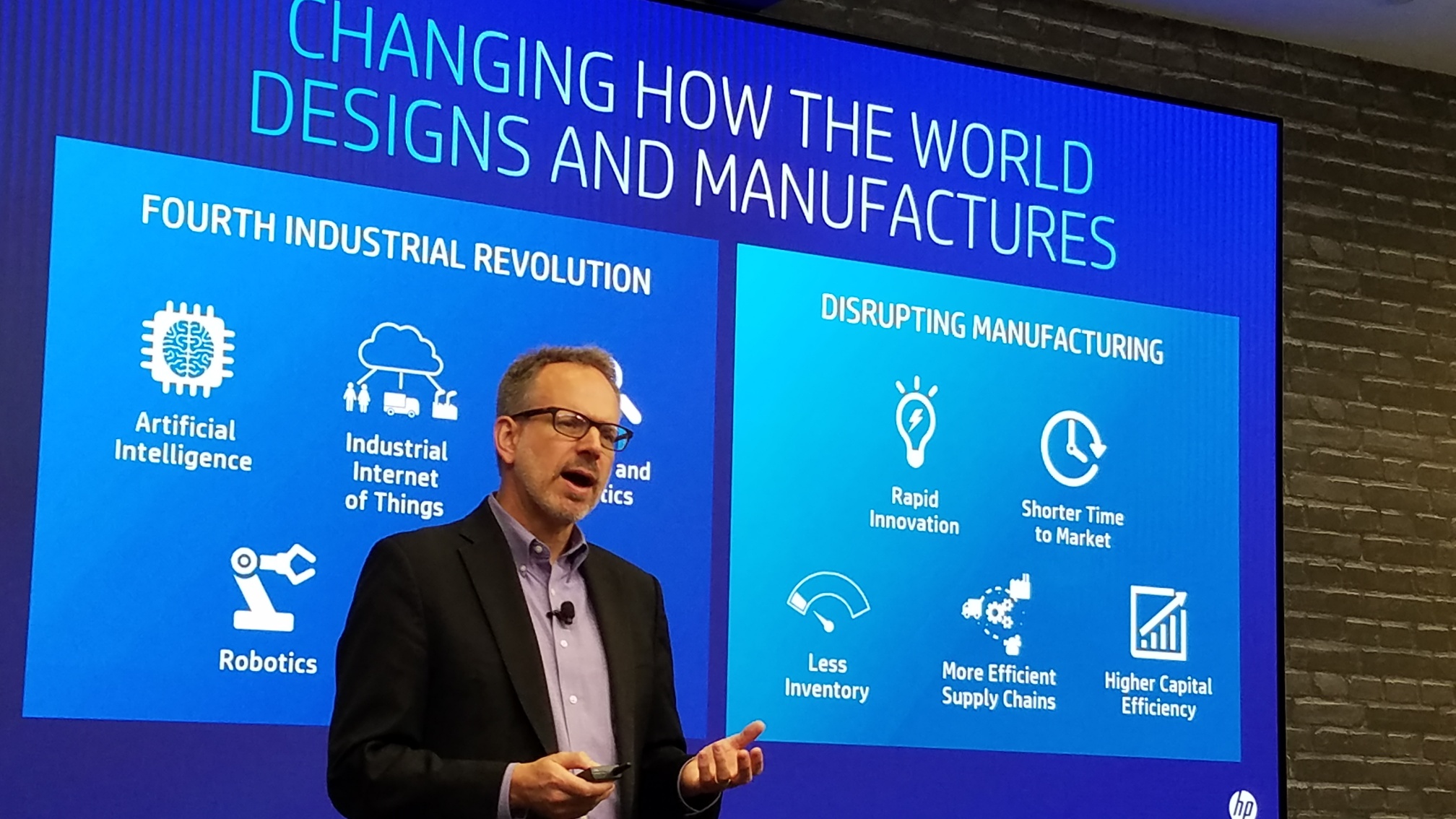 Above: Philipp Jung, general manager & global head of vertical industries & end-to-end applications, 3D printing and digital manufacturing, discusses HP's strategy for 3D print. 
Committed to 3D Printing – A session on 3D printing as well as a visit to HP's 3D printing lab showcased the investments HP has made in this segment as well as applications that will drive this technology into the future. The jury is still out as to whether the independent dealer channel is the right channel to sell 3D printers but based on what we heard and saw in Palo Alto, HP will be at the forefront of 3D printing no matter what channel is selling these devices. "3D is a $5 million market for HP but could be $50 billion or $100 billion depending on how much of that we can go after with our technology," stated Tran.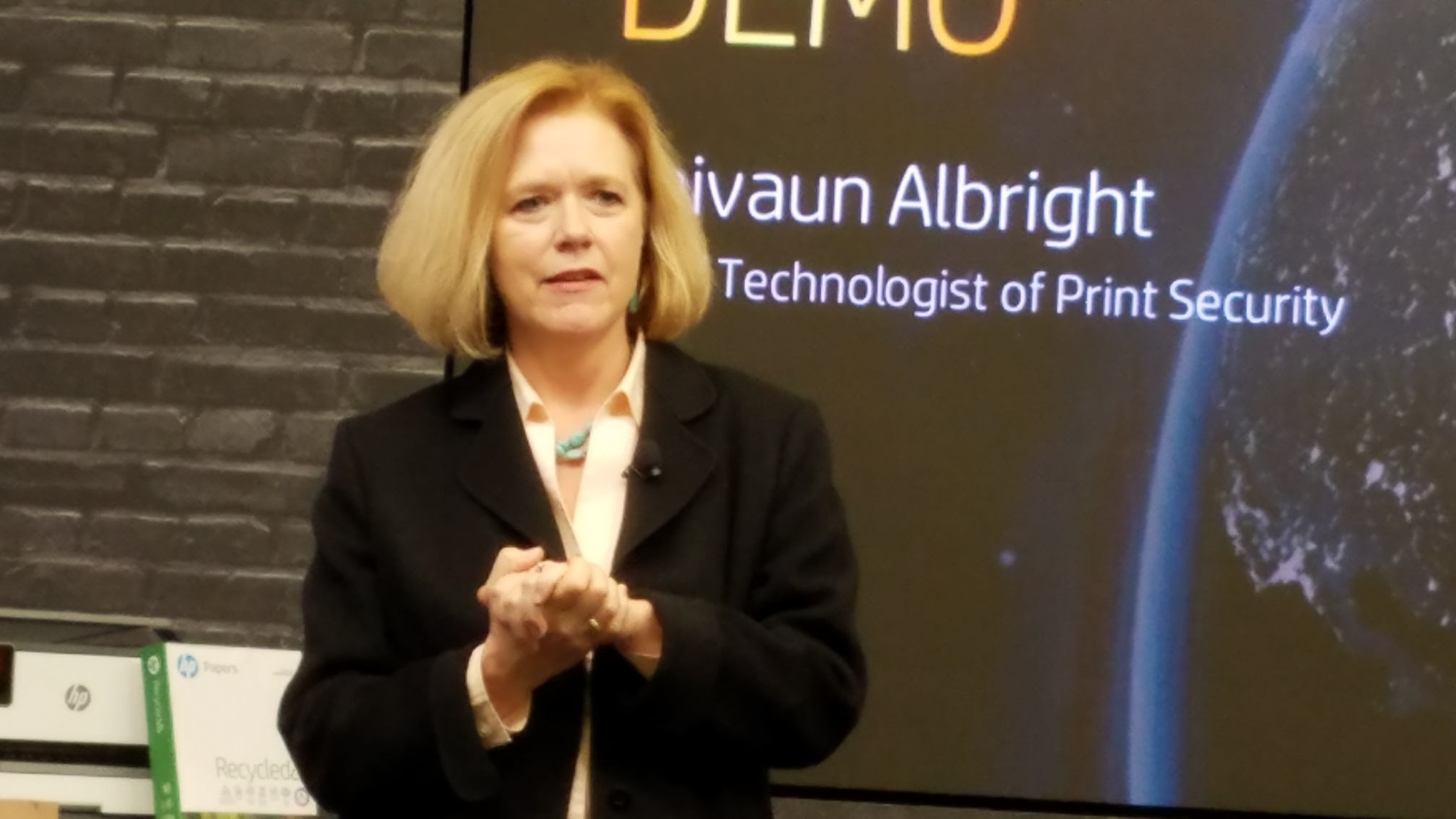 Above: Shivaun Albright, chief technologist, printing security, office printing solutions, LaserJets, underscores HP's commitment to print security. 
HP = Print Security – HP has a well-earned reputation for its leadership role in raising awareness around print security and multiple speakers addressed the company's security efforts. Security is now a key milestone for every product, program, and solution that HP develops.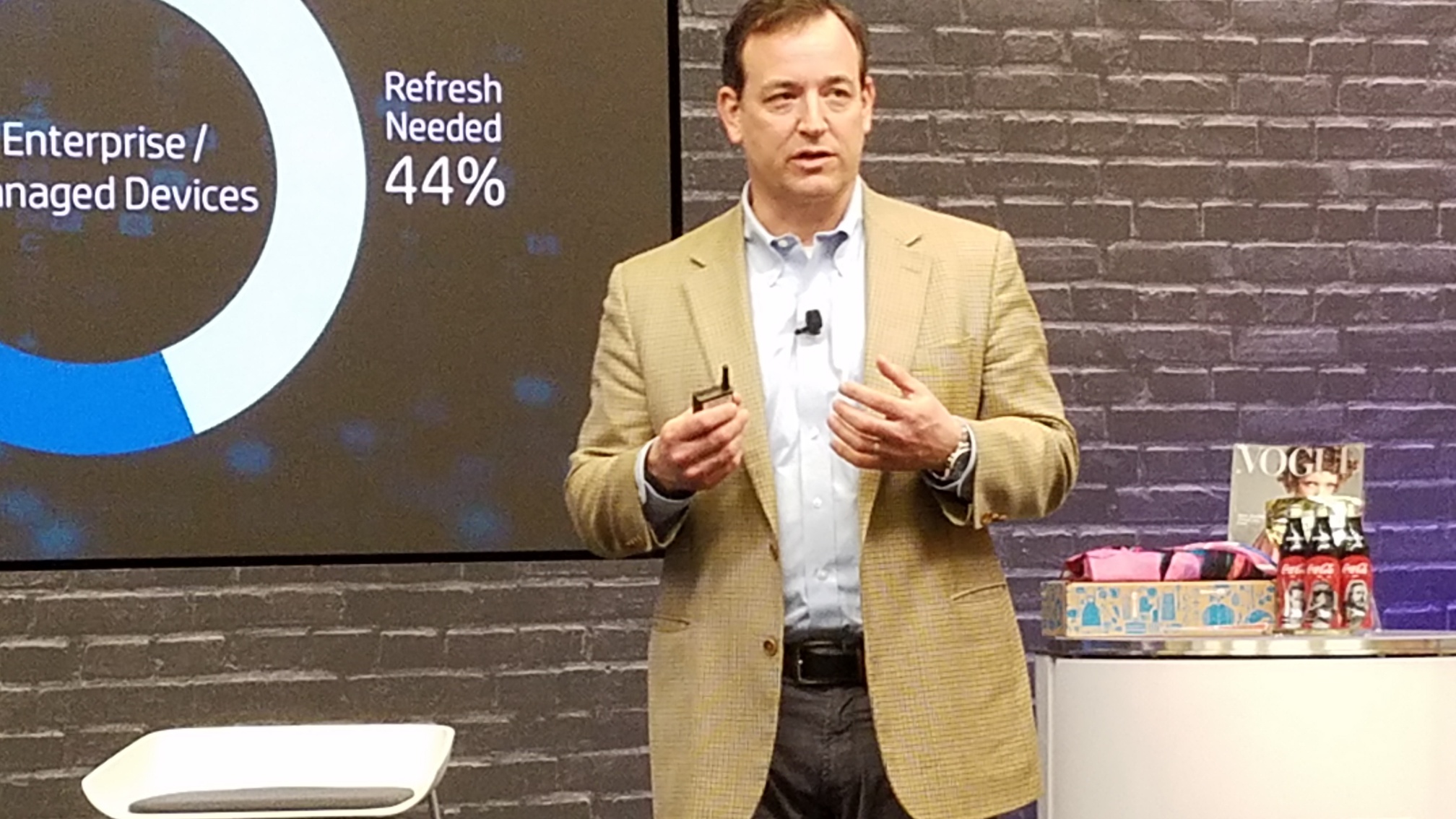 Above: Dave Prezzano, general manager and global head, HP print services and solutions business, explains how much smarter HP devices are becoming. 
Cloud Control – HP is out to modernize and transform the print services experience and transform the industry. It's looking to accomplish this by delivering what was described as intelligent and purpose-built devices that are always connected to the cloud. According to Dave Prezzano, general manager and global head, HP print services and solutions business, these devices will know you, know how you work (Think Segment of One), and offer a compelling cost structure. He added that they will also anticipate your needs, technical challenges, and security challenges before you're even aware of them and they'll be so integrated into how you live and work and you cannot imagine life without them.
Environmental Leadership & Stewardship – HP has long been vocal about its environmental initiatives, including the sustainability report its been publishing since 2001 as well as its new partnership with World Wildlife Fund. Olson and Linda Walker, senior director, forests, World Wildlife Fund, spoke about the two organizations' efforts to combat climate change. And Olson cited a study that reported 83% of millennials and Generation Z said it's important for companies to implement programs that improve the environment and that is a factor in where they buy and where they want to work. She also noted that 75% of people in those younger generations would change their purchase behavior around reducing their environmental impact.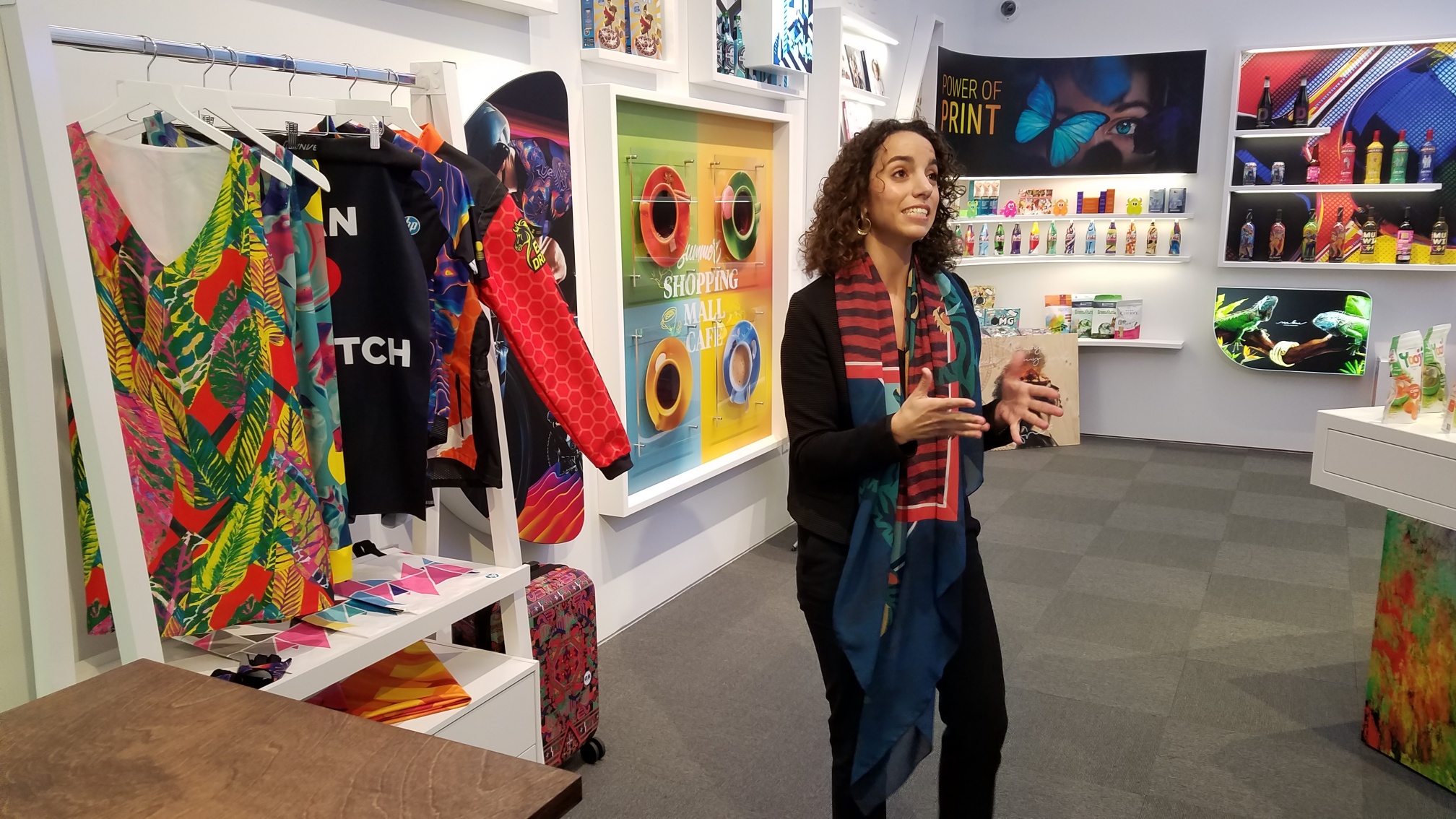 Above: Ana Valenti Campderros, print program manager, shows off examples of HP's textile printing output as well as examples of personalized printed materials during a tour of the HP facility.
And the Rest – Not to place the following in the same category as the Professor and Mary Ann from the original Gilligan's Island TV show theme song when they were originally referred to as "and the rest," but there were a few other issues of note that HP executives touched on during the meeting. One was a demonstration of a shipping application using Workpath, the cloud platform and developer ecosystem for HP MFPs introduced last fall that allows print resellers, developers, and customers to create applications that enhance business processes. Mobile printing was also on the agenda. In addition to the large group presentations, there were small group presentations with some of the products and services discussed in those sessions under NDA. Although I can't report on the specifics, it's still safe to say that HP has some interesting products and services in the works that expand the power of print.
No Comment on Xerox – At the start of the first day's program, Tran explicitly stated that HP executives would not be addressing the Xerox situation at this event. And they didn't.
Access Related Content

Visit the www.thecannatareport.com. To become a subscriber, visit www.thecannatareport.com/register or contact cjcannata@cannatareport.com directly. Bulk subscription rates are also available.