Seiko Epson strengthens its printhead business.
Pictured above: Seiko Epson Chairman Minoru Usui shares an overview of the company's inkjet printhead business. 
At a business briefing for analysts and press, held by Seiko Epson Corporation in early May, Chairman Minoru Usui and President Yasunori Ogawa presented an overview of the company's inkjet printhead business.
The business has been limited to customers in Japan and a small number of customers in China, Europe, and the United States since 2019.
The size of the inkjet printhead market is currently less than 100 billion yen (U.S. $928 million) and has a compound annual average growth rate of 6%, according to Ogawa.
"About half of this growth is expected to come from China in terms of the regional composition ratio where graphics, signatures, and corporate applications represent the primary growth drivers," said Ogawa. "Up until now, we have been doing business for a limited number of customers, mainly in Japan. We will expand in China, Europe, and the United States."
He predicts this will greatly contribute to Seiko Epson's revenue growth. The company has set a sales revenue target for inkjet printhead sales of 30 billion yen (U.S. $279 million) in 2021 and 90 billion yen (U.S. $836 million) in 2025.
"We are looking to achieve a market share of 70% by 2025," noted Ogawa. The company's current market share in this segment is 18%.
Looking at the 2025 sales target, 30 billion yen is expected to come from high-productivity areas such as print on demand, printing on corrugated materials, and packaging, as well as new areas such as circuit printing, 3D, and cells.
"From a mid- to long-term perspective, we want to exploit the advantages of our PrecisionCore technology, while actively leveraging collaboration and open innovation to further expand applications," said Ogawa.
Getting Ready 
In preparation for this projected growth in printhead sales, Seiko Epson completed construction of a PrecisionCore print-chip factory in 2018 at its Hirooka office in Shiorjiri, Japan. The company is also offering extremely competitive pricing on its finished products. To further spur sales, Epson will replace heads sourced from other companies in China, its largest potential market, and will do the same in Europe and the U.S. It will also expand its product lineup and collaborate with drive board and ink manufacturers.
Protecting Intellectual Property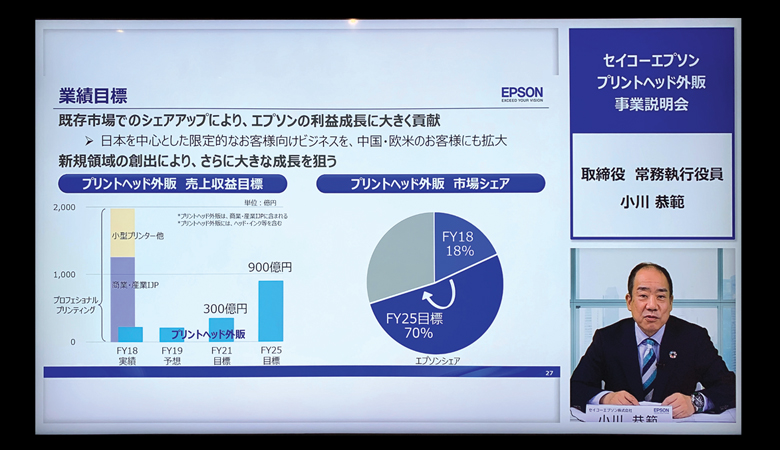 Above: Seiko Epson President Yasunori Ogawa talks about the company's plan to expand its inkjet printhead business in China, Europe, and the United States during a virtual press briefing.
For example, the one-inch printhead that is used by disassembling the company's office printer for the Chinese market is now partially in circulation in that market.
"Just as we have achieved market expansion with our regular products, replacing modified products for the large-capacity ink tank products, we will realize the replacement by providing customer value," added Ogawa.
Usui reported that the company has been dealing with the heads being irregularly distributed. As a result, Seiko Epson has taken steps to protect against this and to protect the company's intellectual property. To do that, Epson has acquired a wide range of intellectual property centering on the head structure, driving method, materials, and manufacturing process.
"The profit margin of head sales is high," said Usui. "The price of the four-color PrecisionCore head is about the same as that of the Eco-Tank printer's main body."
In China, the company is enhancing its external sales activities. Last fall, in addition to promoting external sales at an exhibition, Seiko Epson invited customers to its new factory at the Hirooka plant to see its quality-control system and production capacity. Also, at the exhibition, several Chinese large-format printer manufacturers exhibited printers with Epson printheads, as well as a large-format machine capable of one-pass printing.
"In the printer market in China, finished product manufacturers do not make everything, but the division of labor such as board manufacturers and ink manufacturers has advanced very much," stated Ogawa. "Hearing that Seiko Epson is strengthening the external sales for its heads, board manufacturers and ink manufacturers got in touch with us, and we are now building a collaborative structure with a major Chinese company."
Inkjet Manufacturing Innovations 
According to Seiko Epson, the existing commercial and industrial printing market is as large as 22 trillion yen (U.S. $204 billion), of which only 2 trillion yen (U.S. $18.6 billion) is digitized, and significant growth due to digitization is expected. The company also anticipates new growth opportunities through innovations in the inkjet manufacturing process.
According to Usui, Epson's PrecisionCore printhead (the 2-inch S1600 and 4-inch S3200 can be aligned and combined to easily form a line head. Head variations are facilitated with the same chip.
"Precision Core is overwhelmingly superior in performance and quality," noted Usui. "It is also cost- competitive. It can be used for all applications used with other piezo heads."
When used as a line head, a few dozen heads are used per color.
"From now on, we will change the mass market, commercial industry segment, and all areas of printing with PrecisionCore, which is environmentally friendly and suitable for digital output," said Usui. "We will create a new world of printing and a world of manufacturing with the people who have the same ambition."
Access Related Content
Visit the www.thecannatareport.com. To become a subscriber, visit www.thecannatareport.com/register or contact cjcannata@cannatareport.com directly. Bulk subscription rates are also available.