Canon improves the customer experience with a new virtual service tool for dealer service techs.
Above: Canon enhances the customer support experience through a "Virtual Presence" that merges augmented reality, video, and voice.
Service is not an option, even in a pandemic.
Just ask Lee Farrell, vice president and general manager, Canon U.S.A., who oversees Canon's Engineering Services and Solutions Division. His group and support teams—Canon's Customer Solutions Center, call center, engineering team, field teams—are running 100% remotely as they jointly support Canon's dealer partners.
Canon's Customer Solution Center could always work remotely in case of severe weather events such as hurricanes. Now that capability is being tested.
"We had the technology in place, so it didn't take long to get everybody to have the capability to work from home," said Farrell.
Even though overall service and support activity has slowed down nationwide, Canon support personnel remain at the ready to provide high-quality service and support to dealer technicians and engineers responsible for servicing essential businesses during the pandemic. Canon's Customer Solutions Center has expanded its virtual assets to all of its field and engineering technicians to more effectively service and connect with its channel partners and customers.
Getting the Picture
In January, Canon upped its service and support capabilities by providing dealer techs with what Farrell described as "a virtual presence" to assist them when servicing devices in the field. When a technician can't solve a problem by talking to Canon support via telephone, he can use an app on his mobile device to send a video to show what he is seeing at the device. Support personnel can then reach in as if they were using their hands, a pointer, or a whiteboard, and circle the problem area, and ask the tech to check that area of the device.
"The technology brings together voice, video, and augmented reality," said Farrell, describing what some now call merged reality or mixed reality. "This allows us to reach out and touch what the field technician is working on through their mobile device. We're looking over their shoulder and giving them advice," he said.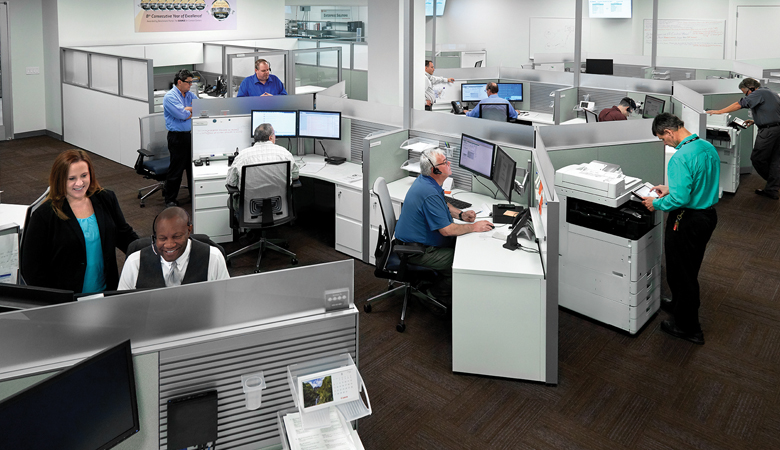 Above: Canon's Customer Solution Center pre-pandemic. It is now operating 100% remotely.
On the software side of the business, remote technology is commonplace for monitoring and managing devices as well as installing software and updates. On the device side, this is something new. Farrell views this technology as a differentiator, not only for Canon but for Canon dealers.
"We are well on our way of implementing these new technologies ahead of the industry," said Farrell. "We're going to keep doing that to improve the customer experience."
According to Farrell, Canon's "virtual presence" technology has resulted in faster solutions, an improved first-call fix rate, and improved device uptime through a more efficient and productive support experience. During the pandemic, this capability has become more valuable as techs want to resolve problems quickly to limit their exposure.
"And most importantly, it enhances the overall customer experience, whether it's from us to our service partners or our service partners to their customers," said Farrell.
Good Timing
The timing for the introduction of this new technology could not have been better. Improving the customer experience as well as productivity and efficiency are all directly related to profitability. That is a huge selling point. However, the current crisis has encouraged dealers who might have been slow to adapt pre-pandemic to take advantage of this technology.
Acknowledging that the pandemic "has accelerated acceptance and usage," Farrell predicts, "When we come out of this, I truly believe you'll see more dealers continue to use remote technologies."
# # #
Virtual Education
Education is critical to the successful implementation of any new technology. Online training was commonplace in the industry before the pandemic, and now that dealers and their service departments have more time on their hands, there has been an increase in the number of techs logging in to enhance their skills and knowledge.
"Since the activity has slowed down, a lot of our service partners are taking advantage of it to educate or provide advanced training to their technicians," said Farrell. "We're seeing a tremendous amount of activity with our online training, as well as through virtual training. Our online training has increased by about 200% through April."
Another important element of Canon's education and training for its dealer service managers and service techs is its regional Engineering and Solutions Summits. Summits originally scheduled for June will be replaced by a Virtual Summit Series scheduled for later this year.
"We're going to take all those modules and information we wanted to communicate to our service leaders out there for our partners and present it virtually," said Farrell.
The virtual summit will feature live sessions and include a Q&A during which participants can text Canon personnel questions and have them answered in real-time. The summit will provide information on Canon's advanced technologies, Canon Smart Services, virtual technology, upcoming product releases and service related to the new products.
Will virtual summits replace the annual Engineering and Solutions Summits?
Farrell doesn't think so, and if he had his way, would prefer that doesn't happen.
"You need both. The interactions, meetings, and discussions with people are important. And you can augment that with the technology. I would like to continue to have in-person meetings. A personal touch is required, especially in customer support."
# # #
Microsoft Teams Work
During the pandemic, Canon has been using Microsoft Teams to communicate with each other.
"It's been phenomenal," said Farrell. "We have meetings throughout the day with our groups to keep in touch and to keep all initiatives, projects, and support moving forward. The combination of Outlook and Teams has been working well."
What Farrell misses, however, is working and speaking directly with his team.
"It's hard to replace that," he said. "And even with customers, going out and meeting and talking with them and understanding their concerns and thoughts. We built a great support organization by listening."
Access Related Content
Visit the www.thecannatareport.com. To become a subscriber, visit www.thecannatareport.com/register or contact cjcannata@cannatareport.com directly. Bulk subscription rates are also available.