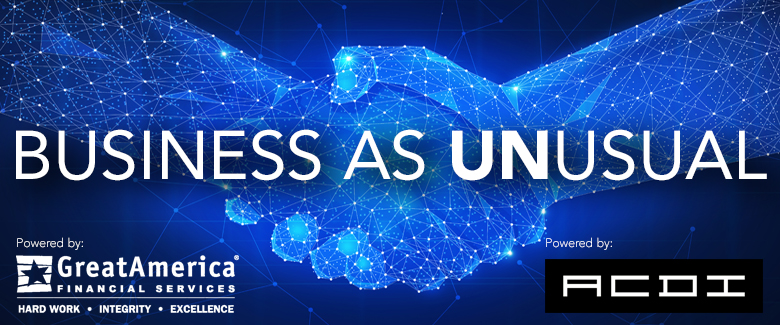 We think we speak for everyone in the industry when we say we can't wait to get back to business as usual.
As we navigate the challenges presented by COVID-19 that have forever changed the business landscape, we can't help but conclude that "Business As Unusual" will be with us for a while…and so are the video calls.
We hear you. Video calls are getting _____________ (please feel free to fill in the blank).
So, why not have some fun with us on your next video call and help us raise money for a very worthwhile cause?
Our own Carol Cannata has designed the perfect attire for your next video conference call—a #BusinessAsUnusual T-shirt printed for us by our friends at Ricoh. We'll be sending out a bunch of them to subscribers (along with some "instructions" to help you look marvelous on your next video call).
Please tweet a screengrab pic of you wearing the T-shirt on a video call using the hashtag #BusinessAsUnusual and tag @CANNATAREPORT.  For each tweet, we'll donate $25 up to a maximum of $10,000 to Hackensack University Medical Center's COVID-19 Response Fund for team members.
We look forward to showcasing some of the pics online and in future issues of The Cannata Report.
Until we can travel again and see our partners and subscribers, it's #BusinessAsUnusual and we can't wait to "see" you on twitter.
Access Related Content
Visit the www.thecannatareport.com. To become a subscriber, visit www.thecannatareport.com/register or contact cjcannata@cannatareport.com directly. Bulk subscription rates are also available.