Exhibits 1.39-1.43
Service is an essential component of any dealer operation and a big factor in customer retention. That's why we examine the makeup of a dealership's service and technical operations, focusing on break-fix techs and technical specialists for MPS and MNS.

We determined the number of service technicians per dealer by asking how many break-fix technicians they employed and how many "other" technicians are on staff to service MPS and MNS clients.
Over the past few years of conducting this Survey, what we've discovered is that with the emergence of MPS and MNS, and changing job requirements, it has become challenging to identify a long-term employment trend for technical personnel.
Going back to 1985, the first year of our Survey, dealers employed techs with a ratio of 1 to 40, where one tech was responsible for servicing 40 copiers in the field. Back then, analog copiers were much less reliable than today's digital copiers, resulting in many more service calls.
As reliability has become less of an issue and remote maintenance becomes more widely used, we've seen a decline in the number of traditional break-fix technicians employed by dealerships. This year's Survey finds the average number of break-fix technicians per dealer (Exhibit 1.39) is 18.8, up from 16.1 a year ago, and more in line with the 19.2 in our 2018 survey. It will be interesting to see how that number shakes out in next year's Survey, as techs were some of the first employees furloughed and laid off as businesses shut down across the country during the pandemic.
What we have discovered over the years is that some dealerships use the same break-fix techs to handle MPS and MNS. That's less likely to happen with the larger dealerships that have their own MNS departments. Those dealerships are more likely to have dedicated MNS personnel.

Exhibit 1.40 details the number of technicians employed to support MNS and MPS. The average number of dealers employing techs for MNS and MPS fell from 6.4 last year to 4.9 this year. We attribute this change to more break-fix techs enhancing their skillsets and becoming more proficient in supporting MPS and MNS engagements. More technical support staff employed by dealers are earning IT certifications, which makes their role more valuable to their employer, and provides the dealership with greater credibility with its ability to handle more IT-related issues.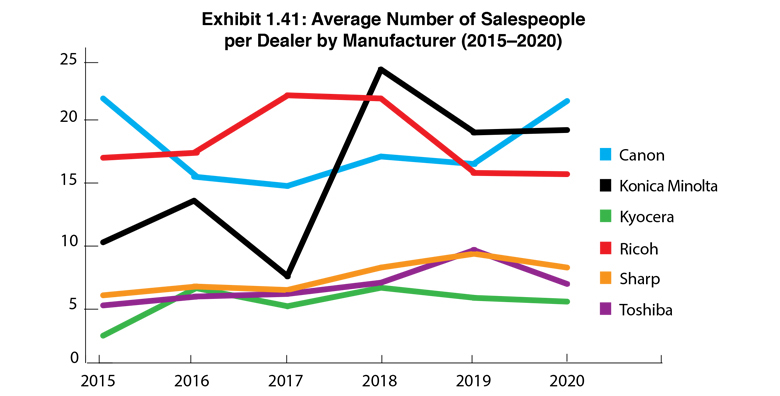 Looking at the sales side of the business, Exhibit 1.41 details the average number of sales reps per dealer across all manufacturers. We began showing this data in 2009 during the economic downturn. Looking back, we saw a sharp spike in the average number of sales reps from 2009 to 2010, but then, a series of declines and spikes in subsequent years, with a significant spike from 10.37 in 2017 to 14.1 in 2018, and down to 12.8 this year, which is almost on a par with the 12.7 in last year's Survey. These spikes can be attributed to various factors, but the reality is that sales is a high-turnover profession, and even the most successful dealerships find it challenging to maintain sales personnel. That's why hiring and retention continues to rank as one of a dealer's top three challenges in our Survey. That, probably more than anything else, is responsible for the peaks and valleys in our charts related to the average number of sales reps employed by dealerships.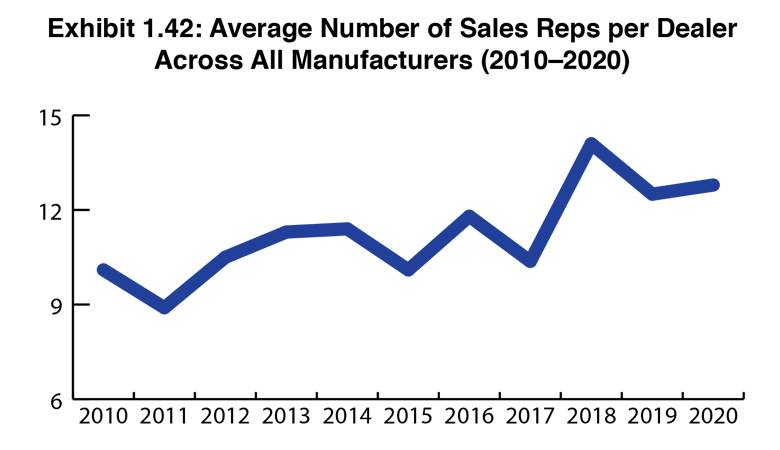 In 2016, we began examining staff employed by dealerships to provide sales support for MPS and for MNS. During the past few years, we have been seeing a decline in the number of sales support staff for MPS. As MPS has matured and become more commoditized, virtually anyone on a dealer's sales force can sell it, and the need for a MPS sales specialist is no longer necessary.

MNS is a more complicated sale, and a specialist is an asset to a dealership as the average down-the-street sales rep is often not responsible for selling IT-related services on their own. Last year, we combined MPS and MNS sales support staff, but after further review are separating these two positions this year in Exhibit 1.43. This revised exhibit identifies the number of MPS and the number of MNS personnel supporting a dealer's sales reps, as well as the number of personnel who support both MPS and MNS. The average number of sales support staff across the Big Six dealer universe was 2.9.
As dealers look to offset erosion in the channel caused by declining print volumes, MNS remains a high growth opportunity. For many dealers, offering MNS was an asset during the pandemic, as managed services operations kicked into high gear to meet the needs of customers with significant numbers of employees working from home. There is a lot of speculation that even after the pandemic subsides, many employees will continue to work remotely, which will make managed services even more critical to the dealer channel.
Access Related Content
Visit the www.thecannatareport.com. To become a subscriber, visit www.thecannatareport.com/register or contact cjcannata@cannatareport.com directly. Bulk subscription rates are also available.