Exhibits 1.11-1.14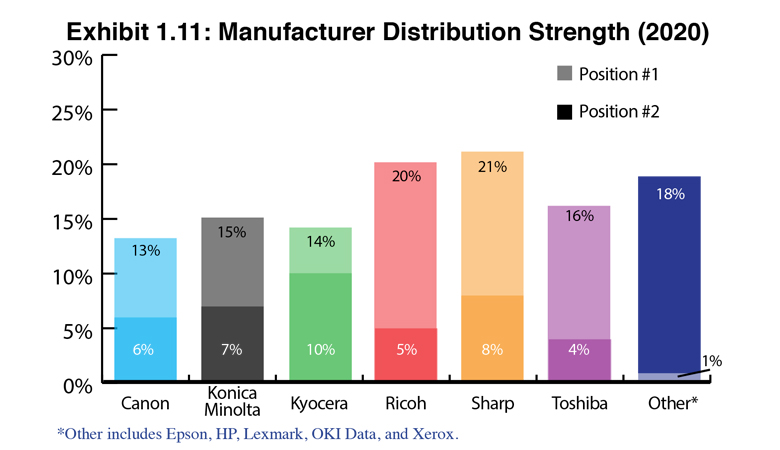 To identify the manufacturers with the strongest distribution, we examined how they ranked as a dealer's primary and secondary equipment supplier (Exhibit 1.11). Even though the percentage of dedicated dealers carrying a single line has not seen any radical fluctuations during the past few years, our Survey shows a significant number of dealers carrying two, three, and four A3 lines. For 63% of dealers, one line is not enough.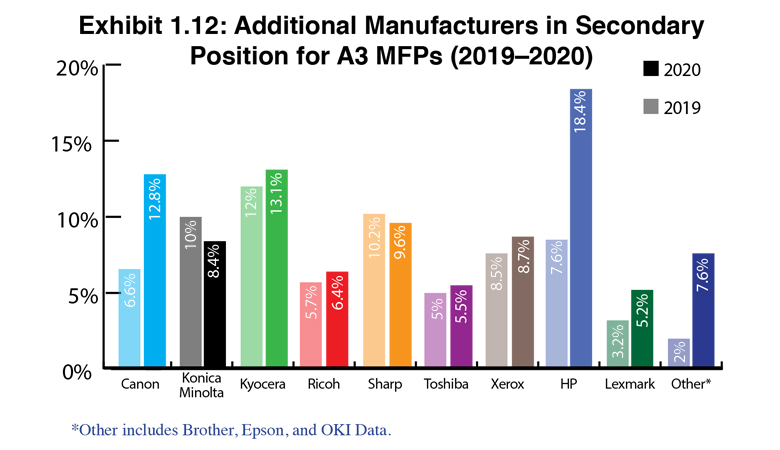 Exhibit 1.12, Additional Manufacturers in Secondary Position for A3 MFPs, offers some interesting comparisons to the previous year's Survey. In this chart, we present the percentages of the various manufacturers who were identified as a dealer's second, third or fourth line. As we have referenced in previous Survey analysis, this order (second, third, fourth) is sometimes arbitrary. Depending on the performance of an additional line in terms of sales during the Survey year, this could determine the order of placement. Because of this, there often isn't always consistency in the percentage manufacturers receive from on year to the next when we identify the manufacturers in a secondary position. Instead, we view this as a yearly phenomenon, but one still worth tracking.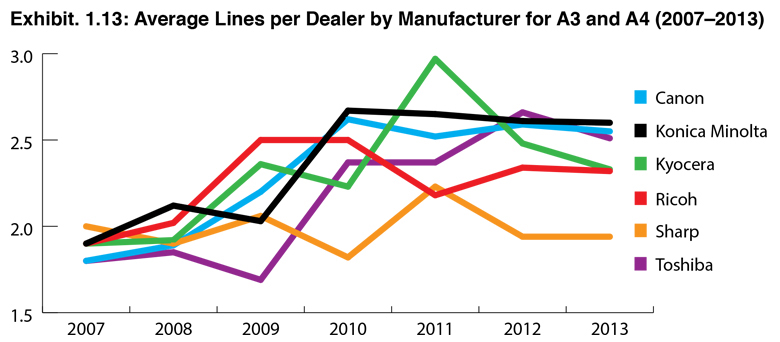 There are two companies we want to highlight this year as secondary A3 manufacturers—HP and Xerox. Twenty-four (7%) dealers selected HP as their No. 2 manufacturer, and 19 dealers (5.56%) selected Xerox. Both companies are aggressively courting dealers and those efforts show in our Survey. Although we did not have any dedicated Xerox dealers participate in our Survey this year, Xerox was still well represented as an A3 provider.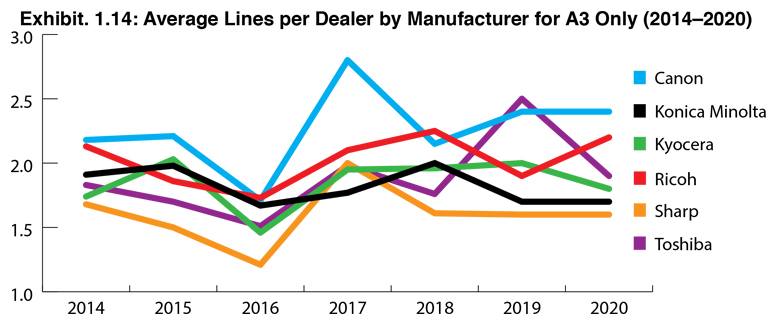 The impact of HP and Xerox is even more notable when we look at how those companies were represented as a secondary A3 supplier overall, not just in the No. 2 position. Even though Xerox's percentage of 8.7% is comparable to last year's 8.5%, these numbers still represent a healthy percentage. Meanwhile, HP jumped from 7.6% in last year's Survey to 18.4% this year. That is a healthy percentage of independent dealers who have turned to HP as a secondary A3 line. Combined, HP and Xerox are responsible for 27.1% of the additional A3 MFPs in a secondary position.
We saw modest fluctuations in the performance of the Big Six in the No. 2 position and in secondary positions from our previous Survey. It is nothing to get alarmed about. The Top 3-tier OEMs (Canon, Konica Minolta, and Ricoh) are more likely to be identified as the secondary line by their peers in the top tier, but less likely among the second-tier players (Kyocera, Sharp, Toshiba). That can be attributed to a combination of more dedicated dealers among this group (Konica Minolta notwithstanding among the Top 3), as well as a larger percentage of dealers with revenues under $5 million. For the second consecutive year, we also examined how likely a dealer who identified Canon, Konica Minolta, or Ricoh as their primary manufacturer was likely to select either Brother, Epson, HP, Lexmark, OKI, or Xerox as their secondary manufacturer. Last year, 25% of dealers representing Kyocera, Sharp, or Toshiba selected one of those companies as their secondary partner. This year, that percentage grew to 30%.
Last year, only 16% of dealers representing Canon, Konica Minolta, or Ricoh selected one of those secondary vendors, while that percentage saw an uptick to 34% in this year's Survey.
Access Related Content
Visit the www.thecannatareport.com. To become a subscriber, visit www.thecannatareport.com/register or contact cjcannata@cannatareport.com directly. Bulk subscription rates are also available.