A3 MFP Lines Per Dealer
Exhibits 1.1-1.5
Starting with our 2014 Survey, we began separating the A3 and A4 MFP lines. From 2004 through 2013, the number of lines per dealer was impacted by the number of dealers that selected an A4 MFP provider as their second, third, or fourth line. By separating the two product lines we can better show how A4 MFPs are impacting the dealer channel, and better reveal the strength or weakness of an A3 manufacturer's distribution.
In this year's Survey, 662 A3 MFP lines were reported across respondents from the Big Six dealer universe, comprising dealers representing Canon, Konica Minolta, Kyocera, Ricoh, Sharp, and Toshiba. The average number of lines per dealer for that Big Six universe is 1.9, down from 2.0 a year ago.
Considering the many acquisitions of the past five years, and the entry of HP into the A3 space, we had been expecting the number of lines per dealer to be much higher, closer to 2.5. We are rethinking that summation and based on what we have seen in the last three Surveys, we now expect this lower number to hold relatively steady for the foreseeable future. In our estimation, the pandemic has likely put the brakes on dealers adding additional lines, at least in 2020.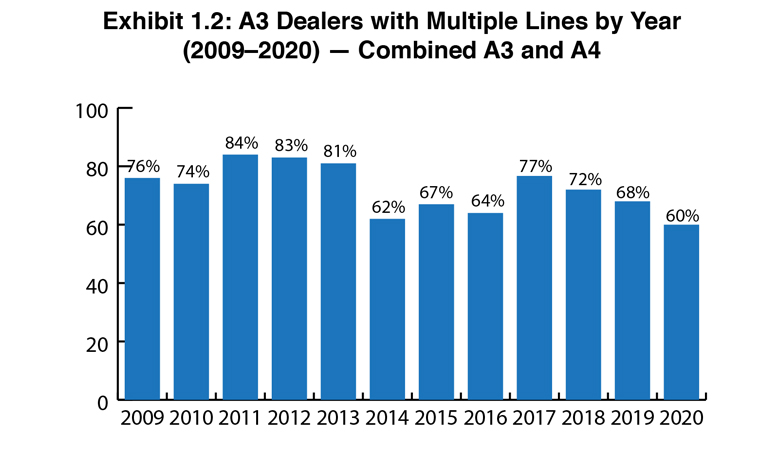 The challenge dealers' carrying multiple lines continue to encounter is identifying a niche for these additional brands. At one time, an additional line filled a gap in the primary A3 manufacturer's A3 offerings, but that argument carries less weight today as most A3 product lines across the Big Six universe are on a par with each other.
If we are going to see any disruption in the A3 universe, it will come from HP. The company has a significant A3 initiative in place as it looks to expand its presence in the independent dealer channel. Nearly 20% of Big Six dealers participating in the Survey identified HP as one of their A3 suppliers. That's up from 17% in last year's Survey and 12% in 2018. Considering how long the Big Six have been entrenched in the A3 mindset of the dealer channel, HP is making inroads in penetrating the channel.

Another interesting observation we made while tabulating the A3 lines per Big Six dealer (Exhibit 1.5) is the number of dedicated Sharp dealers (43 of 72). We'll be discussing dealer dedication later in the Survey, but we'd like to offer kudos to Sharp for leading the way in dealer dedication within the Big Six universe. Yes, much of that has to do with the size of those dealerships (smaller dealers tend to focus on a single line), but with competitive market pressures as they are, it is increasingly difficult to keep dealers from adding a second line.
Access Related Content
Visit the www.thecannatareport.com. To become a subscriber, visit www.thecannatareport.com/register or contact cjcannata@cannatareport.com directly. Bulk subscription rates are also available.