Young Influencer Allison Holmes has been on the ascent since joining Sharp three years ago.
While the path to career success is a long one, sometimes exciting opportunities can pop up early. Sharp Product Management Specialist Allison Holmes had only been in her current role for a year when she spoke to a packed house at Sharp's 2019 annual dealer meeting in Las Vegas last October. As a recent college graduate, Holmes never imagined she would be called up to the big show—literally—quite so soon.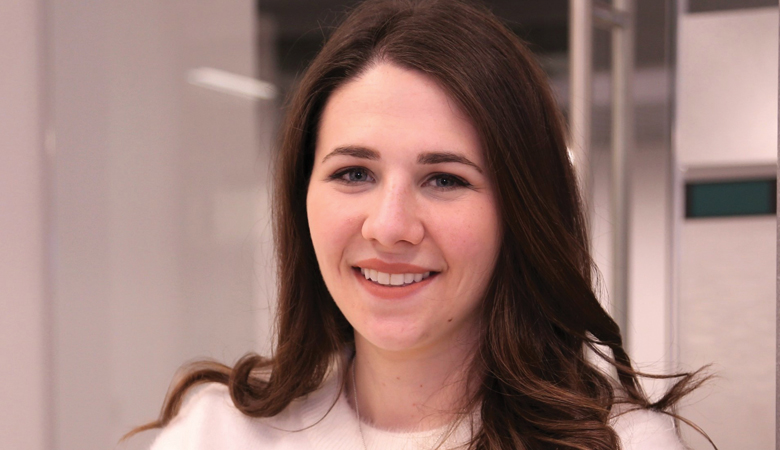 "My public speaking experience is in a college classroom," Holmes laughed. As a marketing major at Ramapo College in New Jersey, she was "aware of Sharp as a company," but didn't know her path would take her there until she dropped into a career development event hosted by the college. "The Marketing Roundtable," a panel of experts and alumni from local companies in the area, featured a Sharp employee. She networked, stayed in touch, and reached out after graduation, landing a coveted job at the OEM, but not in marketing.
Like many in this industry, before Holmes could understand what Sharp does and who its customers are, she had to pay her dues in the sales department.
"It was a very down-the-street, old-school sales rep kind of position," she recalled. "I had a small list of accounts given to me, and everything else was, go out and hunt for new business."
Though she admits she did well at sales, Holmes knew she would regret not giving marketing a try since that had been her original plan.
"I wanted to explore a marketing role and know that I tried every avenue that I thought I was interested in," said Holmes.
Her familiarity with the products and the business landscape from her time as a sales rep gave her a big leg up in the interview process, and quickly thereafter, she was working right upstairs from her old sales desk in the product management department at Sharp's corporate offices. It was then she realized the true value of her sales experience.
"There is a disconnect, probably at many companies, between sales and marketing," observed Holmes. "There are some gaps here where I noticed that we're not always thinking from a salesperson's perspective or even a customer's perspective. That was critical for me entering the group. My managers even looked to me for advice. They'd ask, what did you think about that when you were selling? It was nice to give my feedback and feel valued in that way."
Though she'd landed the job she wanted, Holmes was aware that the pressure only increases as you move up the ranks.
"I was very worried that maybe I wouldn't amount up to the role, or that I wouldn't belong once I started," she said. "I just wanted to take everything in at the beginning as much as possible. If I wasn't invited to meetings, I tried to ask if I could sit in on a lot of meetings, observing in the background to see how all the other departments and my department worked together. They did just throw me into the work with assistance along the way. However, the hands-on work and being able to observe what everyone in my department does on a day-to-day level helped me ramp up into the role pretty quickly."
Mentorship also provided a key boost to Holmes' burgeoning career at Sharp, and it continues to play a vital role today.
"My mentor is my manager Tony Titone (Sharp's senior marketing manager)," said Holmes. "We work as a team every day. Even now, taking on more roles on my own, we still bounce ideas off each other all the time. He's a great mentor."
One of the biggest differences between Holmes' product management role and her previous position in sales is how much more collaborative it is. A product manager has to synthesize the contributions of many different teams that are focused on very different things, and Holmes credits Titone with how quickly she's adapted to this new way of working and thinking, a far cry from her days on the sales desk.
"He encouraged me to walk around the office, introduce myself to people," said Holmes. "In the product management role, you speak with people from a lot of different departments. Now that I've been into it for over a year, I've finally collaborated with finance, channel marketing, sales, order processing. There are so many departments that we have to stay on top of and make sure that whatever our goal is for our product, that it's being translated."
At 26 years old, Holmes is the youngest member of her team, and that makes her especially aware of how different generations have different work habits and preferences, all contributing to the workplace culture.
"I'm aware of it in a positive way," said Holmes about her demographic. "Because of it, I was given opportunities that I may not have received in some situations. I had an opportunity to speak on our road shows in a presentation format in the spring. Because it worked out and I succeeded with that, now doors seem to be opening for me in that aspect, presenting opportunities. That's a company message that we're trying to drive home to our dealers and our customers, that [Sharp is] evolving with today's workplace."
Last year's Las Vegas event was Holmes' first dealer meeting, an experience she describes as both "overwhelming" and "rewarding." Spending her days on the convention floor, taking breaks only to duck into a training room and lead seminars about the products she manages, she somehow found time to prep for the biggest event of her professional life so far, joining her department head and Vice President of Product Management Shane Coffey up on the general discussion stage in front of 1,000 people. To prepare, she took her pen to paper, a novelty for many 20-somethings.
"I like to hand-write things, even though that seems like it's against the grain for a millennial to do," explained Holmes. "One of my hobbies is that I love reading, so I like having a physical book and writing things down before I type them up. I didn't over-rehearse it, because I wanted it to be authentic."
One of the things that helped the most was a suggestion from Coffey.
Holmes recounted, "He had me walking the stage beforehand, saying, 'You can't go up unless you walk on the stage first!' So, he had me walk the stage before everyone came in."
The event went well, and it is likely the first of many. In retrospect, Holmes marveled at how quickly the opportunity appeared.
"I was so shocked when I heard that I would be speaking, and I am still so grateful," said Holmes. "I was nervous because when you're given an opportunity like that, you want to make sure you're good, but I thought that would come a couple of years down the road with a different title. I had the lowest title on the stage for the whole event, so that was an honor."
Now, not even three years after completing her undergraduate degree, she is the one speaking at career events at her alma mater Ramapo College, recently participating in the very same marketing roundtable that kicked it all off for her.
Mentorship is a two-way street, after all.
Access Related Content
Visit the www.thecannatareport.com. To become a subscriber, visit www.thecannatareport.com/register or contact cjcannata@cannatareport.com directly. Bulk subscription rates are also available.