Exhibits 2.35-2.36For eight consecutive years, we have asked dealers to identify the companies—excluding the hardware manufacturers and leasing companies—that provide them with the software and support to compete effectively. And for the third year in a row, we have asked dealers to identify the ECM/document management provider that provides the best pre- and post-sales support, as well as the print management provider that offers the same.
Before we separated these ratings into those two categories, software was challenging to track because there were so many types available to dealers. There is still a wealth of software providers to choose from in these categories, including the OEMs with their home-grown solutions.
To clarify, we think that some dealers, or their reps who fill out our Survey, aren't fully versed about the various capabilities of software providers.  They sometimes identify a print management company as an ECM/document management provider or vice versa, or a software company whose software doesn't provide either of these capabilities. Only 187 of the 385 dealers (49%) participating in our Survey selected an ECM/document management provider, and 192 of the 385 dealers (50%) participating in our Survey selected a print management provider. As a result, the percentages we are reporting in each of these categories only include dealers that responded to these two portions of the Survey rather than the entire universe of dealers participating in the Survey.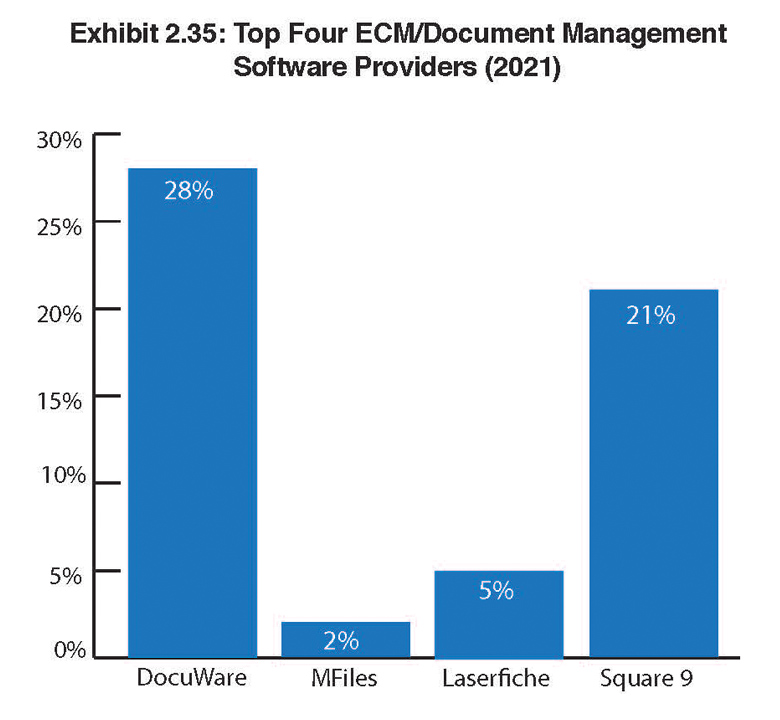 As we've seen the last three years in the ECM/document management category, two companies stand out, DocuWare and Square 9. For the second consecutive year, DocuWare captured the lead spot with 28% of dealers identifying them as the top ECM/document management provider, with Square 9 identified by 21% of dealers. No doubt, the acquisition of DocuWare by Ricoh in 2019 is responsible for DocuWare's strong showing in our Survey. Rounding out the top four was Laserfiche at 5% and M-Files at 2%.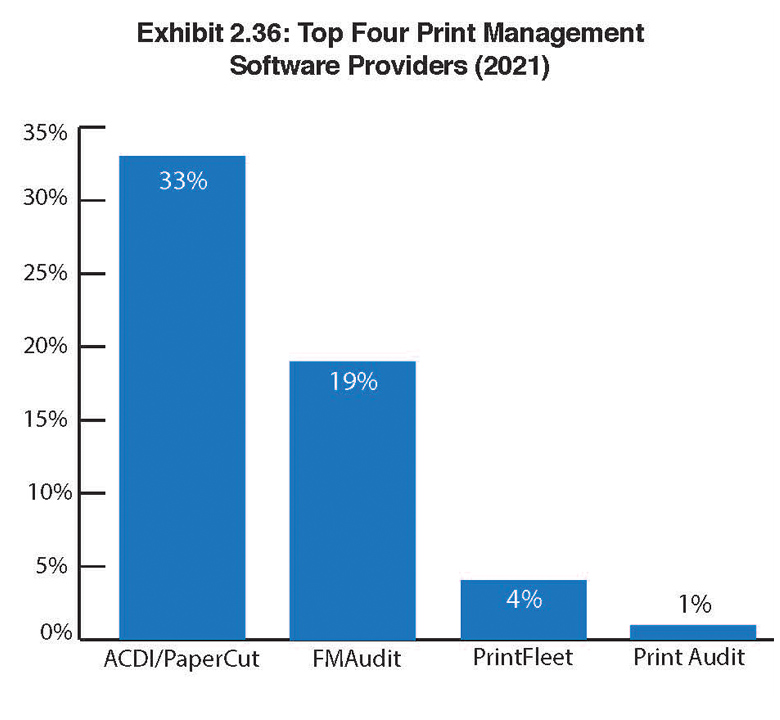 In the print management category, ACDI/Papercut was identified by 33% of dealers, followed by FMAudit at 19%, PrintFleet at 4%, and Print Audit at 1%. This year, we saw quite a few print management solutions receiving a single vote, while 20% of dealers identified an OEM as their top print management provider.
We firmly believe that the penetration rate of print management software is much higher than the 50% of dealers that responded to this question in our Survey, particularly since it is so critical for dealers offering MPS. ECM/document management is a category that offers an excellent diversification opportunity, and we encourage even smaller dealers to examine the many options available here to broaden their services offerings.
Access Related Content
To become a subscriber, visit www.thecannatareport.com/register or contact cjcannata@cannatareport.com directly. Bulk subscription rates are also available.