Ricoh finds a place in the direct-to-garment district with the environmentally friendly Ri 2000 DTG printer.
The textile industry is one of the world's largest, and it's also the second largest polluter in the world.
One way to make textiles and apparel more eco-friendly is to adopt digital printing.
One of the world's largest industries is also the world's second largest polluter. How can the textile industry clean up its act? Digital printing is an eco-friendly alternative.
According to World Textile Information Network (WTIN), only about 6.9% of printed fabrics worldwide are printed digitally. However, with numbers growing at double digits, textile printing's swing from analog to digital provides a huge business opportunity. For dealers serving the commercial print, sign and display, and textiles markets, offering digital fabric printing solutions is a growth business. Direct-to-garment (DTG) is one of the easiest markets to enter, and it has even more growth opportunity than direct-to-fabric printing.
In the conventional analog printing of textiles, dyes pollute our water sources, huge amounts of water are used in the dyeing, washing, and steaming process, and energy is required to power these processes. With most digital printing technologies, no water is used and there are no toxic chemicals emitted from the process. The fabric is printed, dried inline, and exits the system ready for the next process.
Take T-shirts as an example. Each year, about two billion T-shirts are sold globally. It takes about 766 gallons of water to make a single white T-shirt, according to Junji Hashimoto, director of WaterAid Japan, an active-water journalist dedicated to raising awareness about the global water crisis. Dark T-shirts take even more water and create more contamination.
By printing directly to T-shirt blanks, most of this water usage can be eliminated. It's not only T-shirts that can be directly printed, but also items such as hats, face masks, hoodies, shoes, small home décor items, canvas, and other textile-based products, as well as wood and glass. With the growing use of pigment inks, the range of fabrics that can be printed on is also expanding, providing versatility to the direct-to-garment printing operation.
Last year, Ricoh first dipped its toes in the DTG market with the launch of the Ricoh Ri 1000 DTG printer at FESPA 2019 in Munich. In 2016, the company acquired AnaJet, a leader at the time in the DTG market. With that acquisition, Ricoh was able to control the inks and printheads, as well as the rest of the hardware and software surrounding the printing process. Ricoh then invested in improving the robustness of the printer, its total cost of ownership, and its versatility, including components such as a quick-change magnetic platen and a variety of jigs to quickly enable switching between, for example, the production of T-shirts and hats. Like many Ricoh products, this DTG printer is sold through direct and dealer channels.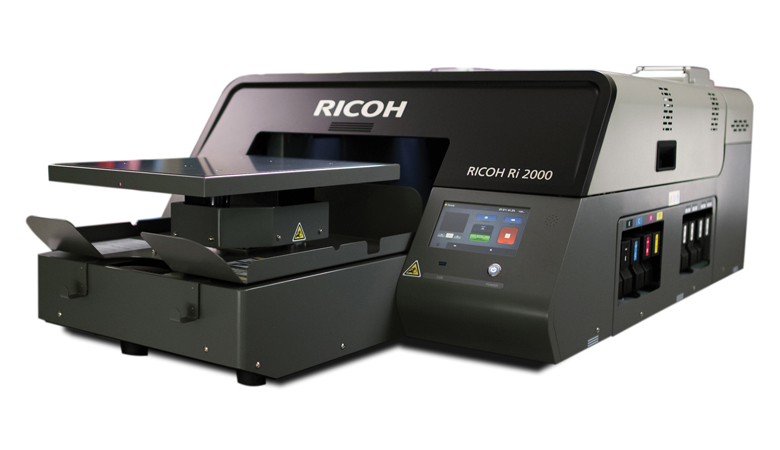 Above: Ricoh's Ri 2000 direct to garment printer.
In October 2020, Ricoh upped its game by adding the Ri 2000 to its DTG platform. The company states it is well on its way to reaching its target of more than 30% market share in DTG printers. To date, between Ricoh and AnaJet, about 1,000 units have been placed worldwide. These printers use water-based pigmented inks manufactured by Ricoh, in CMYK and white, and can print on 100% cotton and high cotton blends with more than 50% cotton, as well as 100% light polyester. Pretreatment and drying are required when using white ink and when printing on polyester.
These printers have a relatively small footprint and can fit in just about any operation. They are also easy to use, not requiring a highly skilled operator, although the organization should have color and prepress expertise to ensure quality output—something most of these businesses already possess.
The printers are also affordable. According to Ricoh, the average street price in Europe is €20,000 for the Ricoh Ri 2000 (about $24,000 U.S.), and €16,000 for the Ri 1000 (about $19,000 U.S.).
As a rule of thumb, the Ri 1000 can print approximately 30 white shirts per hour or 15 dark shirts, and the Ri 2000 is 50% faster. This is enabled by using two carriages for the printheads in the Ri 2000 compared to one for the Ri 1000. The Ri 1000 prints white and CMYK with the same carriage, while the Ri 2000 is single pass and uses one carriage for white and one for CMYK, allowing them to print almost simultaneously—thus, the increased throughput.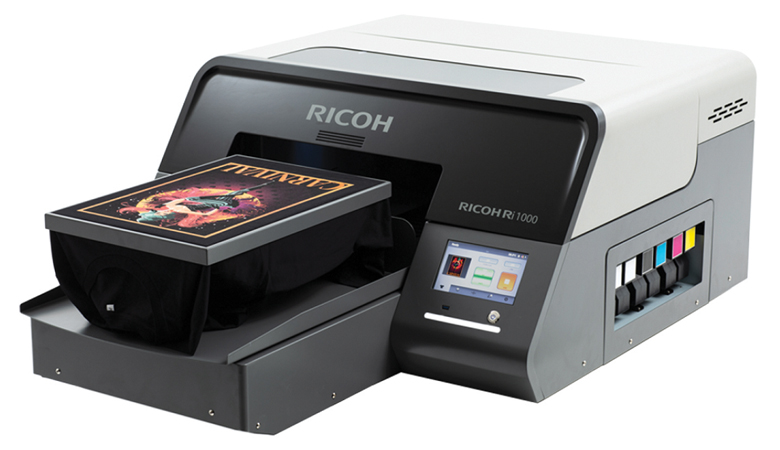 Above: Ricoh's Ri 1000, is first direct to garment printer, introduced in 2019.
I saw the Ri 1000 at FESPA last year and was impressed with the hand feel of the output. If you've ever examined a digitally printed T-shirt, you will often notice that the image usually feels like plastic because in effect, it is. However, with Ricoh's water-based pigment inks, you really can't feel the ink at all, making the shirts more marketable, in my opinion. Ricoh estimates that the cost per shirt, minus the substrate, is one of the most competitive in the market, claiming investment payback is possible in less than a year, depending on volumes. This includes equipment, maintenance, labor, energy, and consumables.
According to Christian Compera, deputy general manager for Ricoh's Industrial Print, Ricoh Company Ltd. it is important to Ricoh to find the right dealers who have the requisite experience in the DTG and related market segments. The company is approaching dealers that serve the textile market for printing and embroidery. It also sees opportunity for those serving signs and display graphics, as well as commercial print operations that are interested in adding DTG services to supplement current offerings or to bring in-house work that is currently being outsourced.
"We see a very positive trend with these products, especially in the U.S. and among ecommerce-based companies who are by nature entrepreneurs and more open to taking risks than perhaps their European counterparts," said Compera.
Next up for Ricoh, according to Compera, is the development of a more robust and complete workflow and software environment, and exploration of whether or how to enter the direct-to-fabric printing market.
"Our next step is not just to provide the box but a total solution," said Compera. "I learned from the early days of digital color printing that the printer without a solution is only half-way, so we will develop a complete solution, including workflow and application software, to enable customers to create a full business around this and make a very good service for their clients."
It should be noted that Compera is not new to color digital printing. He led the Kodak NexPress development program and launched the NexPress at drupa 2000.
A full online demonstration of the new Ri 2000 from Ricoh is available here.
Access Related Content
Visit the www.thecannatareport.com. To become a subscriber, visit www.thecannatareport.com/register or contact cjcannata@cannatareport.com directly. Bulk subscription rates are also available.