Exhibits 2.12-2.19
We ask dealers to rate their primary A3 MFP suppliers as "Excellent," "Very Good," "Good," "Fair," or "Poor." We then award five points for "Excellent," four points for "Very Good," three points for "Good," two points for "Fair," and one point for "Poor." We then divide the total by the number of dealers participating from that manufacturer.
Although the A3 ratings have been relatively consistent since 2017, the ratings for all Big Six A3 OEMs in this year's Survey experienced a decline. After the highest cumulative ratings among the Big Six in the history of the Survey last year (4.5), the overall average declined to 4.3 (Exhibit 2.18). In fact, ratings for all six A3 OEMs declined across the board. Prior to 2017, those ratings were hovering around 4.2. While not a single manufacturer received a "Poor" rating last year, this year, Kyocera received one and Ricoh received two. As a result, Kyocera saw its rating decline from 4.4 last year to 4.2 this year, and Ricoh's rating declined from 4.4 to 4.0.
We might attribute these lower ratings, which are still respectable, to dealers' dissatisfaction with their suppliers during the pandemic. However, most seemed to adjust their programs and expectations for their dealers in 2020. A more likely reason is the current backorder situation, which has been going on for much of 2021. Dealers were filling out the Survey between March and early July 2021, which leads us to believe that the frustration with backorders is reflected in this year's ratings. This situation was underscored in the comments section of the Survey when we asked dealers to share the reasons for their ratings. Even though we ask dealers to rate their manufacturers based on their performance of the previous year, there is no avoiding the here and now.
The OEMs that received the most favorable ratings in this year's Survey were Sharp and Toshiba at 4.5.
Last year, Sharp topped the ratings at 4.7, followed by Toshiba at 4.6. Based on our conversations with Sharp and Toshiba dealers, as well as leadership within both of those organizations, we are not surprised that dealers continue to view these two companies as positively as they do. The biggest surprise in this year's Survey was Ricoh's ratings drop from 4.4 to 4.0. With more Ricoh dealers participating, including a greater number of smaller dealers, those smaller dealers were more likely to give the company a rating of less than "Excellent." Last year, 55% of Ricoh dealers rated the company as "Excellent," while this year, only 36% did. Based on comments across the Big Six OEMs over the past few years, it's not unusual for smaller dealers to note that they don't receive the favorable pricing or attention from their manufacturer compared to larger dealers. It's a legitimate complaint, but we also understand why those larger dealers get all that attention.

Another company that saw its rating dip was Konica Minolta, from 4.5 last year to 4.1 this year, a reversal from our previous Survey when its rating rose from 4.1 in 2019 to 4.5 in 2020.
Although an overall rating of 4.1 is respectable, the OEMs should take notice of one key finding in this year's Survey, and that is that the percentage of dealers who rated their manufacturers as "Excellent." The average percentage of excellent ratings dipped significantly from 62% last year to 51% this year. The only OEM whose percentage of "Excellent" ratings increased was Toshiba, albeit by one percentage point—65% to 66%. The biggest year-over-year declines in "Excellent" ratings were Konica Minolta with 41% compared to 63% the previous year; Ricoh, as mentioned earlier; and Sharp, which fell from 72% in 2020 to 66% in 2021. Even with an overall average rating of 4.3 across the Big Six OEMs, these ratings tell us that dealers are still generally satisfied with their OEMs, but that the OEMs are not doing as good a job as they have in the past to satisfy their dealers' needs.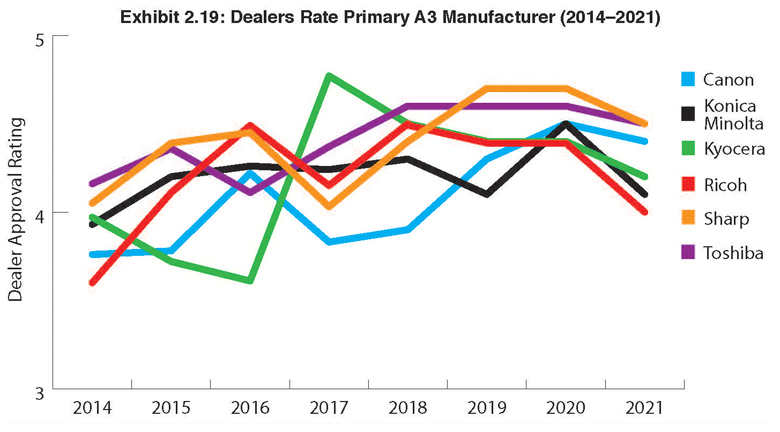 Another factor that may have impacted this year's ratings is the change in upper management leadership at some of the OEMs. Since last year's Survey, four (Canon, Konica Minolta, Ricoh, and Toshiba) of the six presidents and CEOs are no longer in those roles. Meanwhile, based on dealers' comments to explain the ratings of their A3 manufacturers, Kyocera dealers still seem to have concerns about its president and CEO, Oscar Sanchez, who took on that role in 2018. Toshiba aside, since the dealer community is well acquainted with its new President and CEO Larry White, there is likely some uncertainty with the future direction of those other organizations.
For the past three years, we have been sharing the common themes derived from the comments shared by dealers representing each of the Big Six OEMs to explain their ratings. Not every dealer that participates in our Survey adds comments to explain their ratings, but those that do have strong opinions—not all are positive, even when they give their provider an "Excellent" or a "Very Good" rating.
Canon 
Excellent: "Solid partner that is always ahead of the curve and setting the bar when it comes to technology."
Excellent: "No backorders, solid aftermarket performance, set pricing with heavy upfront discount."
Very Good: "They have been able to deliver product throughout the pandemic and kept us informed."
Fair: "Dealer relationships have taken a backseat to financials."
Konica Minolta 
Excellent: "Understands our business and situation, helps us to succeed in challenging times."
Excellent: "Konica Minolta provides excellent service and sales courses to help us sell their products."
Very Good: "They are solid, but not as solid as they once were."
Good: "Product good, leadership poor."
Kyocera 
Excellent: "Kyocera has been extremely supportive in the past year in all aspects, financing, technical, and inventory."
Very Good: "New pricing programs allow smaller dealers to compete with larger dealers."
Good: "Starting to lose some confidence in Kyocera. Historically, they have been rock-solid, but the new management has been crap since coming into the game."
Poor: "Very poor performance by all manufacturers over the past year. They have lost sight of what good dealer relationships are. If we win, they win. They have forgotten this."
Ricoh
Excellent: "They are the most responsive and professional of all our partners by far!"
Very Good: "They have a few holes in the product line in the smaller A4 device market, otherwise excellent."
Good: "Partners are not partners. They do not treat us as a customer. Ricoh acts as if we are stealing from them. They don't want to earn the business. They act like we are here to service them."
Fair: "Poor communication past 15 months. Poor equipment pricing except for larger deals. Poor aftermarket pricing to be competitive with other brands and direct. Terrible backorder situation with hardly any communication about this situation."
Sharp
Excellent: "Sharp's leadership has taken an extremely proactive and innovative approach to support its dealers during the global pandemic."
Excellent: "Sharp understands what independent dealers require to succeed. Their staff are more like team members to our company versus the corporate red tape. Without Sharp, our growth would be in a very different position."
Very Good: "Sharp offers a very good product but has a terrible distribution channel partner, Tech Data."
Good: "They seem to be less interested in us little guys."
Toshiba 
Excellent: "We have been a Toshiba dealer for 21 years. They have been an amazing partner with both product and service support. They take pride in their product and service, and it shows. The partnership that Toshiba has made with Brother complemented the product line so that we can provide for all our clients' needs. Very happy with it."
Excellent: "Toshiba has excellent technology, very reliable, and very competitive on a CPC basis."
Very Good: "Good equipment, good tools, worked well with us during the pandemic."
Good: "Service help is very good, MFP pricing very competitive, [but] the problem is bringing on too many small dealers to sell their product."
Access Related Content
To become a subscriber, visit www.thecannatareport.com/register or contact cjcannata@cannatareport.com directly. Bulk subscription rates are also available.