When things go sideways, your first call should be to your office technology supplier.
The storm named Maria slammed into Puerto Rico on September 20, 2017, with sustained winds of over 140 miles per hour. In a matter of hours, the hurricane devastated the 30- by 100-mile island. Electrical power became non-existent, along with the rest of the infrastructure and most housing. It was the first of many bad days for many people.
Yet, in the depths of disaster, a single copier-printer dealer and its OEM supplier became key enablers of FEMA, the U.S. Federal Emergency Management Agency. Systronics, the island's only copier-printer dealer that was still standing, became an active player in bringing life and a sense of normalcy back to Puerto Rico.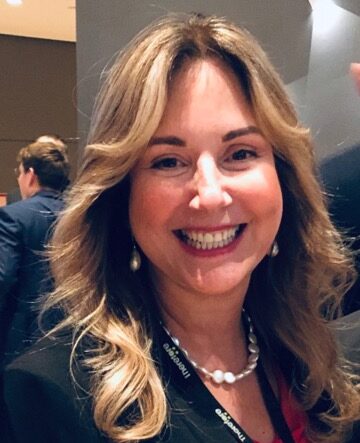 Above: Toty Salinas, vice president of Systronics in Puerto Rico, offers kudos to the way Canon supported the dealership after the September 2017 hurricane.
"We couldn't come in for two to three weeks, and when we did, there was no power, no lights, nothing. It was all shorts and sneakers, picking the place up," recounted Toty Salinas, vice president of Systronics.
When it came back, the restored phone service was less than spotty. As the phone companies worked on it, Systronics President Eulogio Villena used his cell phone to enhance its capability.
"Once the phones were working, we got a call from FEMA," says Salinas. "They needed printers, copiers, fax, everything. We said, we got 'em. We put it all on trucks and in cars and helped FEMA get going."
Then, Systronics connected with Canon in Melville, New York. Slowly, the wheels of civilization began to turn, and Systronics became a hub of revival.
Salinas says Canon was totally supportive throughout the process. After identifying the many copying and printing needs on the island, Salinas soon emptied her showroom of every model of Canon copier or printer she carried. Then came the warehouse. It was soon empty too, as her stock of machines was distributed around the island.
Canon, in touch with Salinas only by phone, took on the task of manually taking and processing equipment orders and embracing the logistics of shipping machinery to an island that was under lockdown and accepting only essentials such as food, water, gasoline, and diesel fuel.
The newfound relationship with FEMA, coupled with the need to have printing and copying technology available, helped ensure the copiers and printers arriving from Canon were allowed into Puerto Rico so FEMA could do its job and businesses could begin to recover. It worked, and soon even some of Systronics customers were able to get portions of their businesses back in operation.
Systronics started 47 years ago as a computer services firm, adding sales, service, and support of printers, copiers, and fax machines in 1985. The company is the sole Canon dealer in Puerto Rico, where only one company may sell a given brand across the island. While Systronics could add a line of machines from another vendor, no one else can sell Canon products. The company intends to stay connected solely to Canon, a stance that has been reinforced by the efforts of both companies in the wake of Hurricane Maria.
More recently, in the age of COVID-19 or pandemia as Salinas calls it, Canon has prepared flyers and posters about mask-wearing, distancing, and hand washing. All are ready-to-print files customers can print on their own machines. Being electronic files, "touchless delivery" is baked into the process.
The larger takeaway of this story is that your equipment OEM has your back and can help you through a challenging time if you ask for assistance. Dealers are a key part of OEMs' sales, marketing, and product distribution networks, and they succeed when you succeed. Did Canon and Systronics gain new customers because of their joint actions after Maria? Probably. Was there an uptick in customer loyalty? Most likely. But the real story is that Canon supported its dealer in truly dire circumstances and together they found a way forward. So, when things go seriously sideways, be sure to talk with your OEM to see how they may be able to help.
The Power of the Pivot 
A hurricane is one type of visible disaster, but as we all have experienced this year, it is not the only problem we may face. With its spring campus largely empty to help slow the spread of coronavirus, print volumes were low at Ithaca College's Center for Print Production in upstate New York. Decision-makers were looking for ways to put the bandwidth of their powerful print center to use in ways that could help the local community. The way they found required a pivot.
The college's Center for Print Production was able to produce face shields on site, using PVC foam typically used for signage along with a cutter they'd obtained from Electronic Business Products (EBP), a family-owned Ricoh dealer with several locations in upstate New York. Early on, Jeff Golden, director of general services at Ithaca College, called EBP to discuss how to do this vital work more efficiently. The dealer was immediately invested.
"My first reaction was, how can we help?" said Paul Liguori, vice president of sales at EBP.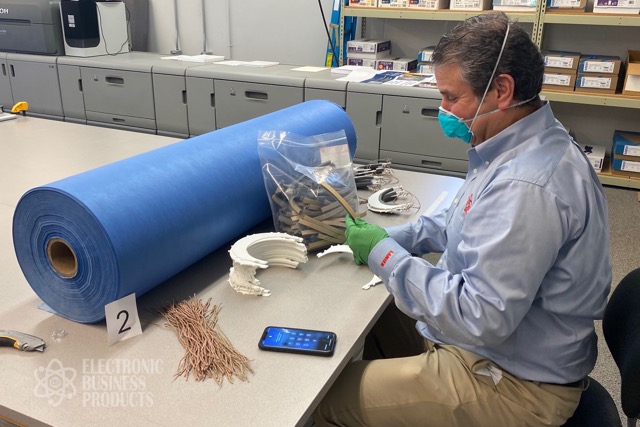 Above: Paul Liguori, vice president of sales at EBP, provided additional hands for PPE assembly at Ithaca College. 
The most obvious way was providing additional hands for PPE assembly. EBP sent three employees to Ithaca College to spend a day assembling hundreds of face shields that would be donated to medical workers at Upstate Medical Center and Health Management. The EBP team, all workflow optimization experts in their own right, recognized the process as particularly manual and laborious. They knew taking face shield production to the next level would require a rotary tool accessory for the cutter. Unfortunately, the Center for Print Production had no room in their budget for the expense.
Ricoh to the Rescue 
Like Ithaca College, EBP and Ricoh have always had a strong sense of community and partnership. It was this sense of "doing the right thing" that brought the Center for Print Production to make the PPE and sent EBP rushing to help on the production floor. Ricoh acted swiftly. By the end of the week, the upgraded tool was donated and successfully installed in the print shop—at no cost to the college. Now, nearly a week of face mask production can be done in a single day, helping keep frontline healthcare workers safe and Center for Print Production operators working.
After donating the first batch of shields, Ithaca College charges $2 per face shield and $0.75 per mask. The prices offset the cost of materials and keep Ithaca's printing staff employed. In fact, since ramping up PPE production, the Center for Print Production has gone from being faced with furloughing employees to adding staff, which now totals seven employees.
Turn to Learn 
OEMs also work in ways that have not involved dealers, but still show big companies' commitment to step in when things go sideways. Talking with OEMs can help savvy dealers step up and put their companies at levels that can broaden their standing in their communities and markets.
For example, school districts across the U.S. have ordered nearly 155,000 HP "Turn to Learn" booklets to help more than 20,000 students learn from home as COVID-19 cases continue to surge. This is especially important because Pew Research data shows that nearly a quarter of students don't have reliable connections, and 21% said they don't have access to a computer to complete their homework. Don't like percentages? Look at it like this: These numbers mean one kid in four has to go to Starbucks or McDonalds to do homework, and one in five can't even do that because they don't have a computer. This in 2020 in America. Does anyone see something wrong with this? Thankfully, HP does. Trust a global enterprise to see the big picture.
"Before the pandemic, 250 million children globally were already marginalized and left out of formal schooling," said Michele Malejki, global head of social impact at HP Inc. "Now with COVID, educational challenges for students, parents and teachers grow by the day."
In addition to donating $10 million in devices and grants to support underserved communities, Malejki said HP launched HP Turn to Learn in conjunction with NASA, Britannica, and Time for Kids at the onset of the pandemic. For the current academic year, many schools are adopting a hybrid learning model or a complete remote learning experience, which is driving the increase in booklets to bridge the digital divide. Also, HP Turn to Learn will add emotional skills content because the pandemic has been negatively affecting many students' mental health.
"We are committed to enabling better learning outcomes for 100 million people by 2025 because we believe education is a fundamental human right, and this new normal has put a spotlight on blended learning," said Malejki. "We are humbled to do our part to help. While remote learning and blended learning aren't new, both learning models are accelerating due to COVID-19."
Dealers and OEMs have been stepping up to the challenges posed by devastating storms or pandemics in numerous ways. The tales of support should give any dealer hope—and even a new vision—for ways to move forward the next time things go array. To be prepared, look now for ways to align your business with your OEMs and local businesses so you are prepared the next time the dragons come to call.
Access Related Content
Visit the www.thecannatareport.com. To become a subscriber, visit www.thecannatareport.com/register or contact cjcannata@cannatareport.com directly. Bulk subscription rates are also available.