For production print customers and dealers actionable information and resources is just a click away.
Some of the most effective marketing initiatives do not resemble marketing at all. Case in point, Ricoh Business Booster (RBB).
Originally introduced in 2010, Ricoh Business Booster is a development program designed exclusively for Ricoh production print customers. The program's mission is simple—provide customers with access to an array of resources that can help them strengthen operations, enhance their marketing efforts, and ultimately grow revenue.
At the core of the program is RicohBusinessBooster.com, a continually updated website with timely and relevant content. What you'll find is a mix of industry data, marketing resources, and business insights, while a community forum connects members where they can exchange ideas. Content centers around trends, technology, marketing, and business development.
A recent addition is a COVID-19 resource section. The COVID-19 section was designed to help customers manage through the pandemic and to share innovative initiatives they have implemented to capture new business. In addition, members can learn how to use social media to engage with customers during a time of social distancing.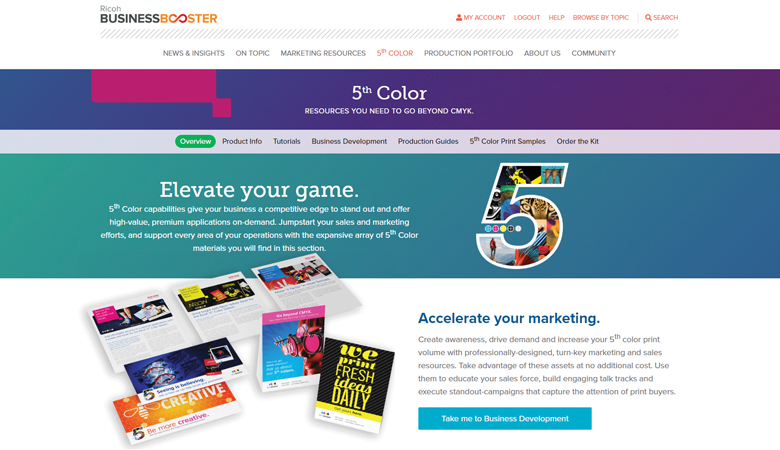 Other sections include vertical market guides, print samples, image asset and product photography, articles and white papers, 5th color business development, 5th color tutorials, a customizable calendar tool, and curated topics on a specific topic of interest that is updated every month. (See sidebar, "What You Will Find on Ricoh Business Booster" for a comprehensive listing.)
"We try to give customers resources that help them maximize their own business and be aware of industry trends," said Heather Poulin, vice president commercial and industrial printing marketing, Ricoh U.S.A. "We make sure that they've got the information about what analysts are predicting for the industry and how they can apply that to their business."
Offering the information in an online format allows for fast, intuitive access, maximizing the program's value and convenience for print professionals, according to Ricoh. Email and direct mail notifications announce new content and special events. The company has been sending these out more frequently to meet the demand for information related to COVID-19.
Contributors and topics are thoughtfully curated to ensure the program is a trusted resource. Ricoh has aligned itself with market research organizations such as Keypoint Intelligence, IDC, and NAPCO, publisher of multiple print industry publications and the organizer of the PRINTING United conference.
Content is based on market trends and member input with new content added to the site regularly.
Recent additions include high-res, ready-to-print social distancing graphics, inspiring neon yellow and neon pink application videos, and the latest industry white papers to help members navigate the road ahead.
Ricoh has taken special care to make the information on the site educational and informational rather than promotional. Should a customer want detailed product information, they can click on a link to access that information without having to exit RBB.
Although Ricoh Business Booster was originally developed for U.S. customers, subscribers now come from Europe, Canada, Asia Pacific, the Middle East, and Africa. Members include customers across segments and vertical markets including commercial printers, dealers, in-plant/CRD's, and franchise.
"I can often find a how-to video," said Mark Little of Quik Print in Oklahoma City, Oklahoma. "I don't often find a how-to market, how-to use, how-to make money with our product. And that's the uniqueness of Ricoh Business Booster."
A Dealer Resource 
RBB is not only a great asset for Ricoh direct production print customers, it's also an excellent asset for Ricoh dealers. They can use the program to elevate their image as trusted partners, positioning themselves as an information resource, rather than just another hardware and software provider.
Dealers can also use the content provided to gain a better understanding of the commercial print market. Membership is free to all Ricoh production print customers with a valid product serial number.
Ricoh encourages dealers selling the RICOH Pro C7200X Graphic Arts Edition to use the 5th Color Resource Center when showing prospects the system. This section includes videos and samples along with marketing materials to promote their capabilities, which Ricoh maintains can lead to increased print volumes.
RBB Dealer Benefits 
 Dealers can use the product and image assets to create their own materials for print, web, and social media.
 Dealers can use the articles and sales tips to keep their sales force up to date on industry trends. Articles can be downloaded and used with customers to spark new conversations.
 Dealers can create their own email blasts to direct their customers to the site, spotlighting the resources available to help them build their business.
The "About Us" section of the site featuring customer videos provides useful insight as to how Ricoh is servicing customers and building alliances that strengthen the Ricoh brand.
What You Will Find on Ricoh Business Booster
Market research and trends
Industry white papers
Vertical market guides
Articles, insights, and business tips
High-value marketing content
Press-ready print samples
Image assets
Product photography
Campaign materials
Videos
Community Forum
5th Color marketing tools and tutorials
Knowledge booster webinars
Informative case studies
Monthly communications
New product info
Deborah's Corner, a blog from print industry blogger and vlogger Deborah Corn highlighting the print buyer's perspective
Access Related Content
Visit the www.thecannatareport.com. To become a subscriber, visit www.thecannatareport.com/register or contact cjcannata@cannatareport.com directly. Bulk subscription rates are also available.