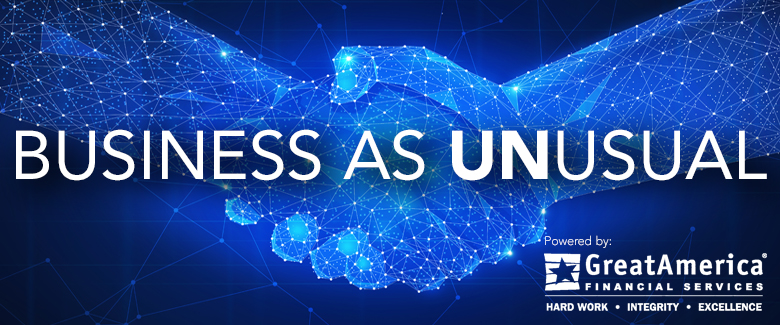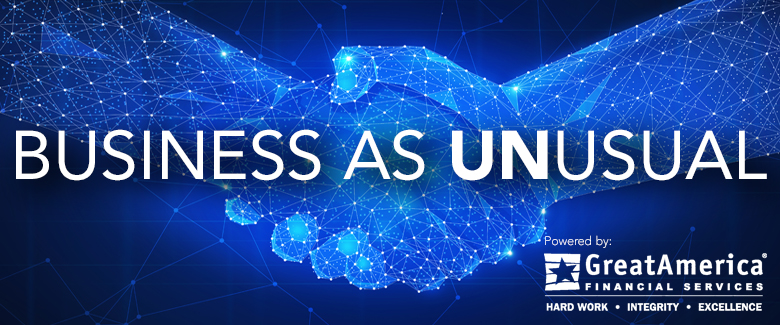 Each week we reach out to folks from different segments of our industry to learn what they are reading, watching, and listening to as a way to distract themselves from the constant stream of COVID-19 news and information. This week we have two presidents of dealerships, a leasing industry executive, Toshiba's COO, the president of the MPSA, and our founder Frank G. Cannata. This has become one of our more popular Business as Unusual posts with readers, so as Marvin Gaye would say, let's get it on!
Doug Albregts, President, Marco, St. Cloud, MN
Reading: Every morning starts with the Wall Streel Journal and a Royal Cup coffee. I skip all COVID-based articles because I'm simply sick of the hysteria. I just finished Jeff Tweedy's (front man for Wilco) book "Let's Go."  I'm just starting "The Point of it All" by the late great Charles Krauthammer.
Watching: I just finished "The Last Dance" like everyone else.  I also watched "World War 2 in Colour" on Netflix. Probably my favorite new movie during this quarantine time was "A Beautiful Day in the Neighborhood." If you can't like Mr. Rogers, who can you like?
Listening: The Mysteries of Life—a great band, songwriters, and a nice contemplative listen given all of the stuff going on around us. I'm also on a Kings of Leon kick. My kids tell me Pandora is streaming for 50-year-olds. That's where I like to get my music. P.S. Hoodoo Gurus coming to the U.S. this fall—fingers crossed.
Chelsey Bode, President, Pearson-Kelly Technology, Springfield, MO 
Reading
: I'm not much of a reader but I'm addicted to audible. I'm an avid listener. I'm currently listening to "Blue Ocean Shift" by Renee Mauborgne and W. Chan Kim, "The Five Temptations of a CEO" by Patrick Lencioni, and I just started "Stories That Stick" by Kindra Hall. When I need a good go-to author I find myself looking for anything by Patrick Lencioni.  He doesn't disappoint.
Watching: I don't watch a lot of TV but do look for a good series on Netflix from time to time. "Billions" has been a favorite. I just finished the latest series of "Ozark" based on a lake nearby my hometown. For those of you that follow this series, it's a bit of a stretch so don't judge me. Ha!
Listening: I've started following anything Chris Walker. He drips great 2 to 3-minute raw video content on LinkedIn and I always leave with a takeaway. His Podcast, "State of Demand Gen," is solid if you're looking for progressive marketing concepts and trends. Human behaviors and trends intrigue me. We tend to apply a lot of these concepts to our overall business strategy as well.  I do suggest you bring a box of tissues because Chris will break you and your current strategies down, but you'll come out stronger.
Frank G. Cannata, Founder and Editor-at-Large, The Cannata Report
Reading
: When it comes to reading, I am afraid most of our readers would find my reading selections rather tedious if not boring. My primary interest in reading has everything to do with American history. To give you an example, my latest book was "Killing England: The Brutal Struggle for American Independence" by Bill O'Reilly and Martin Dugard. I have read just about all this series because it is really a short synopsis rather than an in-depth study of a period and the people that the book focuses on. This book focused on George Washington and as always, I learned something new from the experience. The book I am currently reading is "Grant" by Ron Chernow. Unquestionably, one of the finest works on Ulysses S. Grant. On my list to read after this is "The Lincoln Conspiracy: The Secret Plot to Kill America's 16th President and Why it Failed" by Brad Meltzer and Josh Mensch, "The Hour of Fate: Theodore Roosevelt, J.P. Morgan and the Battle to Transform American Capitalism" by Susan Berfield, and "Tombstone: The Earp Brothers, Doc Holliday,  and the Vendetta Ride from Hell" by Tom Clavin. That is the type of reading I like to do in the summer months and when I just want to chill.
Watching: My viewing is pretty much defined by the good guys catching the bad guys. My favorite is "Blue Bloods" because the story is about a family that is in law enforcement. What attracted me to this television series was the fact that the Reagan family lives in Brooklyn. If you have seen the show, the home is pictured on a quiet section of Bay Ridge (this where I grew up and did not leave until I entered the Marine Corps after college) near the body of water referred to as the Narrows. The first time I saw this show I recognized the Reagan house. It is on 82nd Street and Harbor View Terrace. Other shows I frequently watch are "All Rise," "Bull," "Chicago PD," and "Real Time with Bill Maher." We watch Netflix for the latest movies and the cable news shows on Sunday morning.
Listening: As for listening to music it is all about jazz and jazz artists. My all-time favorite recording is "Benny Goodman: The Famous 1938 Carnegie Hall Jazz Concert" recorded on January 16, 1938. It opens with the greatest rendition of a tune labeled "Sing, Sing, Sing." If you would like to know what that Big Band sound was all about you must listen to this record. Of course, when you talk about big Bands Glenn Miller with songs such as "String of Pearls," "Tuxedo Junction," and the classic dance tune "In the Mood." Fast forward to Barry White, Billy Joel, Louis Armstrong, Sammy Davis Jr, Donna Summer, James Taylor, Neil Diamond, Tony Bennett, Rod Stewart, and old blue eyes Frank Sinatra.
Amy Hoover, Vice President, Internal Sales Manager, Wells Fargo Equipment Finance
Reading:
I prefer non-fiction books on self-help, leadership, and sales strategies but I try to throw in a drama too.  I recently finished "The Amazon Way: 14 Leadership Principles," which inspired me to start a research project on the success of Amazon and Jeff Bezos.  Interesting stuff!  I just began reading "A Seat at the Table," by Marc Miller.  I have continued reading "The Cannata Report" and other industry publications to keep me up to speed with the latest industry updates.
Watching: I wrapped up all seasons of Ozark and I am dying for the next season to come out!  I just started the Michael Jordan documentary, "The Last Dance."  I am very active and really don't watch a lot of TV.  I prefer to spend my time outside running, walking, biking, and playing volleyball in the driveway with our three girls.
Listening: My favorites are the Classic Rock channels, The Little River Band Radio collection, and Kenny Chesney is my country fav.  I started listening to Caamp, a cool folk band.  Check them out.  I have always been a big YouTube listener, again, mostly self-help and business-related topics.  I have been following the ELFA's educational seminars and recently attended a workshop titled 'Harness the Power of Emotional Intelligence' by Anne Grady which inspired me and made me miss connecting in person with our customers and my co-workers.
West McDonald, Business Development & Social Engagement, Tigerpaw Software and President Managed Print Services Association
Reading
: One silver lining about staying home more than usual is all the reading I've caught up on. At University I studied English Literature as one of my majors, so I tend to lean towards award-winning fiction. I'm nearing the end of "How Much of These Hills Is Gold" by C. Pam Zhang. It's a historical fiction that follows the trials and redemption of a young Chinese girl at the tail end of the gold rush in America. Not the most uplifting read with the state of the current economy but I can't put it down! The book before that was "The Leopard" by Giuseppe Tomasi Di Lampedusa. It's a classic, written in the 1950's that details the decline of a royal family during the consolidation of Sicily into Italy in the late 1800s. It's actually a much lighter novel than I make it sound and the visuals and lyrical descriptions of areas are truly breathtaking. I read it in its entirety on a single Sunday! One more for you, "Every Single Secret" by Emily Carpenter. A thriller, and the ending smacked me so hard I couldn't stop thinking about it for a week!
Watching: Currently enjoying "Dead to Me" on Netflix starring Christina Applegate, Linda Cardellini, and Sam McCarthy. I am halfway through season 2 and loving the chemistry of the cast along with the very stressful plot twists. Those that know me know my love of all things "Star Wars," so I've been re-watching "The Mandalorian" which is pure brilliance and old-school "Star Wars" fun. "This is the way" for sure. There's also a great behind-the-scenes series called "Gallery," which includes roundtables by the directors and cast of "The Mandalorian" which has me hooked. A hidden gem I'd recommend everybody watch is a documentary on Netflix by Werner Herzog called "Into the Inferno." I stumbled upon it because Werner Herzog plays a character in "The Mandalorian" and I had no idea he was such a prolific documentary maker.
Listening:  For Podcasts, Tigerpaw Radio. Yes, I know, I host this series, but the interviews are incredible and I'm hooked on my own work. Just finished a cool one on "Super Connectors," so watch out for that, and am particularly fond of one I did a few weeks back on anti-drone technology called "From Russia With Love."  Music-wise two albums are on constant playback: The first is the Teal Album by Weezer which covers classic 80s tunes like Sweet Dreams (Are Made of This), Africa, and Billy Jean. The second is a collaboration between Sting and Shaggy called "44/876." I highly recommend it!  I know it sounds like a weird duo, but man does it work
Larry White, COO, Toshiba America Business Solutions
Reading
: Just finished "Killing Patton" by Bill O'Reilly. Fascinating look at one of the greatest generals in American history. Next on the docket is "Common Grace" by Josh Storie. Josh is my son-in-law and yes, I am unabashedly promoting his just published book.  After that is "Loonshots: How to Nurture the Crazy Ideas That Win Wars, Cure Diseases, and Transform Industries" by Safi Bahall. Should be an interesting read.
Watching: Just finished "The Last Dance." What an amazing documentary about Michael Jordan and the Chicago Bulls. Currently watching "Defending Jacob" starring Chris Evans of "Captain America" and Michelle Dockery of "Downton Abbey" fame on Apple TV about a district attorney whose junior high school son is accused of murder. First six episodes have not disappointed. Also watching "Money Heist" a Spanish mini-series about a plan to steal 2.4 billion euros from the Royal Mint of Spain by a group of misfit robbers led by "the professor."  Quirky, interesting plot twists, and in other words, perfect mindless entertainment.
Listening: Listening to the group NeedtoBreathe, a Christian rock band out of South Carolina. Don't let the Christian rock band moniker fool you. You probably haven't heard of them, but I will guarantee you have heard their music in movies, commercials, and TV shows. They just pre-released a single from their upcoming album titled "Hang On." By the way, it's the background music for the latest PGA Tour commercial. Great song. It's positive, upbeat, and pretty much what we need right now.
Access Related Content

Visit the www.thecannatareport.com. To become a subscriber, visit www.thecannatareport.com/register or contact cjcannata@cannatareport.com directly. Bulk subscription rates are also available.