Celebrating Women Influencers 2020 and 2021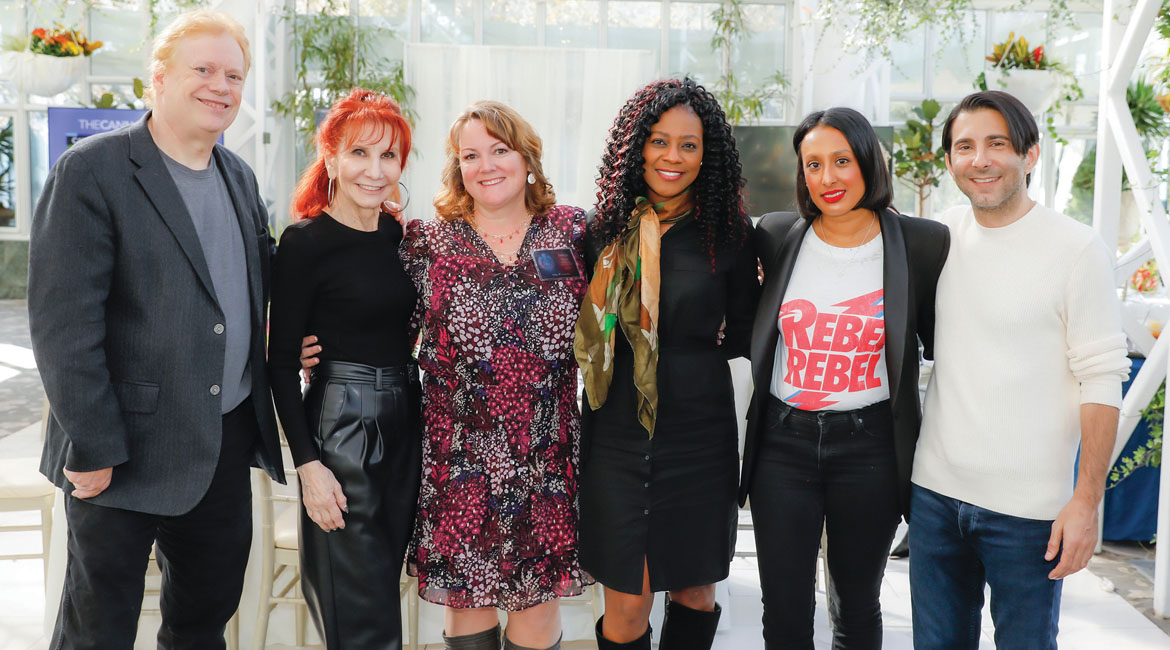 Above: The Cannata Report's Scott Cullen and Carol C. Cannata on the left with CJ Cannata on the far right with 2021 Women Influencer Tawnya Stone, 2020 Woman Influencer Natalie Cumberbatch, and 2021 Woman Influencer Stacey Sujeebun. For more photos from the Women Influencers Brunch see the December-January PDF. 
This year's Women Influencers Brunch, sponsored by esp, was a double celebration as we honored our 2020 and 2021 Women Influencers.
It was our pleasure to spotlight 2020 Women Influencers Natalie Cumberbatch, Kyocera Document Solutions America; Heather Poulin, Ricoh USA; and Michelle Speranza, LEAF Commercial Capital, along with our 2021 Women Influencers Jennifer Amatucci, Hytec Dealer Services; Tawnya Stone, GreatAmerica Financial Services; and Stacey Sujeebun, Konica Minolta Business Solutions U.S.A.
Our leadership triumvirate of Frank G. Cannata, CJ Cannata, and Scott Cullen welcomed the guests, and following the buffet brunch, Cullen led the guests in a lively discussion that delved into the themes of our 2020 and 2021 Women Influencers cover stories, diversity of thought, and curiosity, respectively.
Women executives from 20 companies attended the 6th Annual Women Influencers Brunch, and each was gifted with a flute and bottle of Prosecco packaged in a specially designed keepsake box created by Carol C. Cannata to underscore new capabilities in production print in the dealer channel.
* * * * * * * * * * * * * * * * * * * * * * * * * * * * * * * * * * * * * * * * * * * *
THE 2020 WOMEN INFLUENCERS BRUNCH WILL BE HELD FRIDAY, NOVEMBER 6 AT 1:00 PM ET AS A WEBINAR PRESENTATION.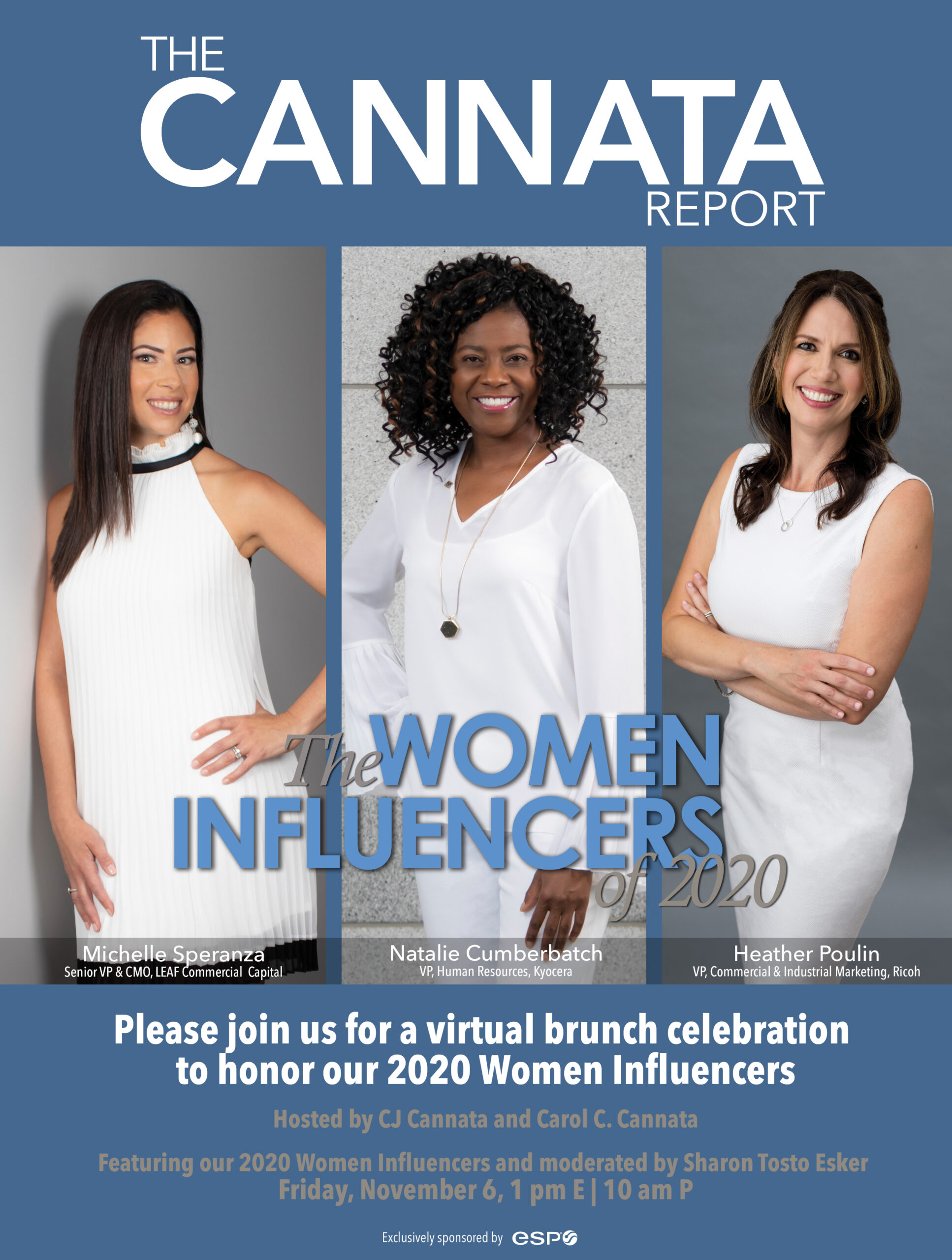 Please  RSVP  to  attend  our  special  webinar  brunch  honoring  our  2020 Women  Influencers.
* * * * * * * * * * * * * * * * * * * * * * * * * * * * * * * * * * * * * * * * * * * *
THE FOURTH ANNUAL WOMEN INFLUENCERS BRUNCH ATTRACTS 50 OF THE INDUSTRY'S FINEST
Executives gather to network, share best practices and listen to valuable insights from 2019 cover subjects.
*See below for details regarding The Cannata Report's

5th Anniversary

Women Influencers Brunch scheduled for Friday, November 6, 2020!*

Top: 2019 Women Influencer Brunch Attendees
(First Row) Maegan Lujan, Toshiba; Maggie Grande, Konica Minolta; Kay Fernandez, Konica Minolta; Erica Calise, Sharp; Sharon Esker, Carol Cannata, The Cannata Report; Janene Aul, Systel Business Equipment; Jacqueline Smith, Systel Business Equipment; Ramona Rodriguez, Hytec Dealer Services; Kerstin Woods, Toshiba; Ellen Meehan, Epson; Victoria Ringwood, Konica Minolta.
(Second Row) Stacey Sujeebun, Konica Minolta; Kelly Rahill, Lexmark; Ann Marie Woessner, Konica Minolta; Josie Heskje, GreatAmerica; Tamara Beach, HP; Susie Woodhull, Woodhull LLC; Sarah Custer, Supplies Network; Michelle Kaufman, Supplies; Cara Spencer, Systel Business Equipment; Michele McDonald, Kyocera; Suzanne Payer, Ricoh; Donna Bogdan, Lexmark; Sandy DiMarcelo, Epson; Liz Sumner, SumnerOne.
(Third Row) Karen Madden, CIT; Jennie Fisher, GreatAmerica; Nancy Steinhouse, LEAF Commercial Capital; Michele Speranza, LEAF Commercial Capital; Patricia Ames, BPO Media; Deb Dellaposta, Doing Better Business; Danielle Wolowitz, Kyocera; Cecilia Soccodato, Toshiba; Traci Lendt, Wells Fargo; Heather Plues, Wells Fargo.
Above: July/August 2019 Women Influencer Issue cover story subjects and special guests with Carol Cannata and Sharon Esker. From left to right: Victoria Ringwood, Konica Minolta; Erica Calise, Sharp; Carol Cannata; Maegan Lujan, Toshiba; Sharon Esker, The Cannata Report; wear the limited edition scarves Carol Cannata designed and produced with EFI Reggiani as gifts for the brunch guests.
_______________
In partnership with EFI, ESP, Kyocera, and Supplies Network, sponsors of this year's Women Influencers Brunch, The Cannata Report team celebrated its three 2019 Women Influencer cover ladies, Sharp's Erica Calise, Toshiba's Maegan Lujan, and Konica Minolta's Victoria Ringwood.
After an evening of awards and dancing, many of the industry's most influential women gathered for the Friday morning brunch in the sunlit atrium of the Madison Hotel in Morristown, New Jersey. Complementing The Cannata Report's annual Women Influencer-themed issue and related online content at thecannatareport.com, and the annual Best Female Executive Frank Award, this event marked the fourth consecutive year the organization has brought the industry's women together to formally recognize their contributions.
This year, close to 50 female industry leaders attended the affair to network, share best practices, and listen to valuable insight from Calise, Lujan, and Ringwood.
Several motivated and enthusiastic women also attended an early morning yoga session, led by The Cannata Report's Sharon Esker. Participants practiced yoga on The Cannata Report mats to an upbeat, inspirational playlist that included songs by Alicia Keys, Miranda Lambert, P!nk, and Sia.
Representing 20 companies, guests enjoyed glasses of champagne cocktails and brunch delicacies, selected by The Cannata Report's Senior Vice President of Client Services and Events Carol Cannata. Attendees also viewed highlight reels of this year's Women Influencers spotlighting their June photoshoot in New York City.
Recounting her late June trip to Barcelona, Spain, to attend ITMA 2019, the industry's premier textile and garment technology event, Carol highlighted the thrilling advancements being made in the print arena. She presented each guest with a personally designed red-fringed silk scarf, emblazoned with her trademark signature, and packaged in a keepsake box produced by Premium Color Group on the EFI VUTEk LX3 Pro. Over the past year, Carol worked creatively with the Italy-based designers at EFI Reggiani to produce the luxurious and fashion-forward scarf, which was printed on the EFI Reggiani VOGUE. Other gifts presented to attendees included a USB-driven essential oil diffuser from ESP and a sleek black reusable water bottle from Supplies Network.
Calise, Lujan, and Ringwood shared their personal stories about the evolution of their careers. Using poignant examples from their own lives, each of this year's Women Influencers emphasized the importance of curiosity, resilience, and a growth mindset in navigating their careers. With these three vital qualities driving their decision-making, Calise, Lujan, and Ringwood have been able to expand their knowledge bases, demonstrate success, and advance their careers—all while staying motivated and inspired by our industry's changes.
Each Woman Influencer also highlighted how their careers have been rooted in flexibility to take advantage of opportunities that presented themselves. Rather than following a straight and narrow career track, Calise, Lujan, and Ringwood recounted how they have zigged and zagged throughout their lives and careers to build the necessary skills to excel in their current roles.
United with their red scarves, our industry's women left The Cannata Report's fourth annual Women Influencers Brunch energized, inspired, and more connected, already excited about next year's banner fifth anniversary for the event.
Related Content
Click here to Watch "ELEVATION: Highlights from The Cannata Dinner and After Party 2019" video short.
Click here to read "ELEVATION: The Cannata Report's 34th Annual Awards & Charities Dinner Hits All New High" feature.

_______________