The Cannata Report's Women Influencers balance financials and more to find success.
Above: Shot on location at Gramercy Starck in New York City, residence of Charles J. Cannata.
For as long as people have been working, they've been seeking that often elusive sense of balance in their personal and professional lives. For this year's three Women Influencers— Holly DeSantis, CFO and executive vice president of Konica Minolta Business Solutions; Leonie Forristal, CFO of Kyocera Document Solutions; and Moonsun Park, CFO and senior vice president of finance, Sharp Electronics Corporation— maintaining balance is second nature as they oversee the complex web of financials for their respective companies.
While many may envision the finance department of any company as the place where people are crunching numbers, toggling through spreadsheets, and tallying up revenues, these three women prove that finance roles require the ability to uncover creative solutions to complex issues, a sound skillset based on distilling real-time data to provide insights to executive leadership teams, and most importantly, an open mind.
This year's Women Influencers work across numerous business units within their respective companies to gather and distribute vital financial information to keep the doors open, payroll funded, and revenue flowing. Using a balanced approach, they interact with legal, information technology groups, human resources, and several other back-office teams.
"We all strive for balance," said Kyocera's Forristal. "People often say they want a work/life balance, but I'm looking for a work/work balance. You want to be enjoying the work that you're doing. You want to be excited to come to work, and in my case, to work at Kyocera. You need to find the right balance of work that is interesting, stimulating, and the things that all of us have to do, but don't want to do like admin, etcetera."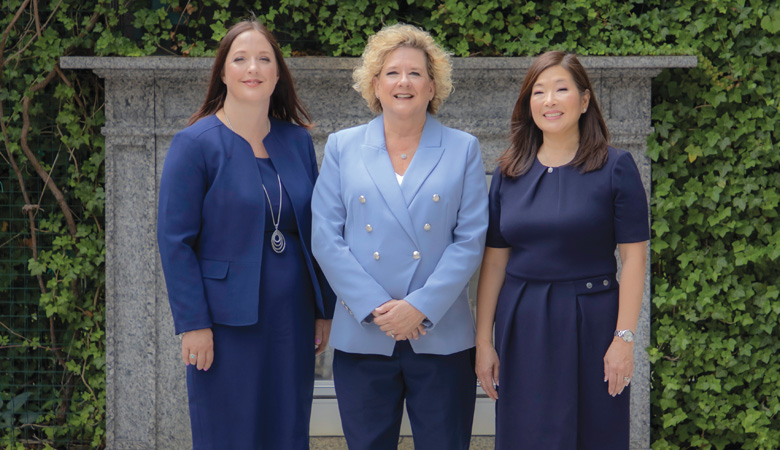 Above left to right, Leonie Forristal, Holly DeSantis, Moonsun Park.
Even in managing risk, these CFOs are looking to find the right balance between extending their respective companies so they can pursue innovation and doing right by their employees and customers to stay profitable.
"It comes down to having the right people that can partner with our businesses and customers, and the right processes that are efficient and can give insightful information," said Forristal. "We really focus on profits and having the right balance sheet, certain things are just fundamental."
Within finance, there are always peaks and valleys in the steady stream of work, so keeping a pulse on what employees are interested in and offering them opportunities to grow and evolve is an important component to help them stay engaged during the down times, and motivated during the busier, more stressful moments.
This delicate balance at work became even more challenging during the pandemic, as most employees in the back office were working from their homes. Leaders such as DeSantis, Forristal, and Park had to seek out new avenues to stay connected with their teams and to keep them engaged and plugged into the vital work of keeping their respective companies afloat financially.
Each oversees a team that has a mix of staffers returning at full capacity or splitting time between working from home and the office.
"Going into the office is a different mindset," said Konica Minolta's DeSantis. "Since more and more people have returned since February, we've really enjoyed getting back into the conference room and collaborating face-to-face. It's just a completely different environment. I am definitely an advocate to get back in the office. Just seeing people's faces, they know that you care. I like being able to walk downstairs and see the whole group that reports to me. You just can't get that same interaction over Zoom."
For employees choosing to maintain their work remotely, there is a place for them as well to find their own balance at each of these companies. For example, Sharp had never had a work-from-home policy, but Park said the company quickly learned the value of allowing employees to work in a more relaxed environment. She views a hybrid-work scenario as one of the ways Sharp and other companies can attract and retain employees, allowing them to work in an environment that allows them to be the most productive.
All of these CFOs emphasize the concept of moderation at work and at home. When they are at work, they are focused, driven, and persistent, and they carry these same qualities into their personal lives. They rise up at work, and they rise up at home.
"Personally, I don't like the term 'work/life balance,'" said Park, who had been working 60 to 70 hours a week regularly. "It almost connotes that work is bad and life is good. It can't all be about work."
Early in the pandemic, Park lost one of her valued team members . It was a sobering moment that snapped her perspective back into focus regarding her own work and home life. The experience provided her with a potent reminder that she can meet all the priorities she has in her life if she approaches them with more moderation.
"I realized my family and the time I spend with them is just as important as my career," said Park. "Obviously, all the work must be done, but everything must be done with some moderation. Everything is important at different times in your life, with some things becoming more important at certain times than others."
As the world continues to evolve and shift, this year's Women Influencers will remain powerful innovators within finance, powering their respective companies and this industry into a profitable future.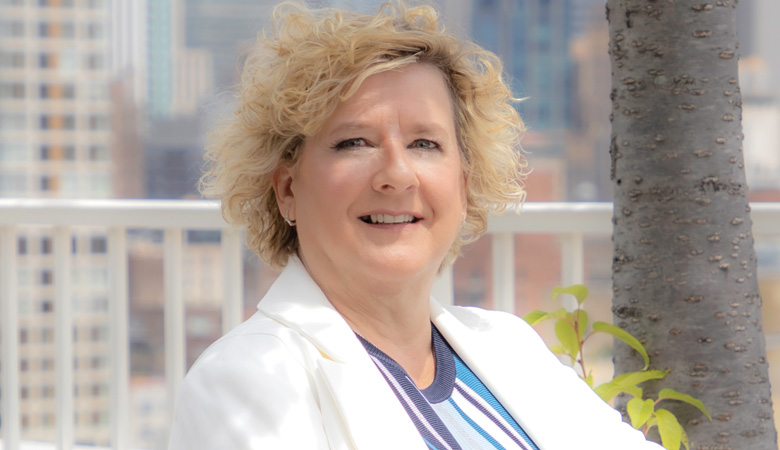 Holly DeSantis
Executive Vice President and Chief Financial Officer, Konica Minolta Business Solutions U.S.A.
For Konica Minolta's Holly DeSantis, strong relationships have fueled her career for more than three decades. Innately curious, inquisitive, and driven, DeSantis has spent most of her career at Konica Minolta, carving a distinguished path to executive vice president and the company's first female chief financial officer. She is also a member of the Board of Directors.
"It's a mutual respect mainly. I treat everyone with respect no matter what level they are at," said DeSantis. "People are people, and I think that goes a long way. If I'm doing you a favor, and I'm helping you, I expect that back. That's helped a lot."
It was the strong relationships she cultivated early on in her career that led DeSantis to Konica Minolta. After graduating magna cum laude from Pace University with a bachelor's in business administration with an accounting concentration, she spent nearly five years at global accounting firm KPMG, where Minolta was one of her clients at the time, followed by three years at Mitsubishi International as an internal auditor. She spent these years cultivating her knowledge, expanding her skill sets, and broadening her experience.
In 1996, DeSantis joined Minolta as an internal auditing manager in a seamless transition. She had planted the seeds of her relationships with the company and the then director of finance John Thielke, who would go on to become CFO at Konica Minolta, during her time at KPMG, and was looking forward to continuing to develop her career while having her own family in New Jersey. Her auditing role evolved into accounting, allowing her to deepen her knowledge of the company, its processes, and people.
However, in 2003, Konica and Minolta merged, marking the beginning of a challenging period for the newly joined company and its employees, with layoffs and cost-saving efforts on the horizon. By this point, DeSantis had already made herself indispensable.
"I had learned so much that I proved that I knew more than even my boss, so I was being pulled into meetings that my boss was not because he had become more of a figurehead," said DeSantis. "I knew everything that was going on, and I was able to establish good relationships with management that were on the Konica side, which helped move me along."
DeSantis proved pivotal to Konica Minolta through the early years of the newly merged company, bridging knowledge gaps and proving herself to be a vital team player for the company and its efforts to remain innovative and profitable in an increasingly crowded marketplace for technology products and services.
As she continued her tenure at Konica Minolta, DeSantis played a strategic role in the company's acquisitions of All Covered in 2011 and Depth Security in 2020.
"I like theory, the reasoning behind things, and it really helps me to understand and make decisions easier, because you just want to make the right decision," she said. "I'm very hands on, and I would teach myself different things like how SAP [Statutory Accounting Principles] works or how transactions work and go through the system, how things act and react, and this helps me to make decisions and avoid problems."
On July 1, 2021, Konica Minolta promoted DeSantis to CFO. She now oversees all aspects of the company's North American operations, including corporate finance, credit and collections, accounting, financial planning, analysis and reporting, tax, procurement, payroll, commissions, real estate, compliance, and merger and acquisition activities. DeSantis is also a vice president of Konica Minolta Holdings U.S.A., Inc. and is a member of the Board of Directors of Konica Minolta Business Solutions, U.S.A., Inc. She currently leads a team of roughly 160 employees.
Because DeSantis had taken on many of the responsibilities of her CFO position before she had even been promoted, she was able to immediately identify areas of potential improvement.
"I love changes and I embrace them," said DeSantis. "With my auditing background, I have a good idea of how things work and how to improve them."
One area she pinpointed was Konica Minolta's credit and collections, including days sales outstanding (DSO), a measure of the average number of days it takes a company to collect payment for a sale. She promptly hired someone to examine the process and understand how each employee was playing a role in the process to develop a plan to improve it.
DeSantis is casting a wide net for possible solutions to improve the company's DSO. She is considering digital options for the back office, software, and other products that could help streamline processes and procedures, like artificial intelligence (AI) and robotics process automation, as well as Konica Minolta's own proprietary products.
To move manual processes to automated, one of the products DeSantis is implementing is HighRadius, AI-powered automation software. She is also tapping into her highly capable and innovative team to solicit ideas on automating many manual functions that are slowing the processes down.
In April, DeSantis and her team rolled out Konica Minolta's "Finance Transformation Incentive Program." Employees are encouraged to submit their ideas to improve processes and automate functions, and each employee submitting an idea is entered to win $150 in cash or prizes per month, chosen at random. If an idea is selected and prioritized for implementation, the award increases to $1,000 in cash or prizes.
DeSantis is pleased and impressed by the number of ideas being generated by employees. Over 50 ideas have been submitted since the rollout and are being closely considered.
"You want to make sure people feel valued, and they're part of something bigger than their day-to-day jobs," said DeSantis. "They know they're part of a team."
DeSantis is optimistic about Konica Minolta's future, even though the past two years have been difficult. The pandemic posed unprecedented hurdles for many companies across the office technology industry.  Supply chain issues, from not being able to secure products such as chips to the rising costs of products and shipments, as well as the September 2021 fire at the company's toner factory in Japan, have presented numerous challenges for DeSantis and her team to forecast Konica Minolta's financials.
That said, DeSantis stays rooted firmly in reality. The executive management team, including President and Chief Executive Officer Sam Errigo, depends on DeSantis to provide realistic expectations. She is in constant communication with Errigo and roughly 20 members of the executive leadership team to ensure the company remains on track to achieve its objectives and stays close to the financial plan.
"No surprises," said DeSantis. "We should be able to explain everything."
As DeSantis looks back on her career thus far, she feels fortunate.
"The management I've worked for has empowered me to be able to do what I feel I need to do," said DeSantis. "If I get involved in a project, lead something, or look to improve something, they've let me know. I've had the freedom to control my own work and destiny."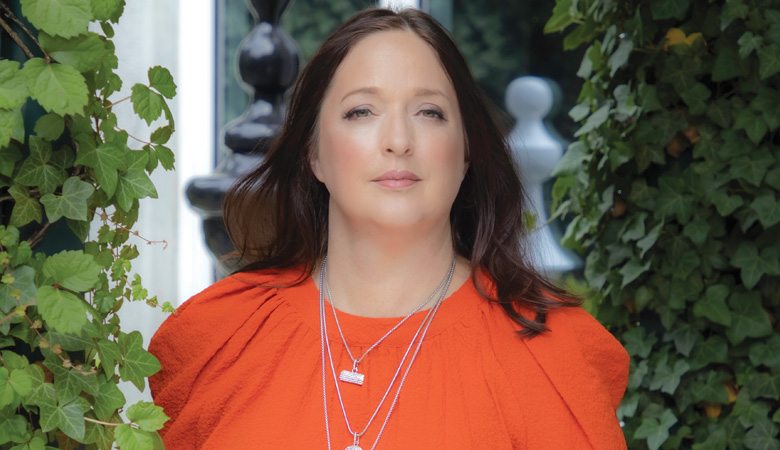 Leonie Forristal
Chief Financial Officer, Kyocera Document Solutions America
Leonie Forristal, chief financial officer of Kyocera Document Solutions America, strives to be at the heart of the company, gathering data from all points to make strategic financial decisions that will propel Kyocera and its employees into a profitable future.
"For any CFO, if you don't understand all the components of what is going on in the business, you don't have a lot of credibility," said Forristal. "Even though I'm new in the industry, this is what I'm trying to do every day, be at the pulse of the business."
In December 2020, Kyocera hired Forristal from the pharmaceutical industry to oversee its financial management. Hailing from a family farm in Ireland, where she would manage the family business's accounts, Forristal graduated with a certificate and diploma from London's Institute of Directors. She also obtained a Master of Business Administration from the University of Derby, and a Masters of Science in operations and supply chain management, all of which helped her develop a comprehensive view of the healthcare industry and now, the office technology arena. Forristal also holds a CIMA designation.
Before joining Kyocera, Forristal served for seven years as a senior global accountant at Roche Pharmaceuticals, followed by a 16-year tenure at Teva Pharmaceuticals as vice president. Her work allowed her to explore all aspects of finance and spanned several countries worldwide, where she credits many good teachers and mentors who helped guide her way. Throughout her career, she had the opportunity to work in the financial areas across manufacturing, research and development, corporate finance, and other senior global roles in the healthcare and pharmaceuticals arenas.
"I had opportunities to move and grow in depth as I progressed to senior positions," said Forristal. "To be a good CFO, it's not really about being good at M&As [mergers and acquisitions], or being a good treasurer, it's really about understanding all aspects of the business and any problems the business may be having."
Having timely, accurate information is vital, and Forristal depends on real-time information so she can plan and react strategically. Working in the fast-paced and technical pharmaceutical industry helped her understand the importance of continually evaluating evolving data and distilling insights from this information. This experience has helped her dive right into the digital transformation that Kyocera is embarking on.
"There are many similarities in finance roles across industries where products are being manufactured like the pharmaceuticals and office equipment industries," said Forristal. "They both have an R&D aspect to them, and they both have supply chain similarities. Pharmaceuticals have a very complex supply chain. With pharmaceuticals, supply chain issues are much more common because of the vast number of products they have."
Prior to the pandemic, Kyocera was not experiencing supply chain disruptions. However, as the pandemic wore on, the company was not immune to supply chain issues as the world, most notably in Asia, continued to lock down to contain the spread of the COVID-19 virus.
Forristal's experience managing supply chain issues in pharmaceuticals prepared her well for Kyocera's current situation. She focuses on collecting as much real-time information as possible to plan and forecast for the company and its employees. Current Chief Executive Officer Oscar Sanchez's commitment and passion for cultivating real-time data was, in fact, one of the reasons Forristal made the jump to Kyocera in 2020.
"Kyocera is a reputable company, and they are focused on their financials, and they understand how to make money, which is admirable in any industry," said Forristal. "But mostly, their management is really good both at the headquarters and here in New Jersey, among my peers, and with the CEO. Having good products is, of course, important, and the company does have great existing and new products coming but having a good management team and people who are really focused on growth is vital."
Forristal's CFO role is all-encompassing within finance, including accounting, treasury, tax, accounting, and financial planning and analysis. She oversees the finance functions at the company's New Jersey headquarters and at its 11 subsidiaries, Kyocera's data activation and process improvement firm DataBank, and offices across Canada, Mexico, Chile, and Brazil. She leads approximately 150 employees within the finance team.
For Forristal, focusing on bringing together the right people is instrumental in the success of her team. When she joined Kyocera, she modestly reorganized the finance department and added a few competencies that she believed were necessary to complement the existing team. Forristal places great value on retaining solid team members while also reaching out across industries to find new people who can enhance her team. She focuses on envisioning the structure of the group and then finds the right person to fill each competency within that structure.
"Retaining good people is always about understanding what people like doing and what they're good at and what they'd like to do, and understanding the capabilities and aspirations of your people," said Forristal. "For finding new people, always having a good finance network is important. I am always on the watch for new talent."
Forristal established a financial planning and analysis team that she developed from scratch when she joined the company. They are charged with collecting information efficiently, allowing the team to look at this information from many different angles to provide valuable insights into the business. This group has become instrumental as the pandemic has dragged on, most notably with forecasting.
"Being innovative is converting information—both internal and external—that we all get and making sense of it for the company," said Forristal. "We want to make it understandable for them to know what is going on and the possibilities they may have that they may not have considered so they can make decisions."
Forristal emphasized that challenging historical views is especially important for a CFO, something that comes naturally to her as an inquisitive person.
"One of my strengths is not knowing everything about this industry yet," said Forristal. "I can ask why we are doing this or that. Many times, the process works, but sometimes, we can reconsider and not do the same thing in the future. It's having a fresh outlook."
Forristal believes Kyocera has a very good roadmap ahead, especially as the company has strengthened its management team to include those with new abilities and core competencies to keep Kyocera on its innovative and profitable path. Despite continued supply chain hurdles, the company is committed to serving as a strategic partner for its customers.
"I believe these changes will drive growth and will energize the company," said Forristal. "I also believe this management team can ask hard questions so we can come up with new solutions. We're certainly not stagnant, and we're looking at what opportunities are there, and we're addressing the issues that are there. We're looking for continuous improvement."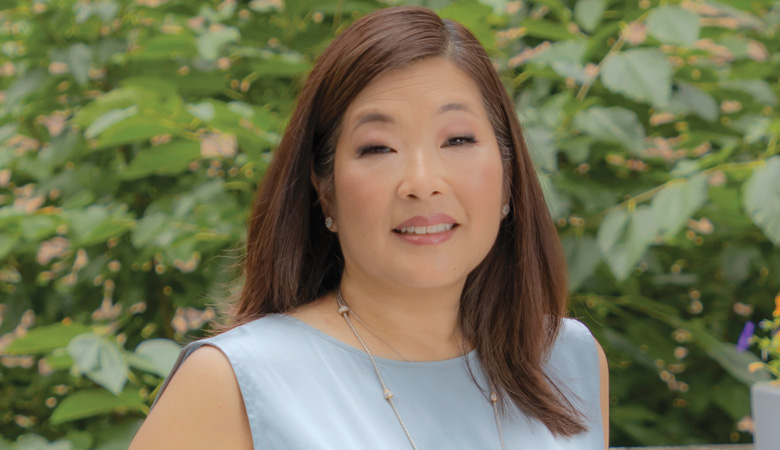 Moonsun Park
Chief Financial Officer, Senior Vice President of Finance, Sharp Electronics Corporation
One of Moonsun Park's greatest assets is her nearly 25-year tenure with Sharp Electronics Corporation, where she currently serves as the company's chief financial officer and senior vice president of finance.
"I have a lot of insight into the history of the company, the interaction with our parent company in Japan, and what works for Sharp and what doesn't," said Park. "There have been a lot of ups and downs within the company over the decades I've been here but being that consistent factor has been a benefit for Sharp and for me."
In 1991, Park graduated from Tufts University with a bachelor's degree in international relations and Asian studies. Park was entering the job market as the U.S. slid into a recession, marked by deepening layoffs and spiking unemployment.
In evaluating her options, she was reminded of the adage that nothing is certain except death and taxes. Park enrolled to pursue her Masters in Business Administration, focusing on accounting at Fairleigh Dickinson University. She took classes at night while working full-time during the day.
"Initially, I was pursuing accounting because I was good at math," said Park. "But, as I took more classes, I found that there's a lot more to it. It's not just black and white, there's a lot more interpretation with accounting."
Park began her accounting career at LG Electronics in 1994 and subsequently joined Sharp in 1998 as an accounting manager.
"After leaving the academic world, I realized there is a lot in terms of partnering with the business, analyzing data to make decisions, and that became a more interesting part of the job than journal entries and crunching numbers day in and day out."
After two years at Sharp, Park had her second child and made the decision to stay at home to parent her children. Though she intended to pause her career temporarily to be with her family, Sharp extended an attractive offer that would allow Park to work part-time.
She accepted the offer and worked two days a week for over nine years. Park had the ability to work on several different projects, including implementing the T&E (travel and expenses) system, shortening the close from 14 days to a two-day closing process, and rolling out various software implementations, all while being able to stay primarily at home to raise her family.
"Sharp bent over backward, going above and beyond to keep me there for as long as possible," said Park. The company was undergoing numerous management changes at the time, and she was able to provide consistency and perspective during this tumultuous time. Though Park started in this part-time consultant role just one month after her daughter was born and thought it would be an eight-week assignment, the projects kept coming and she enjoyed having a balance between her family and her career.
"Sharp really invested in me, and it's one of the reasons I've stayed," said Park. "I feel a sense of loyalty to the company for everything they've allowed me to do."
In 2009, Sharp asked Park to return full-time as a director in financial planning and analysis, where she designed and implemented policies and procedures for unclaimed property, implemented a long-range planning process, and managed budgets for several business units. In this role, she also prepared presentations for the then-CFO, giving her a close view of the role and its myriad responsibilities. In 2014, she was promoted to corporate controller and vice president of finance.
In 2018, Sharp elevated Park to CFO, where she now leads all the company's financial functions, including general accounting, consolidation and reporting, financial planning and analysis, treasury, tax, and accounts payable, among many others. Park's team consists of roughly 55 direct employees, which extends to a full team organization of about 125 employees.
Most notably, Park oversees Sharp's financials of not only its copier business but its numerous other lines, including consumer electronics, home appliances, and its components business that deliver products to the cell phone and automotive industries.
The pandemic presented unique challenges for Sharp, especially as the shutdowns in Shanghai stifled production for many of the company's products and components. Like many other companies across the office technology industry and beyond, rising inflation and the increased costs of the supply chain have drastically impacted Sharp's financials and outlook.
"We're always looking for that breaking point," said Park. "We want to take care of our dealers; we want to be fair to our dealers. Our dealer community is most important to us, so we need to ensure that they can continue to be profitable in their businesses. We also need to ensure there's a break-even or profitability in our business."
Since the beginning of the pandemic, Park has been working tirelessly with her team to forecast supply chain costs and their potential impact on profitability for both Sharp and its dealers. Park said her team has actually become even better at forecasting during the pandemic, as they constantly are evaluating both the short- and long-term potential financial scenarios.
"We got in front of things, and we've been able to maintain our levels of inventory and been able to provide our customers with the inventory that they require," said Park. "We don't see any decline in the near future. We're very fortunate, partly because of the company's cash flow and partly because of our forecasting. It's that continuous looking, re-measuring, and checking because the information is changing so quickly."
One of Park's most important recent achievements has been developing Sharp's mentorship program. As the pandemic progressed and triggered the Great Resignation, it became apparent how vital it is to nurture the company's up-and-coming employees to retain them. The program formally pairs Sharp's "best and brightest" with senior management team members. It started within Sharp's professional development group WISE (Women Influencing Sharp's Evolution) and has now expanded company-wide.
"This has been a great retention tool," said Park. "Seeing the feedback from business unit leaders, mentors, and mentees, we took a time where everyone was feeling really isolated and alone and created a program to help build the relationships and bonds across the organization."
Mentees now can develop rich relationships with their mentors, whom they normally wouldn't interact with, receiving guidance on their day-to-day initiatives to more strategic ones. Mentors are also tapping into feedback from their mentees on projects they are working on, creating a mutually beneficial relationship.
"The people who work here are fabulous," said Park. "The senior management team is supportive and open. I am incredibly fortunate and incredibly thankful for my experience at Sharp."
_________________________
To become a subscriber, visit www.thecannatareport.com/register or contact cjcannata@cannatareport.com directly. Bulk subscription rates are also available upon request and included in our media kit.