Survey reveals IT tools that most appeal to Japanese office workers in various industries.
Though office demand for MFPs and printers is declining, demand for IT tools and services that digitize office workflows to make them more efficient and mobilized are accelerating. This trend is tracking the same in Japan as in the U.S. Needs may vary slightly among consumers in Japan and the U.S. due to differences in market environment and business customs, but the opportunity remains the same—more consumers and businesses are looking to IT tools and services to help solve their business needs.
A recent survey illuminated what Japanese companies are looking for. ASKUL, a major online mail-order site that sells office supplies to companies in Japan, conducted its customer survey from May 28–June 7, 2021. A total of 2,693 customers participated in the survey.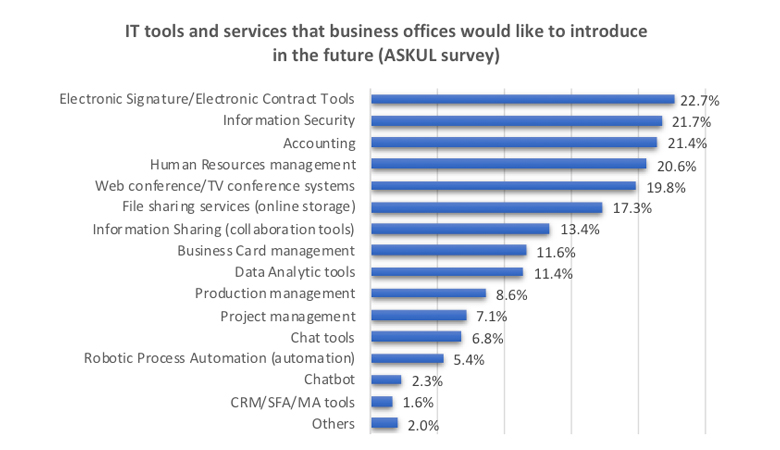 According to the survey, topping the list of tools and services businesses want are electronic signatures and contract tools (22.7%), followed by information security (21.7%), accounting (21.4%), human resources management (20.6%), and web conference/video conference systems (19.8%).
The industry with the highest need for electronic signatures and electronic contract tools was IT/information/ communication services (34.5%), followed by consulting/professional services (32.7%), real estate (31.1%), and electricity/gas/water/mining/energy (30.3%).
The industries that have the greatest needs for information security include education (28.9%), consulting/professional services (26.0%), transportation/postal/warehousing/logistics (25.6%), medical institutions/pharmacies (25.1%), and IT/information/communication services (25%).
Accounting has a great need for IT tools within industries such as education (28.9%) and publishing/printing/photography/design/decoration (28.8%).
The industries with the greatest need for human resources management are nursing/welfare (30.2%), followed by education (27.3%).
The need for web conferencing/video conferencing systems greatly vary by industry.  The industries that are most enthusiastic about introducing these systems are unions/organizations and facilities/institutions (34.8%), education (32.8%), and nursing/welfare (31%). In each of these three industries, the companies that want to introduce them exceed 30%.
The industries that are enthusiastic about introducing IT tools and services include education, nursing/welfare, and IT/information/communication services.
When asked about the negative impact resulting from the introduction of these tools, almost half (47.8%) said "large onboarding costs. Other adverse impacts cited included understanding of tools and systems to be introduced (31.4%) and "don't know if they will be utilized after introduction" (25%).