A gifted management team and proactive strategies are helping the Albuquerque dealership overcome the challenges of 2020.
Last month, we travelled via Zoom to New Mexico and visited Southwest Copy Systems in Albuquerque, New Mexico. We sat down with Kevin Simpson, president, and Patrick Garcia, sales manager, for a long chat.
Southwest Copy Systems was founded in 1992 by Mike Contois. He started the business with seven used Mita machines and grew it from there. He formed relationships with Toshiba, Sharp, and Lexmark. More recently, Southwest added Samsung, which led to a relationship with HP.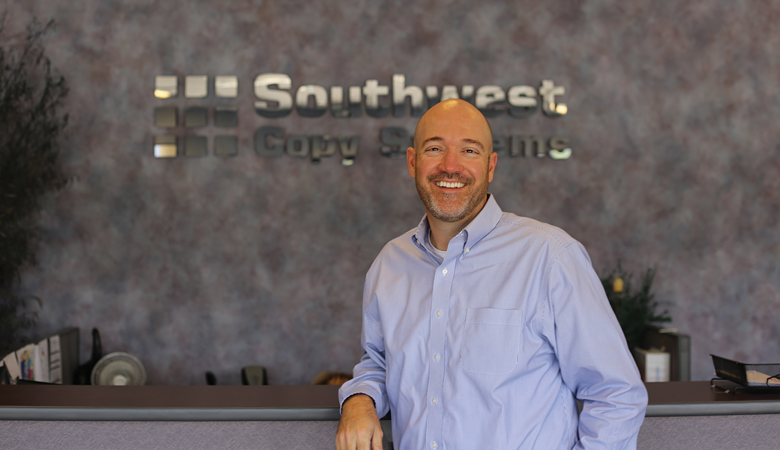 Above: Kevin Simpson
Kevin Simpson married Contois' daughter Allison in 1995, and it appears Contois saw something in Simpson beyond being a son-in-law. Over the next couple of years, he spent a great deal of one-on-one time with Simpson and hired him in 1997 as an account executive.
When Simpson joined the dealership, Contois began educating him about the business, starting with the basics. These almost daily discussions instilled in Simpson the fundamental understanding of what it means to work in an entrepreneurial environment. Contois promoted Simpson to sales manager in 2002, general manager in 2007, and his current role as president in February 2021.
In our winding conversation, Simpson shared a short history of the major moves the dealership has made that proved to be successful. The first thing he discussed was MPS.
"In 2002, we began providing MPS and are now the first-ranked business in successful implementations of MPS/print management solutions in New Mexico," he said.
He credits David Turner, director of sales at U.S. Bank, for Southwest's success with MPS.
"David taught us how to sell it and it saved us during the recession in 2008–2009," recalled Simpson. "We would not be where we are today without U.S. Bank, and we are very grateful."
As we continue to grapple with COVID-19, we like to ask dealers how they've fared throughout the pandemic and what they are doing to sustain the business. Garcia was excited to talk about this and was equally, if not more so, enthusiastic about what Southwest was doing.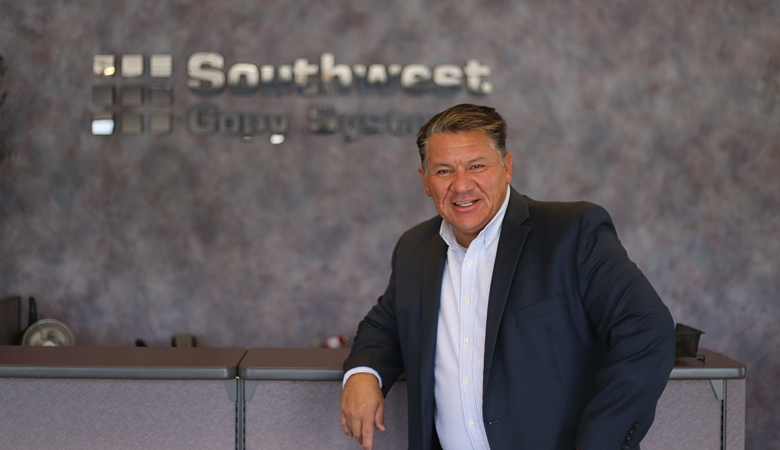 Above: Patrick Garcia
"We implemented proactive strategies with Kevin doing the training and motivating with our sales team," Garcia said. "He encouraged them to contact every one of their customers and refocus on how we can bring more value to them—helping solve their problems and more."
He went on to say, "There was no way anyone could go out and cold call, and we had to keep them focused. The important thing is we did not layoff any of them. We planned [layoffs] but never had to go there."
Garcia has great respect for his boss. "Kevin is innovative and taught our reps how to be more creative—the point was there are many more ways to get a customer turned on than saving them money."
On the services side, it was the same story, and there were no layoffs, though Simpson stated that two of the techs did take early retirement.
"We took advantage of all the downtime we had and increased our training and cross-training efforts," he said. "If we had to say there was one thing that this pandemic did for us, it was changing how we bring technology to the market. We reached out to dealers in CDA and talked about it, and they said the same thing."
In his earlier remarks, Simpson was very pointed that taking on HP has turned out to be an important and wise decision. The next question was obvious: What about HP's Amplify program?
"It has improved our margins significantly," was his immediate response. "The promotions and support have made a big difference to Southwest and to our sales team."
He added that the spiffs HP provides to Southwest's salespeople have reached $20,000 in 2020.
Simpson then launched into an explanation about why he feels so strongly about HP. "We had and continue to have a very good relationship with Toshiba. What HP gave us was a powerful brand name, and it turned our reps on. They also showed us they were making an investment in our future by revealing how products will perform and look."
Over the last two years, we have been asking dealers how they believe things will go for them in the post-pandemic period.
"Last year, 2020 gave us time to do the things we had to do," said Simpson. "We partnered with GreatAmerica's Collabrance, and with their help, we feel we have made great strides. In 2022, we are going to hit the ground running, especially in IT."
By staying focused on the business and its opportunities, Simpson remains optimistic about the future.
"We are one of three companies that were awarded eight-year contracts for the Albuquerque public schools," said Garcia. "That is 1,600 machines with upgrades coming in 2022. It will represent $2.5 million to Southwest Copy Systems."
A Good Decision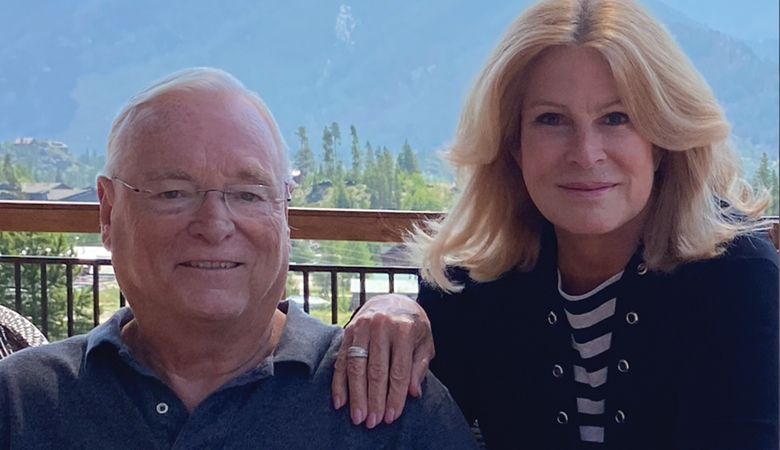 Above: Mike and Dorothy Contois
Developing a succession plan can be tricky for any family-owned company. Given Southwest Copy Systems' success in cultivating and promoting the next generation, we spoke with Mike and Dorothy Contois to understand what led to hiring their son-in-law Kevin Simpson in 1997 and their assessment of what he did once hired.
CR: What did you both see in Kevin that made you feel so strongly that this was a young man who had great potential?
Dorothy: Kevin was enjoying success working in a local electronics company. He impressed us with his work ethic and desire to better himself through learning about new opportunities. He impressed us with his highly ethical standards and honesty.
CR: Is there an area in particular that Kevin and his team excelled in?
Mike: Kevin and his team are quick to seize advantages of new directions for the business. This includes new methods of approaching customers during the pandemic and presenting new opportunities such as phone systems and managed IT.
CR: How do you and Dorothy feel the business is going now, and what do you think about next year?
Mike: It is hard to judge this year's volume due to the large number of backorders. However, sales and margins are good. We feel that 2022 will be more profitable than this year.
Access Related Content
To become a subscriber, visit www.thecannatareport.com/register or contact cjcannata@cannatareport.com directly. Bulk subscription rates are also available.