Exhibits 1.34-1.36
Until this year, the more dealers who participated in our Survey, the lower the percentage that offered managed IT. We believe the reason for this trend can be attributed to the number of smaller dealerships with revenues under $5 million completing the Survey.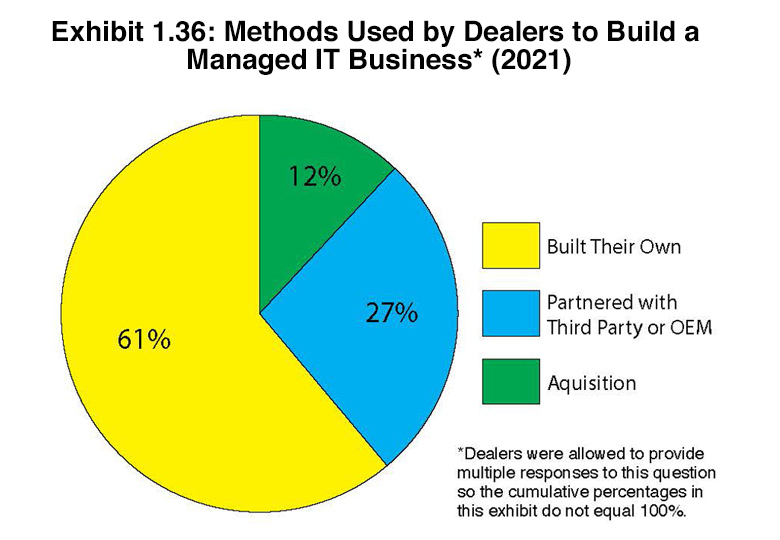 After hitting a high of 50% of Big Six dealers declaring they offered managed IT in 2018 with 330 dealers participating, we saw that percentage decline as participation in the Survey climbed. In 2019, the percentage of the 344 dealers offering managed IT declined to 46%. Last year, the percentage of dealers offering managed IT declined to 44%. This year, somewhat surprisingly, there was an increase in the percentage of dealers offering managed IT (46%), despite the number of Survey respondents increasing. Exhibit 1.34 shows just how much the percentage of engagement has increased since last year among dealers representing the Big Six.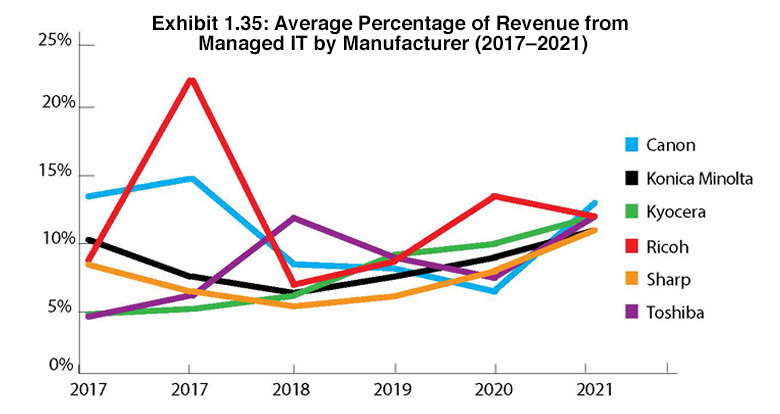 No matter what the percentage, managed IT has a bright future in the channel. Most larger dealerships with revenues over $10 million offer managed IT. It's a natural addition to a dealership's services offerings, especially with so many devices connected to the network. Other factors that will impact its growth are expanding the network beyond the traditional workplace as more employees work remotely and a growing awareness of network security. Security is a critical component of any managed IT offering and a way to get a foot in the door. What customer doesn't want to make their network, data, and business more secure from outside threats? Dealers that offer managed IT have an inside position on the security talk track.
Simply put, managing a customer's network broadens and enhances a dealer's product and services offerings. With the introduction of new product offerings such as smart offices and smart meeting rooms, the ability to manage a customer's network is taking on greater importance for dealers interested in offering those services.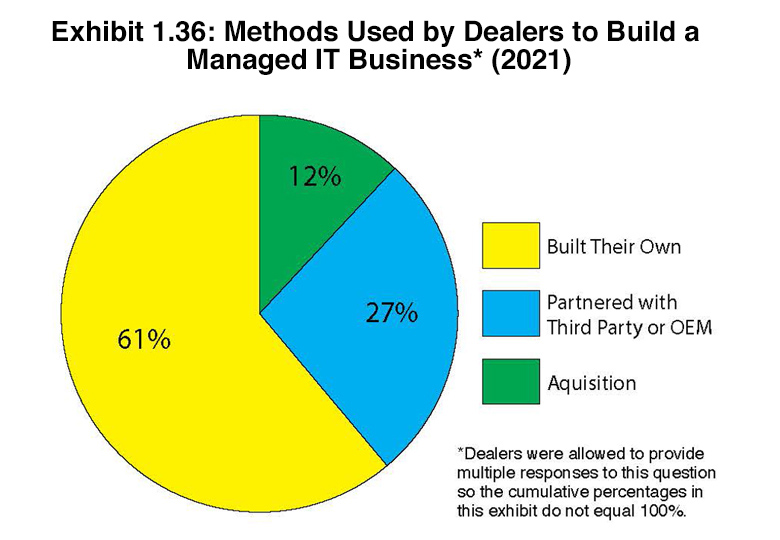 Tracking managed IT engagement by dealers representing the Big Six OEMs, everybody was up from the previous year, with Konica Minolta and Canon dealers leading the pack at 59% and 58%, respectively. Though Canon has only 37 Canon dealers participating in the Survey, this OEM saw its dealers' managed IT engagement grow by 13%. We used to think that Konica Minolta's All Covered division was one of the reasons why such a large percentage of Konica Minolta dealers offered managed IT, but for the past couple of years, Survey results don't seem to back up that argument. Last year, 15 of the 29 Konica Minolta dealers that offered managed IT said they partner with a third-party (more than likely All Covered), while this year, only six of the 21 Konica Minolta dealers that offer managed IT partner with a third-party. Considering the investment Konica Minolta made when it acquired All Covered in 2011, and the ongoing recognition All Covered receives in the IT world, one would expect more Konica Minolta dealers would be partnering with this division. We could chalk this up to dealers' entrepreneurial spirits, where many would simply prefer to build it themselves, as we continue to see in our Survey findings.
Indeed, there are three primary ways a dealer can build a managed IT business, and as our Survey reveals, the least popular way to do so is through acquisition (Exhibit 1.38), with 12% of respondents using this strategy, compared to 19% in last year's Survey. The most popular method is building their own (61%). Some dealers identified multiple strategies for building their managed IT business, so the cumulative percentages in Exhibit 1.36 do not equal 100%.
As dealerships have become more proficient at installing network devices, the confidence level in starting their own managed IT business has likely accelerated, as has access to IT professionals who are more likely to switch jobs for the right offer. However, connecting an MFP to the network is very different than managing a customer's computer network. The challenge for many dealers is the cost of hiring this talent. Dealers often lament the cost, but some now realize that they can't have a successful and sustainable managed IT business if they don't invest in the personnel to staff it. With more dealers diversifying into unified communications and physical security systems, both of which fall under the managed IT umbrella, the need to invest resources into managed IT has become more critical than ever.
We remain skeptical about the percentage of revenue from managed IT reported by manufacturer (Exhibit 1.35). This year's average is 11.8%, which is up from 9% a year ago, and 8% two years ago. Even then, we felt those percentages were higher than they should be based on our conversations with dealers and organizations that track managed IT revenue based on dealers' actual financial reports. Despite this, we must still adhere to the honor system with our Survey respondents. The top percentages by manufacturer were up from the previous year with Toshiba (13%), followed by Konica Minolta, Kyocera, and Ricoh at 12%. Canon and Sharp dealers reported average revenues of 11%. Those increases could be attributed to setting up customers' employees remotely in 2020.
Last year, for the first time, we asked dealers if managed IT revenues were up, down, or the same compared to the previous year. Fifty-one percent of respondents reported revenues were up, while 38% reported revenues were the same as the previous year, and 11% experienced a decline in their managed IT revenues. Comparing these percentages to last year, 62% of respondents reported managed IT revenues were up, 35% reported revenues were the same, and only 3% said that revenues were down. We do not need to dig too deeply to identify the reason why fewer dealers reported revenues were up and more reported revenues were down. If we must state the obvious, we will—the pandemic.
Access Related Content
To become a subscriber, visit www.thecannatareport.com/register or contact cjcannata@cannatareport.com directly. Bulk subscription rates are also available.