Exhibits 1.26-1.28
Low margins be damned, most dealers now realize that having a selection of standalone printers in their portfolio is a necessity. That's because printers are essential to a dealer's MPS business. Our Survey reveals 13 different printer brands carried by this year's respondents, including dealers still selling the discontinued OKI product line and one dealer that sells Dell printers. Of our universe of 385 dealers, 10 (2.6%) do not sell printers.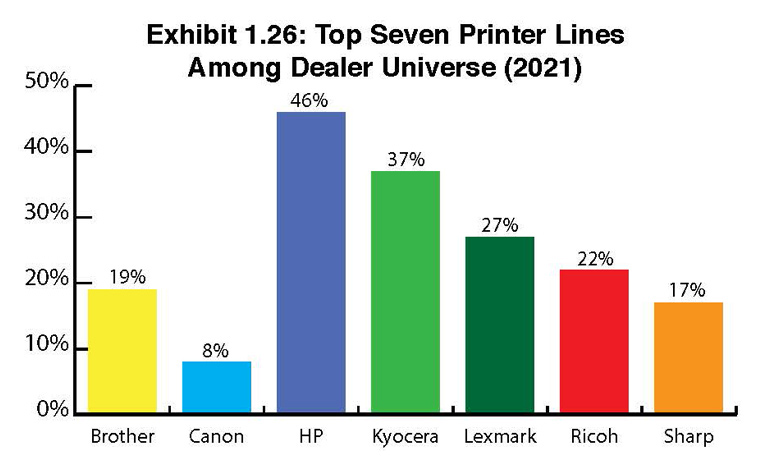 This year, we saw a big increase in the number of printer lines carried by dealers across the entire universe. This year, there were 752 printer lines (versus 612 last year) across the universe of 375 dealers that sell printers (10 dealers responding to the Survey do not sell printers) for an average of 2.0 printer lines. That was the same number reported in last year's Survey.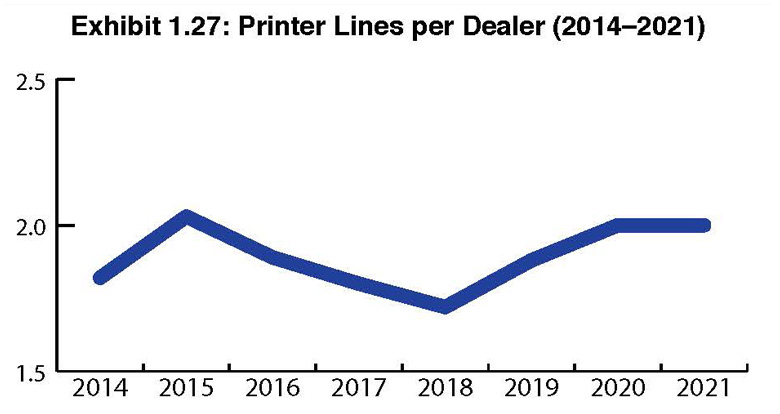 Exhibit 1.28 identifies the average number of printer lines per dealer by manufacturer for the Big Six. The top four positions were separated by 1/10th of a percentage point with Canon and Konica Minolta tied at 2.1, followed by Sharp at 2.0, Ricoh at 1.9, and Toshiba at 1.8. Kyocera averages the fewest number of printer lines per dealer at 1.7, largely because of its strong printer offerings. Why go elsewhere when your primary vendor has everything that you need?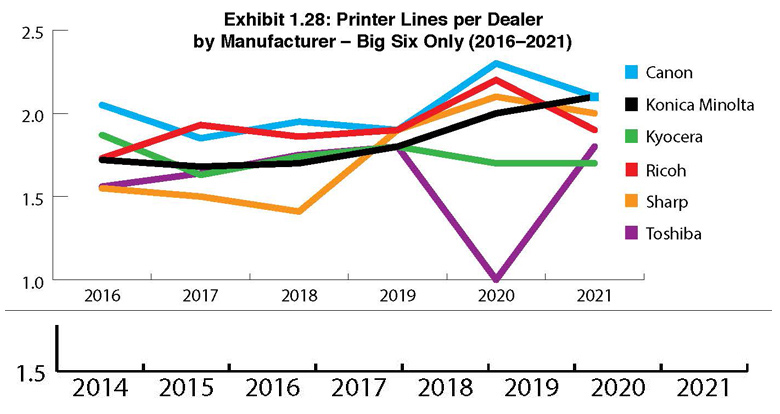 When dealers are asked to identify their printer suppliers (Exhibit 1.26), HP maintained its leadership position in this year's Survey at 46%, a 3% increase from last year's Survey (43%). Please note that 46% represents the percentage of dealers who identified HP as either their first, second, third, or fourth printer line. Kyocera remains in second place with 37% of dealers identifying the company as one of their printer suppliers, a 1% increase from last year (36%). Lexmark's percentage increased by three percent year over year to 27%. Brother continued its upward momentum rising from 15% in our 2020 Survey to 19% this year, just three percentage points behind Ricoh (22%). We continue to watch Brother in the printer and A4 space, and the company's initiatives to add more dealers to its network clearly show positive results. Sharp finished just behind Brother in sixth place at 17%, followed by Canon at 8%.
Other manufacturers identified in the Survey that do not appear in Exhibit 1.26 include Konica Minolta (7%), Epson (6%), Xerox (6%), Toshiba (3%), OKI (0.5%), and Dell (0.2%). Epson remains a manufacturer worth watching thanks to its combination of inkjet printers and MFPs. Epson's percentage increased from 4% in 2020 to 6% in this year's Survey, despite the company losing traction in signing on new dealers due to the pandemic. We believe the greater number of dealers participating in this year's Survey is the reason for that 2% increase. We expect to see Epson's numbers continue to rise in future Surveys across A3, A4, and printers.
Access Related Content
To become a subscriber, visit www.thecannatareport.com/register or contact cjcannata@cannatareport.com directly. Bulk subscription rates are also available.