Keypoint Intelligence expands its offerings to help dealers compete more effectively.
Above: Anthony Sci, president & CEO of Keypoint Intelligence
Anthony Sci, the new president and CEO of Keypoint Intelligence, is on a mission, a mission to educate the dealer channel about the many services and tools his organization provides that can help them grow and diversify their businesses.
One might think this isn't a big challenge, especially since most dealers already know about the Buyers Lab (BLI) component of Keypoint Intelligence with its test lab, product reviews, awards, as well as bliQ, the company's product comparison tool. However, Sci contends that many dealers and even some OEMs are not aware of the full scope of Keypoint Intelligence's offerings. He wants to change that.
Knowledge Base
As customers and prospects become more knowledgeable about the technology, solutions, and services necessary to run their businesses, the onus is on the dealer who sells technology, solutions, and services to step up his or her game to win the deal. One way is by expanding their knowledge about the products they sell and what the competition sells while highlighting the opportunities within their market, as well as exploring new ways of connecting with customers. None of that is easy, which is why partnering with an organization with a wealth of resources such as Keypoint Intelligence can help dealerships compete in an increasingly competitive and challenging sales environment.
Keypoint Intelligence began 60 years ago as Buyers Laboratory, an equipment testing organization for business. Through acquisitions and expanded offerings, Keypoint Intelligence, the umbrella organization of which BLI is an integral part, has become a valuable resource to OEMs, dealers, and buyers. With its consulting and advisory business, its sales enablement tools, content services, and customer-facing sales-enablement tools, including an e-commerce platform, it is more plugged into the dealer channel than at any time in its history.
"We are mirroring what dealers and manufacturers are doing and providing information in new areas such as security cameras, Managed IT Services and 3D printing," observed Sci. Part of his task in his new position is identifying growth industries, some applicable to the dealer channel, some not so much, such as 3D printing. But much of what the company does, especially its data-driven analytics and consulting, directly impacts dealers. Let's examine three of its offerings—consulting and advisory services, e-commerce, and managed IT.
Consulting and Advisory Services
For years, Keypoint Intelligence has offered consulting and advisory services to manufacturers. That service is now available to dealers as well. Intelligence is provided on vertical markets, technology segments such as production print, or trends such as the impact of COVID-19 on the imaging technology industry.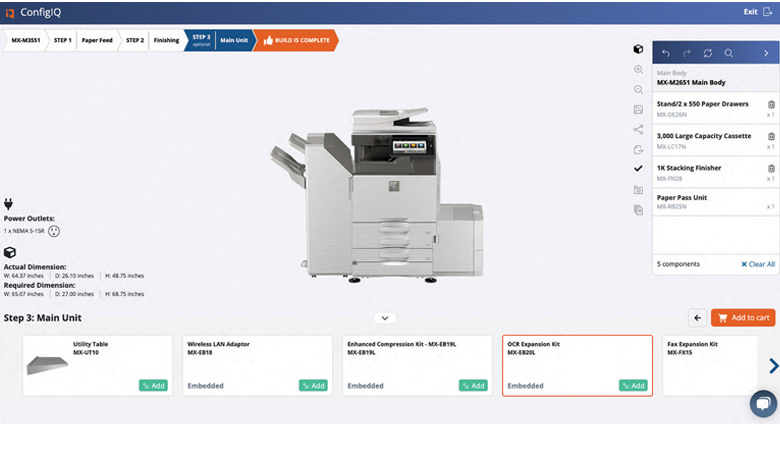 Above: Configurator from bliQ screenshot
"We have a lot of data and do tons of surveys," emphasized Sci. "When it comes to consulting, it's data- driven. People want to know that there's data behind it, not just words. When you have facts and years of data to back up what you're saying and tools in place to know you'll be accurate going forward, it's powerful."
Analyze IQ – The backbone of the data portion of Keypoint Intelligence's business is Analyze IQ, a visual analytics platform that identifies the challenges and opportunities of expanding into new areas while also providing dealers with an ROI in specific product segments within their market. The platform uses Keypoint Intelligence's mapping technology—technology also included in Keypoint Intelligence's Channel Strategy Service and its Vertical Marketing Opportunity solution. Analyze IQ is also a module in the company's new UVERCE™ e-commerce platform.
Channel Strategy Service – This is a data platform built on a mapping and analytics dashboard that allows dealers to find the right channel partners, understand the competitive channel situation in their market, and build territories for their channel.
Vertical Market Opportunity – This customizable product identifies the number of devices, page volumes, and business establishments in a dealer's customer base as well as in their state or territory. It provides dealers with territorial and geographical data based on print volumes in their existing MIF against the universe in their territory. It also shows penetration rates based on what the dealer has sold. Keypoint Intelligence can even create a database for each customer site within a dealer's territory. With this information, the dealer can view their penetration rate in a specific vertical and equipment currently used by that customer. This shows verticals where a dealer is strong, where they could do better, and the best verticals to focus on in their territory. Information on 28 vertical markets is available.
"These tools mostly focus on vertical markets, installed base, print volume, and business establishments," explained Randy Dazo, chief strategy & product officer. "To get that much data about the opportunities in any given state is compelling."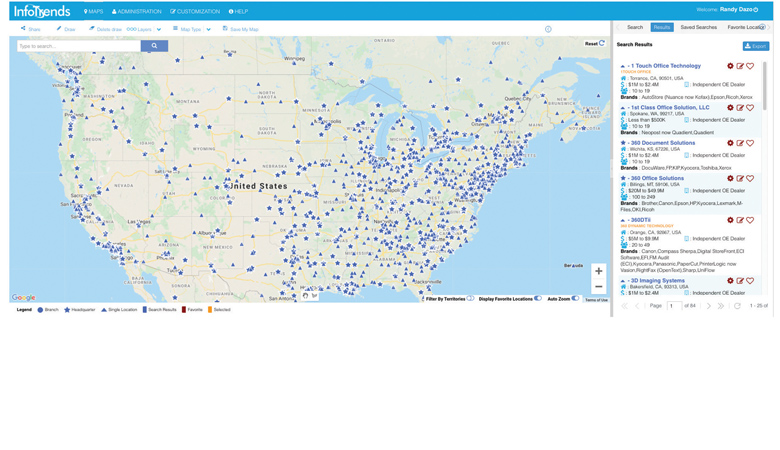 Above: Channel Strategy Service screenshot
Bringing e-commerce to the Channel
Are dealers prepared to transition into e-commerce? Sci and his team at Keypoint Intelligence think so, which is why they developed UVERCE, an e-commerce platform and online catalog builder. The latter capability is for dealers who don't have product catalogs on their websites. It includes a wealth of information, including specifications, supplies, and options for every device in Keypoint Intelligence's database. UVERCE also provides dealers with content such as white papers and thought leadership-related articles for their websites.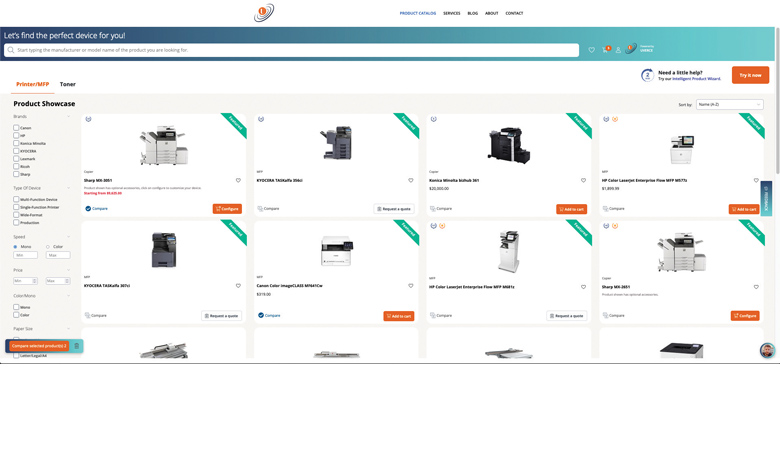 Above: UVERCE e-commerce screenshot
"The benefit to the dealer of UVERCE is that it's turnkey, maintenance-free, simple, and on average, we can get them up and running with a product catalog in days and e-commerce within a month," said Dazo.
Sci believes it's time dealers embraced e-commerce, particularly since it has become so commonplace in our daily lives. "I never thought I'd see the day you could buy a car online and have it delivered to your front door," said Sci. He emphasized that millennials and other younger generations will drive the acceptance of e-commerce in the channel. "If a company is shopping for a copy machine or printer, a senior executive isn't going to do the research—it's done by millennials. They grew up on computers and live on e-commerce."
The e-commerce component of UVERCE follows a similar approach to how car dealerships sell their products. "You pick a base model, configure it with all the options and accessories and add it to the cart," explained Dazo. Customers can select the speed range, color or black & white, paper capacity, finishing features, as well as service and supplies and leasing contracts and toner bundles. If a customer wants to add a $1,500 per month service and supplies contract, they must first review and acknowledge terms and conditions before paying.
UVERCE allows dealers to sell commoditized products such as printers and segments 1-3 on their websites, although higher-end products can be listed as well.  If the dealer prefers not to show pricing or the customer is interested in a more robust device, they can request a quote and engage with the dealer through the UVERCE chat function or a live video call.
For dealers hesitant about placing pricing on their website, Sci points out research that shows if pricing isn't on a site, buyers will go to one that has pricing. Once a few dealers add an e-commerce component to their websites, Sci contends others will follow. "When people start googling e-commerce sites for copiers, and they're the only ones coming up, everybody else will be in trouble."
Connecting with Dealers on Managed IT
In 2022, Keypoint Intelligence plans to introduce tools for dealers interested in expanding into managed IT. The company's concentration is on digital transformation with analytical services and tools focused on mobility, voice, unified communications, cloud, security cameras, conference room systems—anything related to the managed workplace.
"Dealers are starting and struggling in managed IT," said Sci. He believes midsize and even large dealers need assistance determining the best IT-related offerings for their customers. The plan is to offer evaluations and comparisons of various managed IT services platforms and software along with comprehensive product information in bliQ as a separate subscription.
"We want dealers to know not only are we good on the print side, but we are creating the same capabilities in bliQ as well as our consulting and advisory services for the managed IT space," said Dazo.
What You Need to Know About bliQ
Despite being a legacy product, not everyone may be familiar with Keypoint Intelligence's bliQ sales enablement tool. Here are five things you should know about it.
The bliQ database contains more than 65,000 imaging products, ideal for side-by-side product comparisons.
bliQ is especially helpful for new sales reps. With bliQ, a new sales rep can quickly learn all the latest features of the products their dealership currently sells and identify the best product for a given customer based on criteria such as output speed, black & white or color, or feature set. With this information, sales reps can go head-to-head with competitors and better understand the advantages and disadvantages of the products they sell.
Product information is accessible by product name, manufacturer, or model number. Searches can also be sliced and diced depending on the type of product, introduction date, the BLI Lab or Field Test Reports available on a product, and if it is a BLI Award winner.
It includes a TCO calculator so dealers can show their customers the TCO of a given product.
It includes a brochure builder so dealers can create brochures on the fly using products in the Keypoint Intelligence database.
Access Related Content
To become a subscriber, visit www.thecannatareport.com/register or contact cjcannata@cannatareport.com directly. Bulk subscription rates are also available.