Elite Document Solutions distinguishes itself from its competitors with a flat-rate billing program.
Above: Earl Everson and his golden retriever Sid, who he describes as one of his best sales reps.
To differentiate his dealership from the competition, Earl Everson, president of Elite Document Solutions in Schaumburg, Illinois, discovered the best way to do that is by offering customers a flat-rate billing option.
"I had this concept to eliminate billing issues and click rates," explained Everson, who launched the program six and a half years ago. "So, I called one of my larger customers and said, 'I have an idea and need you to help me understand if I'm going to lose with this concept or win?'" The customer was intrigued, and Everson started them on the program. "I realized that wow, this was a good thing for us and great for the customer," he said.
The program is an easy sell because Everson has perfected his sales pitch. He uses an image of an old flip phone as a prop when selling the program with a graphic that says, "Pay per minute."
"Back in the day, you were paying per minute to talk on that phone," said Everson. "I ask customers, do you still pay per minute to talk on your phone? They're like, 'No.' And when he asks them, how do they pay, and they say they have an unlimited data plan, he says, "Wouldn't it be nice to have an unlimited plan on your copiers as well? Or do you still want to pay per page to print, just like per minute to talk? When I dial it down into the world they live in, the light bulb goes off. It's a no-brainer because none of my competition offers it. That's what separates me at the end of the day from everybody else."
While other dealers were suffering in 2020 because of per-click programs, Elite's flat-rate model kept them afloat and profitable. "I had all this service revenue coming in every month, and we weren't giving up toner supplies. And my service techs didn't have to work as much. I was so profitable. Here, everybody in the industry said, 'This is the craziest concept in the world. You come out with this flat-rate billing, no more click rates, you're going to be going under in four months.' Six and a half years later, I will put my profitability on service against any dealership out there."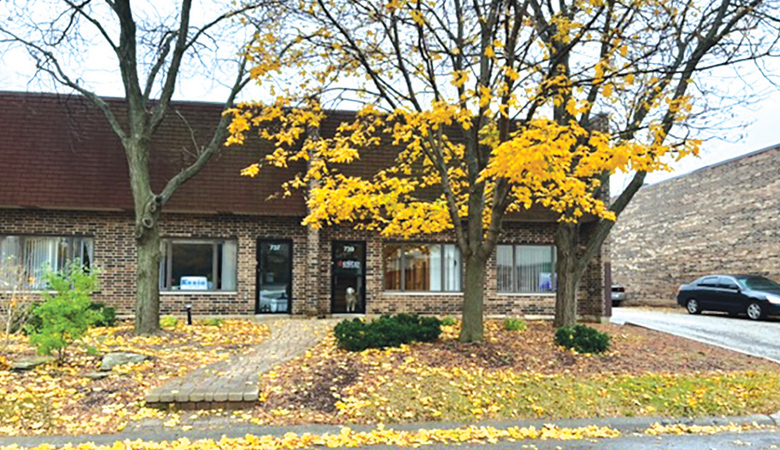 Above: Elite's headquarters in Schaumburg, IL
Outside of Konica Minolta and its One Rate program, Everson doesn't run across any competitors doing flat-rate billing in his market. "Theirs is kind of limited," opined Everson about the Konica Minolta One Rate program. "My program is really unlimited. We don't bank our program on X amount of supplies a quarter like Konica Minolta. It is what it is. I take on the risk. If your volume escalates or doubles, that's on me, not the customer. When customers see that predictable billing and they're not being charged five, six, or seven cents a page, but zero, that's great."
From Fixing Cash Registers to Flat-Rate Billing
Everson has been in the industry for 30 years, working for OEMs, dealers, and since early 2008, himself. His résumé includes stints at Savin, MGI, Konica Minolta, and Kyocera. In his early twenties he was living in Tampa, working with his brother fixing cash registers for convenience stores. Through an acquaintance he met someone who worked for Savin, which led to a position as a copier service tech. After three years, he switched to sales, because as he put it, "I wanted to make more money."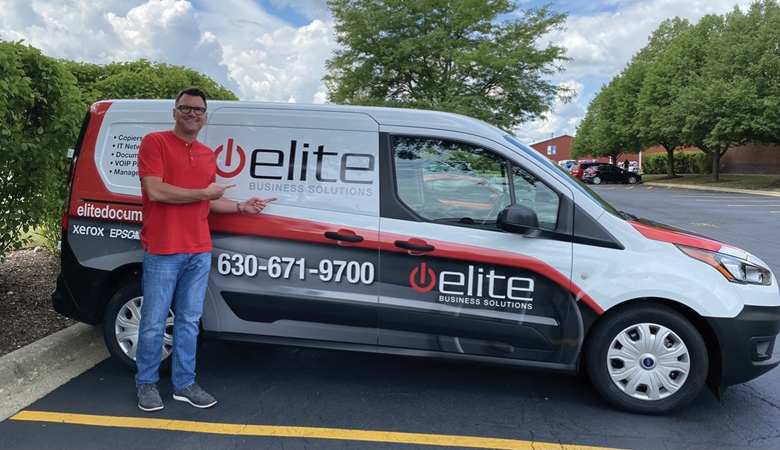 Above: Everson poses next to one of the dealership's service vehicles. 
Sales came naturally to Everson. His first day cold calling, he sold two copiers. His pitch: "If I can get you a new copier for what you're spending now, would you do it?"
"From that point, I fell in love with it," said Everson. One job led to another, and another, and another, including a move to Chicago to open a branch for MGI. He's been in Chicago for 25 years. While at Konica Minolta, he was the top-selling production print sales rep in the country. "Every move I made in my career has been an opportunity for me to learn more, whether it was print production, as a regional manager, or at Kyocera dealing with national accounts," said Everson, who added that he didn't want to spend his career as a sales rep working for someone else and wanted to run his own business. In late 2007, fate intervened, and he acquired a toner and supplies company owned by a former mentor who had suddenly passed away. That turned into another learning experience.
"I was knocking on doors selling toner cartridges and had no idea what the heck I was doing," recalled Everson. He was a quick study, and the more doors he knocked on, the more he sold. But his customers wanted more than just toner cartridges and kept asking Everson to stock printers and copiers. In 2011, he began selling Kyocera printers and copiers, a logical choice because of his history with the company. But after a falling out over how he was marketing his business, he switched to Xerox three years ago.
With six employees, including three sales, two service, and one admin, it's a lean operation. This year, Everson expects to do just under $2 million. "As far as revenue per head count, we do really well," he said. "I run my guys hard. I'm a perfectionist. I want everybody to be trained right, to be efficient, and cross-trained on everything."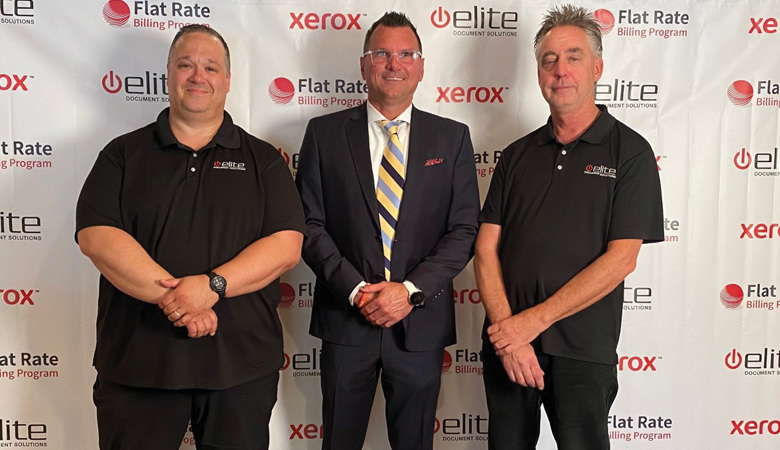 Above: Everson (center) with his two field service reps, Eric Lund on the left and Bruce Alberts on the right. 
Elite's customer base includes non-profit organizations, park districts, villages, and churches. Elite Document Solutions does a top-notch job of retaining customers. "I can count on three fingers the customers I've lost since I've been selling copiers," said Everson. "I build strong relationships. I'm not a speeds and feeds guy, even though on LinkedIn I may talk about speeds and feeds. But with my customers, I try to get in the C-suite and establish a relationship."
While supply chain issues ravage the imaging industry, Everson hasn't had much of a problem getting hardware or supplies, although the equipment is taking about 30 days to come in. "Knock on wood, so far so good," he said. If necessary, he provides customers with a used machine or a demo unit until the new machine arrives. "We're trying to plan three or four months ahead so that customers aren't waiting so long," added Everson.
Linking In
Everson prides himself on his social media acumen and connects with customers and colleagues in the industry with his Facebook and LinkedIn video posts. It's a marketing strategy few dealers of his size employ. It's made a difference, raising Everson's and Elite's profile with customers and across the imaging industry. "I started about six years ago, not knowing anything about LinkedIn. Somebody told me you should get on LinkedIn and start doing these videos you do on Facebook. Now I have a method to my madness with my videos. Next year, I went to get a million views on my LinkedIn content. For me, when I look at the [revenue I've generated from] LinkedIn compared the number of views, it equates to about a dollar a view. Next year, if I can get a million views, I should get around a million dollars in revenue."
He has no problem coming up with topics for his videos. "It's easy because there's always something new," said Everson. "I'm in the field every day selling, so I see what competitors are doing—the good, the bad, the ugly, and I talk about it. I talk about things that I probably shouldn't talk about, like lease rates. I'm trying to educate customers. At the same time, my competitors are like, 'What is this guy doing? Why is he talking about this?' I want to be transparent and uncover everything for our customers, good or bad. I want to be the voice for customers, and if it hurts a certain dealer, it hurts a dealer. I have a vision that the copier industry should be done a certain way, and that's what I talk about."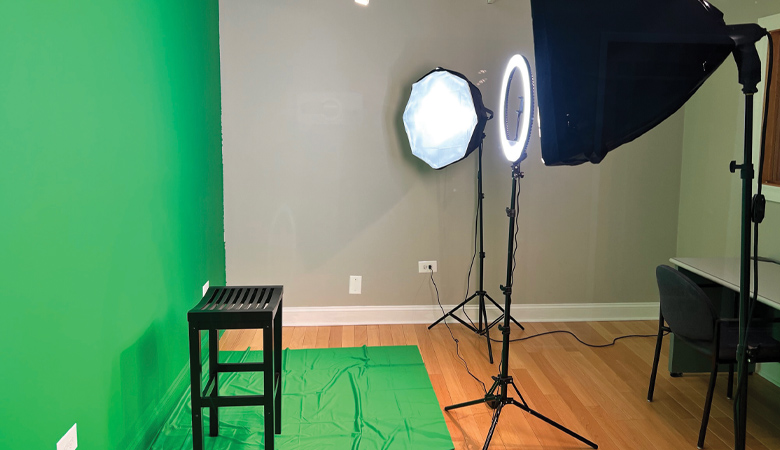 Above: The production studio at Elite's headquarters where Everson records his LinkedIn videos.
Everson is not afraid to post pricing online either, which did not sit well with competitors selling the same product who complained to his manufacturer. That's what caused him to part ways with that manufacturer. He believes manufacturers should be more flexible and understand that smaller dealers should be able to market their way and bigger dealers their way.
"They should complement each other," said Everson. "Manufacturers should understand that every company is different as far as how they market their products. Some have a lot of feet on the street. Those get a lot of support from their manufacturer and are funded differently. I started this company with no money, no loans, and I've never had manufacturer support. But then, some manufacturers say, 'You can't do that because we're not going to lose their business for your business.' I get it, but to me, manufacturers should help the small dealers become bigger dealers because one day, that big dealer may not be their dealer anymore. And when they're gone, what are they left with?"
LinkedIn has also been a great platform to connect with people at industry events and sit down and pick their brain. "I'm a shop junkie," said Everson. "I love talking shop when I'm out and about. I talk shop 24/7."
The Future
Since Everson took over the business in 2008, all growth has been organic. "We're profitable as heck," he said. He isn't concerned about the decline of print either. "To be honest, I'm glad that print's declining because I make more money with my flat-rate billing program. Print is not going to go away. It's going to decline whatever per year. That's okay. It just helps me be more profitable."
Even though he has a production background, Elite does not sell production equipment. "It's not our forte," said Everson. "It's always been my forte, but as far as running my own company, I don't want to get into that arena. I don't want to do that to my techs because our bread and butter is 35 to 70 ppm. I keep it simple. I stay with one family of products across the board because I want my techs to know everything inside and out for each product. It helps with toner supplies, maintenance kits, knowledge of the product. I try not to be everything to everybody. I try to come across like a big company through social media, but at the end of the day, I streamline my business. I try to be like the Southwest Airlines of the copier industry. I don't want to have 20 different airplanes. I want to have one airplane and one maintenance kit that can take care of everybody. It helps with inventory issues and all that good stuff."
He sees a potential opportunity in managed IT. "Everybody thinks the secret bullet is IT," he said. "Maybe it is. I'm just not 100% there yet. Right now, I'm just trying to maximize copiers because the flat rate is an open area for me because nobody's doing it the way I do it."
Currently, he outsources managed IT to a local vendor until he could justify adding that capability to his dealership just as he did with service when he added copiers and printers in 2011. For now, Everson's goal is to keep things simple. Between traditional print technology and the flat-rate billing program, it doesn't get much simpler than that.
Access Related Content
To become a subscriber, visit www.thecannatareport.com/register or contact cjcannata@cannatareport.com directly. Bulk subscription rates are also available.