Exhibits 1.10-1.12
To determine the manufacturers with the strongest distribution, we examined how they ranked as a dealer's primary and secondary equipment supplier (Exhibit 1.10). Our Survey shows a significant number of dealers (59.5%) carrying two, three, and four A3 lines. Some of those lines were added to fill in gaps in their primary manufacturer's A3 product lines, while others were added through acquisitions.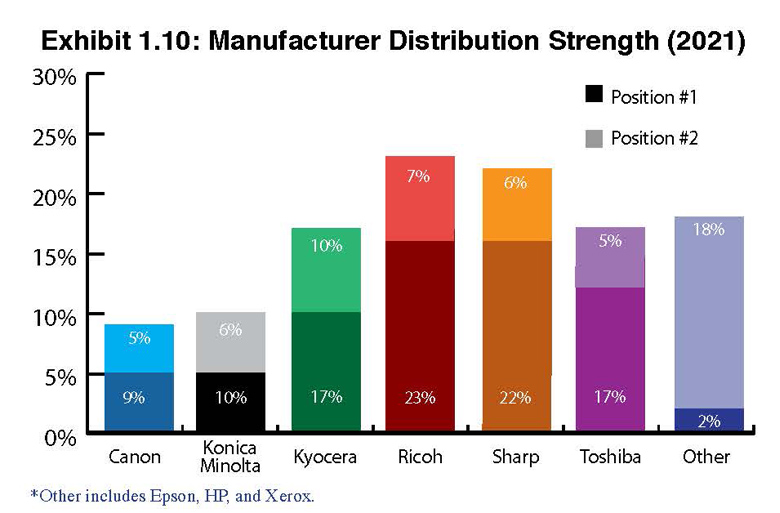 The chart for Additional Manufacturers in Secondary Position for A3 MFPs (Exhibit 1.11) yields some interesting comparisons to the previous year's Survey results. Here, we are reporting the percentages of manufacturers identified as a dealer's second, third, or fourth line. As noted in previous Survey analysis, this order (second, third, fourth) is sometimes arbitrary. The performance of an additional line in terms of sales during the Survey year, or a specific manufacturer's incentives could determine the order of placement and why there isn't always consistency from one year to the next when we identify the manufacturers in a secondary position.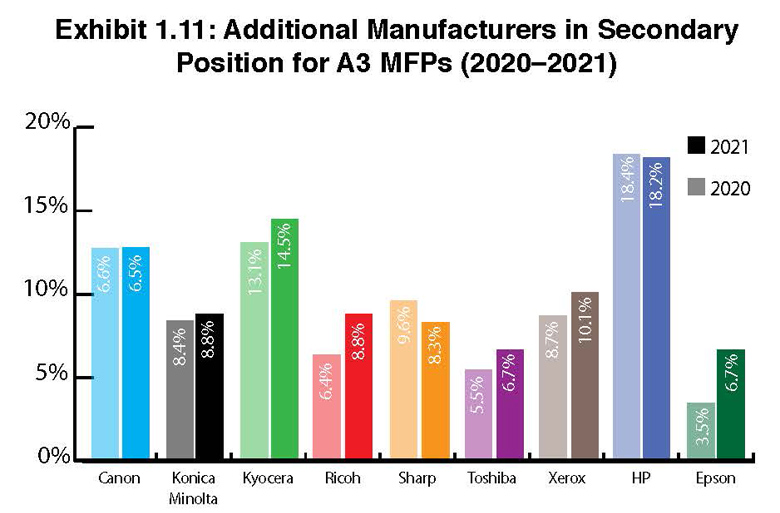 Once again, two companies remain worth watching as secondary A3 manufacturers—HP and Xerox. Twenty-eight dealers selected HP as their No. 2 manufacturer, and 26 dealers selected Xerox. Both companies are aggressively recruiting dealers, and those efforts have been on display in our past two Surveys. Increased dealer participation in this year's Survey is another factor. While HP's result of 7.3% saw a slight increase year over year from 7% last year, Xerox's selection as a No. 2 A3 option rose from 5.5% to 6.8%.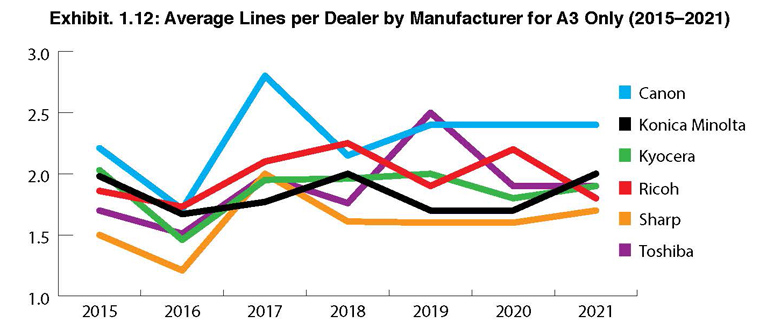 HP's and Xerox's traction in the channel as secondary A3 providers is even more pronounced when we look at how those companies were represented as a secondary A3 supplier overall, not just in the No. 2 option. Although HP's percentage of 18.2% this year was on a par with last year (18.4%), it is still significant, while Xerox's percentage rose from 8.7% last year to 10.1% this year. Considering some of the internal turmoil at Xerox a few years ago, it's somewhat surprising that this instability did not impact its A3 products moving through the independent dealer channel. Another vendor, relatively new to the A3 space in our Survey, is Epson. This OEM and its inkjet products were carried by 6.7% of dealers in this year's Survey, while only 3.5% were selling Epson A3 last year.
As far as the performance of the Big Six in the No. 2 position and in subsequent positions (Exhibit 1.10) compared to our previous Survey, these percentages seem to ebb and flow with modest fluctuations. The leading three lines in the second position this year were Ricoh (23%), Sharp (22%), and Kyocera and Toshiba tied at 17%. Picking up the rear as the No. 2 line were Konica Minolta (10%) and Canon (9%). Last year, Konica Minolta was at 7% and Canon at 6%. We don't believe the deviation had anything to do with the pandemic, but once again the arbitrary nature of where dealers place their second, third, and fourth A3 providers when filling out the Survey.
Access Related Content
To become a subscriber, visit www.thecannatareport.com/register or contact cjcannata@cannatareport.com directly. Bulk subscription rates are also available.