Exhibit 2.26
In Part 1 of our Survey featured in the October 2021 issue, production print was cited by 44% of dealers as a growth opportunity, although only 8% of our dealer respondents identified it as their No. 1 growth opportunity. However, it's a narrow field when reviewing the ratings for production print (Exhibit 2.26). The focus is on four manufacturers (Canon, Konica Minolta, Ricoh, and Xerox) with full production print product lines. Collectively, they received recognition from 170 dealers that said these manufacturers were the best out of the 212 dealers voting in this category. Of the other manufacturers that were identified (Epson, Kyocera, Sharp, and Toshiba), only Epson and Kyocera have at least one true production product, while Sharp and Toshiba currently only offer light production machines.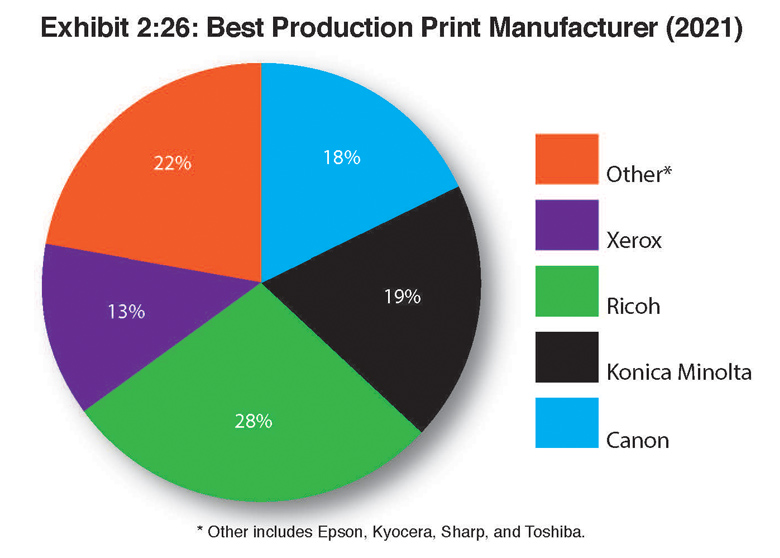 With the most dealers participating in the Survey (87), Ricoh captured the top spot with 28% of dealers identifying the company as "best production print provider." Of the 57 dealers selecting Ricoh, 14 (25%) identified another OEM as their primary A3 provider. That contrasts with Canon, Konica Minolta, and Xerox, where most of their support came from their own dealers. Ricoh earned the top spot in last year's Survey, with Konica Minolta finishing a close second. This year, it was not as close, with Konica Minolta selected by 19% of dealers, Canon by 18%, and Xerox by 13%. The remaining 22% of dealers identified Epson, Kyocera, Sharp, and Toshiba as the best production print provider.
It's safe to say that for the foreseeable future, Canon, Konica Minolta, Ricoh, and Xerox will continue to compete for recognition in this category. The remaining OEMs have a long way to build out their production-print product lines. Some such as Sharp and Toshiba have previously expressed no desire to do so, instead focusing on other product categories and technologies.
Access Related Content
To become a subscriber, visit www.thecannatareport.com/register or contact cjcannata@cannatareport.com directly. Bulk subscription rates are also available.