Industry legend Hunter McCarty retires after 42 years at RJ Young.
Earlier this year, we learned Hunter McCarty, executive vice president at RJ Young in Nashville, Tennessee, would be retiring in April. He has had an amazing career in our industry, and his success has mirrored the growth of the independent dealer channel.
With this milestone on the horizon, we simply couldn't pass up a chance to get his take on our business. When I interview someone, I want to know what makes them tick and what life experiences they are bringing to the table. When I spoke to McCarty, I dug right in.
McCarty attended Vanderbilt University, graduating in 1968 with a Bachelor of Science in health and physical education. In 1972, he earned a master's degree in health and physical education. McCarty's two degrees are certainly impressive, and they explain a great deal in terms of his significant communication skills.
He began his professional career in the academic world in 1968 as a physical education teacher. He spent eight years in the education field, climbing the ladder from instructor and basketball coach while building the athletic program with a course curriculum, to athletic director and dean of students at Aquinas College in Nashville. McCarty was also giving tennis lessons on the side to make some additional income.
Then, his career took a permanent and dramatic detour. McCarty chose to leave a promising career in education for the copier business. Plain and simple, he wanted to spend more time with his family in the evenings and on weekends. As many of us know, coaching and running an athletic program at the university level is extremely demanding.
His connection to the industry was the result of his side gig as a tennis instructor. One of his pupils was Jim Carroll, owner of American Duplicating, a Nashville Savin dealer. Over lunch, McCarty expressed his interest in leaving the education world to Carroll, who set him up with two interviews: one at an insurance agency, and one at American Duplicating. He was offered positions at both firms.
McCarty found the copier sales position more interesting because of his experience of using a large Xerox machine at the university. He just felt it would be interesting to sell people on the things a copier could do rather than selling life insurance. It was exactly what he was looking for—a regular weekly work schedule and no nights. It also offered him an opportunity to earn more money.
Fate took a turn when the person who hired McCarty at American Duplicating left the company for a position at RJ Young. That hiring manager reached out to McCarty and encouraged him to pursue an interview with RJ Young. With nothing to lose, Hunter said why not and met with the owner, John Crunk.
In the fall of 1977, Crunk invited McCarty to have dinner with him and Alex Williams. Williams, who had been a 3M sales rep before starting his own copier sales training company, had been hired by Crunk to train RJ Young salespeople. The course Williams designed was a five-day boot camp. At that time, RJ Young had six sales reps.
"John said, I have three open territories and offered me one of them, and he asked me to give him my decision," recalled McCarty. "It was an easy one to make. I liked John a lot and believed him to be a genuine person. That, plus the fact he was willing to make the investment in training. I said yes—with the time to begin in March '78—and left American Duplicating amicably."
In hindsight, it's clear that was the right decision. In his 42-year tenure with RJ Young, McCarty rose through the ranks from rep to major accounts, to sales manager, to vice president of sales, to chief operating officer, and finally, to executive vice president.
"One of the things that I admired about John Crunk was the way he transitioned the leadership of the company to Chip [John's son]," said McCarty. "It was very well done. Of that original group of six salespeople, two of us are still involved in the business, at least until January 2021."
I was interested in learning about McCarty's most rewarding experiences over his four decades in the copier business.
"Obviously, product transition, from e-stat (coated paper) to selling the Savin 750, introduced in the U.S. in 1975, and in 1978 the 77000 plain-paper copiers," he responded with much enthusiasm. "It was exciting, coated paper to plain paper—duplexing—it was a fun time to demonstrate—hit the prospects hot button and when the prospect gave you the buying signs, close. You could sell at least one or two in a week."
This was the era of what we called selling the "Hot Box." The next things that came along were reduction, enlargement, 11 x 17, and zoom capabilities that gave machines a feature-rich presentation capability that sales reps like McCarty could sell. He emphasized how much he enjoyed it.
"You do not see salespeople getting that buzz anymore," said McCarty. "That was the late 70's, early 80's, and everyone was doing well. It was the heyday of our business."
When asked about the businesspeople he most admired in and out of the business, McCarty was quick to mention John Crunk, one of the industry's early independent dealers and a mentor to McCarty. Watching Chip Crunk, John's son, grow up in the business and how he matured as an executive, is another colleague whom McCarty admires.
"Then, from a distance, everybody looked at Dan Doyle, who had his own way about him, and we watched how he worked the business," recalled McCarty. "I had great respect for Paul Shields [Copytronics] and Jerry Mathwig [Metro Sales]. These were dealers I looked up to."
He also cited Haley Gibbs from Modern Office, whom he described as a smart businessman.
"His dealership created the OMD ERP that was ultimately used by everyone in the business," said McCarty. "They were giants in the industry. I also have a lot of respect for Terry Newsom and Doug Pitassi of POA."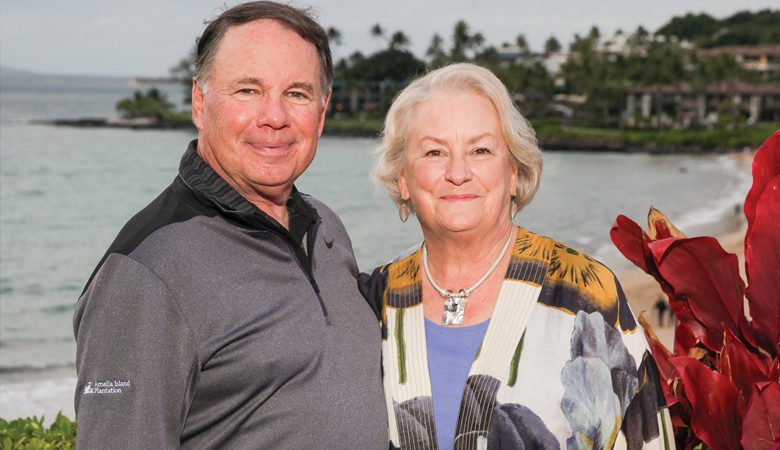 Above: Hunter McCarty and his wife Carol Lynn
With his retirement pending, I asked McCarty how he planned on spending his remaining years.
"Originally, we talked about traveling," he said. "We have been fortunate that we have been to many places on industry trips. We have traveled a little bit on our own and have three children, plus four grandchildren, ages 3 to 11. We want to spend more time with the family, and perhaps learn a new lifestyle. We hope to enjoy all that and more."
McCarty has some advice for his fellow dealers.
"There is going to be new normal in our industry with everything becoming upside down," said McCarty, commenting on the effect of the COVID-19 pandemic. "We must change from the box-seller mentality, which is still so prevalent in our industry. We are going to find more of our people working virtually, that is for sure."
He added, "Dealers are going to need to make a major effort in managed services—AV conference rooms, technology that brings people closer together. Whatever printing will be done, will be done by people working at home. We [dealers] must look at how we go to market—[taking advantage of] software and the cloud. The customer is going to want us to help them as we have done in the past. We need to respond to the needs of the new normal and build a business that will continue to provide a retention rate of 95%."
Some Final Thoughts 
The opportunity to interview McCarty was something I was hoping that I would get to do. When you talk to dealers like him, you learn a great deal about the business. His knowledge serves an important part of the foundation of the industry.
To say that we will miss him is a vast understatement. McCarty is well-liked and has led dealer councils for Canon, Ricoh, and others. He communicates clearly and makes a lot of sense when you ask him a question.
Over the years, McCarty has always been there to respond to our many questions. We can never thank him enough. We wish him and his lovely wife, Carol Lynn the very best. We hope they continue to enjoy their family and all that they hold dear.
# # #
Thanks for the Memories
Hunter McCarty has a been a strong leader at RJ Young for 42 years and a long-time friend to Ricoh.  Over the years, RJY and Ricoh have seen unprecedented growth with the partnership of Hunter and his teams.  We wish him all the best, and will miss him.  –  Jim Coriddi, vice president, Dealer Division, Ricoh USA, Inc.
Access Related Content
Visit the www.thecannatareport.com. To become a subscriber, visit www.thecannatareport.com/register or contact cjcannata@cannatareport.com directly. Bulk subscription rates are also available.