Exhibits 1.40-1.41
It should come as no surprise that the number of acquisitions in 2020 dipped considerably from the previous year as dealers were more focused on survival than growth. This year, 8.6% of dealers (33) reported 46 acquisitions (Exhibit 1.40). Compare that to the previous year when 14% of the dealers who contributed to the Survey reported 73 acquisitions. Please note that the acquisitions reported in our Survey are just that, and that plenty of dealers, including a few large ones that are extremely acquisitive, do not participate in our Survey.
As we have historically seen, most acquisitions were of smaller companies, with the average value of the acquired companies being $3.2 million, a slight increase from the $3 million reported last year.

We've been seeing the number of acquisitions trending downward even before 2020. The issue tends to be the quality of the dealerships available as compared to the quantity. And with many dealerships impacted by the pandemic, we expect the percentage of dealers looking to sell will increase, even though that is not something we currently ask participants directly in our current Survey. Another factor slowing the rate of acquisitions is that many of the more successful small- and mid-sized dealers targeted by larger dealers and private-equity firms are not for sale.
Private-equity money has been instrumental in reshaping the independent dealer channel, and we've seen a few acquisitions of dealers by private-equity companies in the first nine months of 2021, but still not as many as we've seen in past years. Private-equity money will continue to reshape the dealer landscape with Flex Technology Group, Marco, UBEO, and Visual Edge leading the pack, along with DEX Imaging, an organization now owned by private equity after its acquisition by Staples a few years ago. Prior to 2020, we've seen mid-sized and larger, well-funded dealers expanding their regional footprints through acquisition. Kelley Connect in Kent, Washington, and Gordon Flesch Company in Fitchburg, Wisconsin, are two of the most notable. As we continue with our CR-CONNECT Virtual Dealer Tours, we are finding that more of the dealers we interview have acquisitions on their minds.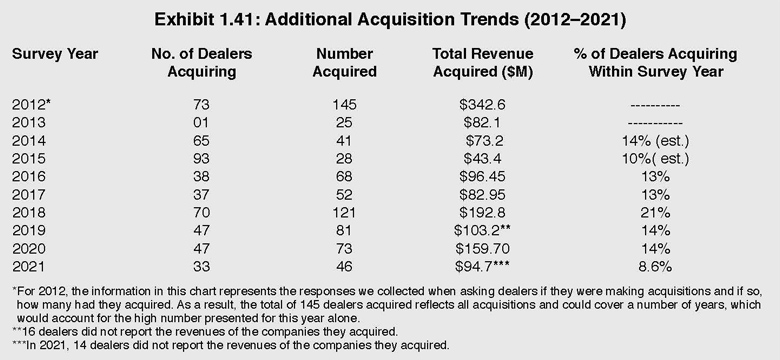 Last year, 49% of Survey respondents reported acquisitions were in their plans for the following year and beyond. This year, that percentage fell to 41% (159 dealers of our universe of 385 respondents). This decline is no doubt due to fallout from the economic impact of the COVID-19 pandemic. Just as they have in the last three Surveys, Canon dealers were most interested in acquiring (51%), followed by Ricoh (45%), Sharp (43%), Konica Minolta (41%), Kyocera (38%), and Toshiba (28%). All these percentages were down from the previous year, albeit Kyocera was down only 1%. We hear a lot of talk about contraction in the industry, not only on the dealer side but also on the OEM front, and Toshiba is one of the OEMs whose name comes up frequently in these conversations. We're hesitant to attribute that talk to why Toshiba dealers are now less interested in acquiring than last year, and we are more likely to attribute it to the size of many of the dealerships participating in our Survey.
Since June 2021, we have seen more announcements of acquisitions, and we expect to see those to pick up throughout the remainder of the year. We're not fooling ourselves and do not expect acquisitions to reach pre-pandemic levels in the near term, no matter how many dealers are looking to sell their businesses. Due diligence is a factor, and many buyers are not looking to acquire distressed assets.
Access Related Content
To become a subscriber, visit www.thecannatareport.com/register or contact cjcannata@cannatareport.com directly. Bulk subscription rates are also available.