Exhibits 1.32-1.35

The world of managed print services (MPS) is on the verge of a seismic shift. What was once focused on office printing is now expanding its boundaries beyond the traditional office to accommodate an increasingly remote workforce. Don't think twice that once this pandemic is over all these remote workers will return to their traditional offices. Some may, but more will split their time between the traditional office and home as employers realize that many of these workers are just as productive working from home as in the office.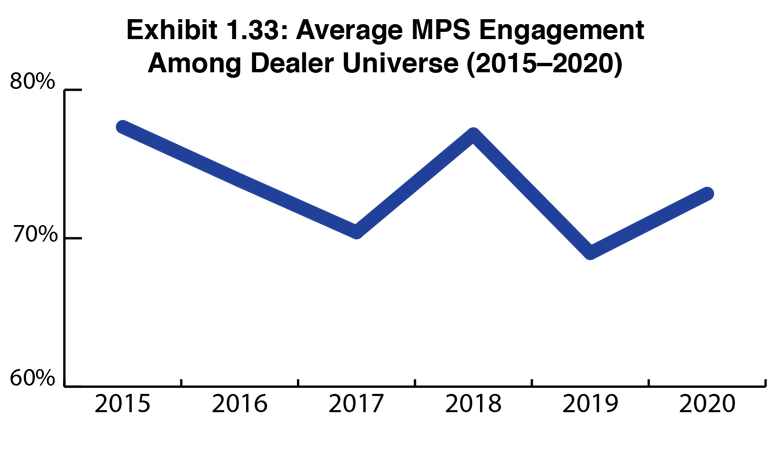 We have already seen companies acknowledge this new reality with introductions of new solutions aimed at managing remote printing. HP Inc.'s Remote Work Solutions Suite and GreatAmerica Financial Services Corporation's MPSelect print security program accommodate the needs of organizations with a remote workforce. Expect to see similar solutions come to market over the next 12 to 18 months with the intent of making it easier for dealers to implement a print management solution remotely and manage the information collected from these remote devices from a cloud repository.
Whether or not these new solutions will expand the reach of MPS remains to be seen. For now, our Survey reveals the average percentage of dealers offering MPS at 73% (Exhibit 1.34). That's up from 69% a year ago. That may not be as high as the 77% of dealers who reported they offered MPS in our 2018 Survey, but it is still a healthy percentage. We still believe that dealers who offer MPS will remain in the 70% to 75% range going forward. The aforementioned solutions geared toward managing remote workers' printing could be a factor in keeping MPS percentages at healthy levels.
Something that continues to trouble us regarding MPS is its many definitions. For some, MPS is a simple CPP program; for others, it's toner replenishment; and for still more, it's the complete management and tracking of devices within a customer's location or locations. The last definition best reflects how we define MPS. It would be nice, however, if the entire print and print management industries came together and sorted this out.
Dealer engagement in MPS by manufacturer (Exhibit 1.32) finds Ricoh dealers leading the way with 84%, followed by Canon dealers at 79%, Toshiba dealers at 76%, Konica Minolta dealers at 69%, Kyocera dealers at 67%, and Sharp dealers at 60%. Last year, Canon and Ricoh were tied for the top spot with 75%. The biggest deviations year over year were by Kyocera and Toshiba. The percentage of Kyocera dealers offering MPS fell 6%, while the percentage of Toshiba dealers offering MPS increased by 14%. Perhaps, this year's percentages offer a more accurate view of Toshiba dealers' MPS engagement. Toshiba was one of the industry's MPS trailblazers, and it is logical to surmise that those trailblazing MPS efforts would have filtered deeply into the company's dealer channel.
The percentage of Konica Minolta dealers offering MPS did not deviate much from last year (-1%) while Sharp dealers engaged in MPS was the same as in our 2019 Survey. We need to emphasize—as we historically have done throughout different segments of the Survey—that the shifts in percentages often reflect a different mix of dealers who are participating in the Survey compared to the previous year, as well as the number of respondents per OEM. Although we have seen dramatic increases and decreases in the number of dealers from each OEM that participates in the Survey each year, the past two years have been consistent.
Since we have been tracking revenues associated with MPS and managed network services (MNS), our Survey results in these two segments has been at odds with the findings of another office imaging industry consulting organization, one which we deeply respect. Overall, the percentage of revenues for MPS and MNS reported by dealers in our Survey tends to run higher than the revenues some other organizations report. As we noted in our introduction, our Survey is based on the honor system, while another organization has access to the dealers' financials, which provides more accurate results.
This year, the average percentage of revenues associated with MPS is slightly down from the 13% we reported last year, to 12.6%. According to this year's results, Kyocera dealers and Ricoh dealers derive the greatest average percentage of revenue from MPS at 16% and 15%, respectively. The rest of the pack from highest to lowest in average percentage of revenue attributed to MPS includes Sharp (13%), Canon and Konica Minolta (12%), and Toshiba (8%).
What continues to perplex us, is that there are still dealers that do not track revenues attributed to MPS. This year, that percentage is 13% (33 of 248 dealers). We can't help but wonder why every dealer is not tracking these revenues today, given so many software and tracking tools available to dealers.
We also asked dealers if their MPS revenues were up, down, or the same compared to the previous year. Fifty percent of respondents reported that revenues were up, 5% reported revenues down, and 45% reported revenues were holding steady. We expect to see a significant change in these numbers in next year's Survey.
For the record, we had three HP dealers participate in the Survey, and all offered MPS. Those three organizations reported an average percentage of yearly revenues associated with MPS at a substantial 26.6%. The one Lexmark dealer who participated in the Survey did not offer MPS.
Access Related Content
Visit the www.thecannatareport.com. To become a subscriber, visit www.thecannatareport.com/register or contact cjcannata@cannatareport.com directly. Bulk subscription rates are also available.