Exhibit 1.31
We are strong advocates of production print as a diversification opportunity, particularly as office print volumes decline. And with more employees working remotely than ever before because of the pandemic, that trend will only accelerate.
When asked whether they offered production print, 46% of dealer respondents in this year's Survey said they did. That's down 3% from last year's survey.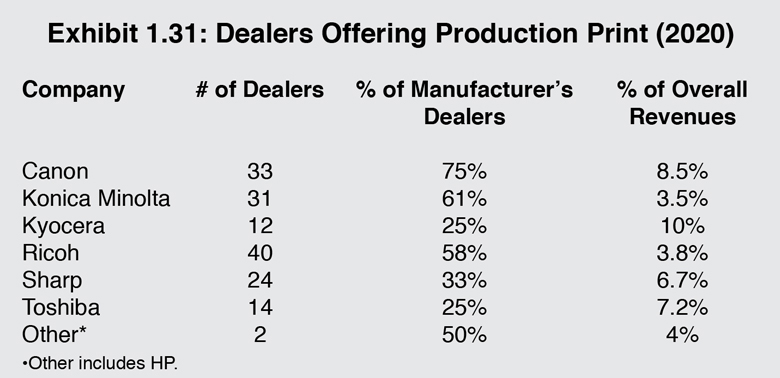 With Canon, Konica Minolta, and Ricoh firmly established as the top three OEMs among the Big Six in production print, we were not surprised to see dealers representing these three manufacturers in the top three with Canon at 75%, Konica Minolta at 61%, and Ricoh at 58%. The percentage of dealers representing Konica Minolta (-13%) and Ricoh (-8%) offering production print declined in this year's Survey, likely due to a different mix of respondents than the previous Survey. Rounding out the list was Sharp at 33%, up from 21% last year, and Kyocera and Toshiba, each with 25%. Last year, 38% of Toshiba dealers and 23% of Kyocera dealers said they offered production print.
We question the higher percentage of Sharp dealers who say they offer production print as the company does not offer what we consider a true production-print device. Rather, the company is focused on light production. That said, 12 of the Sharp dealers who carry production print are also aligned with Canon, Konica Minolta, Ricoh, and Xerox, potential sources for true production-print devices. Toshiba and Kyocera dealers that reported they offer production print also partner with those four companies. The Survey further indicates that Kyocera does not seem to be experiencing much traction with its recent high-speed, cut-sheet, inkjet production print machine, as only one dealer identified Kyocera as its source for production-print equipment.
This year's Survey also delved deeper into production print by tracking the percentage of revenues derived from this segment. Not all dealers separate production print hardware sales from traditional A3 and A4 hardware sales. For those that do, you can view the percentage of revenues associated with production print for each of the Big Six in the last column of Exhibit 1.31. The average percentage of yearly revenues for all dealers offering production print, including HP, is 6.27%.
We also asked, for the first time, if production print revenues were up, down, or the same in 2019. Fully 46% of dealers said that revenues were up, while only 10% said that they were down, and 44% reported they were the same. Because this is the first time we have asked that question, this year's percentages will serve as our baseline for future Surveys. With 90% of dealers reporting production print revenues up or holding steady, this percentage supports our contention that production print is a viable diversification opportunity.
Access Related Content
Visit the www.thecannatareport.com. To become a subscriber, visit www.thecannatareport.com/register or contact cjcannata@cannatareport.com directly. Bulk subscription rates are also available.