Exhibits 1.28-1.30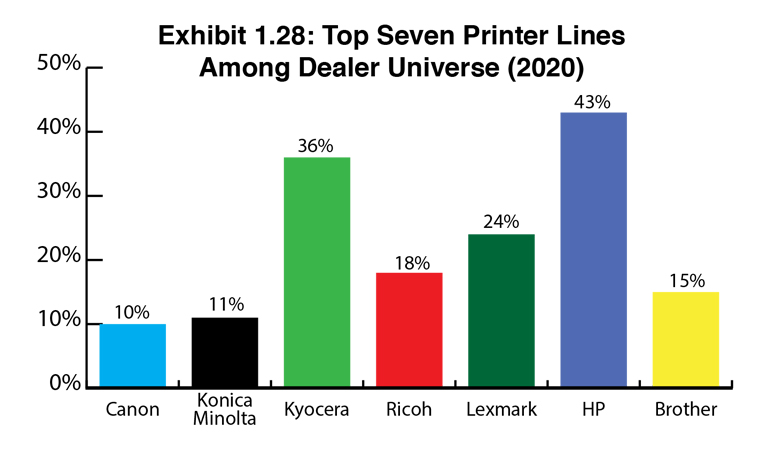 No matter how a dealer defines its MPS offerings, printers remain a critical element to the MPS equation. Even dealers that once avoided printers because of notoriously low margins now realize a printer line is a necessity. Our Survey reveals a dozen different printer options carried by this year's respondents.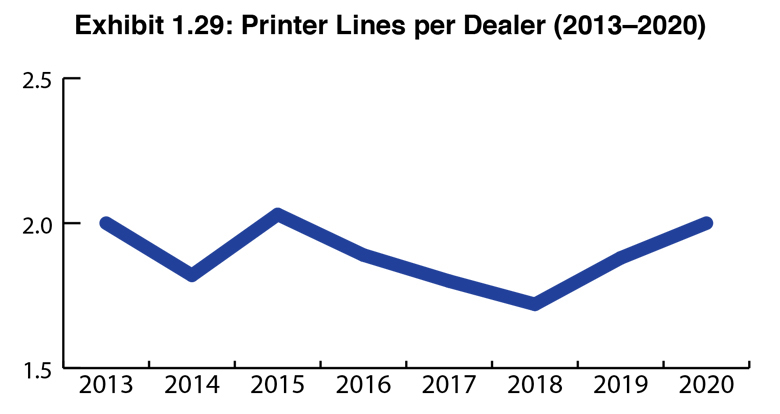 This year we saw a modest increase in the number of printer lines carried by dealers across the entire universe. This year, there were 612 printer lines listed (647 last year) across our total universe of 333 dealers who sell printers (9 dealers in this year's Survey do not sell printers.) for an average of 2.0 printer lines carried by dealer (Exhibit 1.29), up from 1.88 last year.

Exhibit 1.30 identifies the average number of printer lines per dealer by manufacturer for the Big Six. The top four positions were separated by percentage points with Canon (2.3), Ricoh (2.2), Sharp (2.1), and Konica Minolta (2.0) packed closely together. As we have done the past two years, we examined how these results aligned with how those three companies ranked in the number of their dealers offering MPS. If you turn to Exhibit 1.32 in the following Managed Print Services section of our Survey, you will see that Ricoh (84%), Canon (79%), and Toshiba (76%) had the largest percentage of dealers engaged in MPS, with 60% of Sharp dealers offering MPS.
When dealers are asked to identify their printer suppliers (Exhibit 1.28), HP continues to hold the top spot with 43% of dealers identifying HP as either their first, second, third, or fourth printer line. That's down from 45% last year. Kyocera trails HP in second place with 36% of dealers identifying the company as one of their printer suppliers, up from 34% in last year's Survey. Lexmark maintained the status quo with 24% of dealers carrying that brand, an identical percentage to last year. Ricoh was the fourth most popular supplier of printers with 18% of dealers carrying that brand, a 2% increase from last year. This year, we saw Sharp gain traction as a printer supplier, with 17% of dealers selling Sharp printers compared to 9% last year. We believe the company's focus on MPS has inspired more dealers to add the Sharp brand to their printer offerings.
Brother continues to make inroads as 15% of dealers carry that brand, compared to 12% a year ago and only 6% in our 2018 Survey. We attribute this in part to its partnership with Toshiba, as well as an aggressive effort to capture the mindshare of more dealers. This past August, we attended a virtual Brother event for press and analysts, which underscored the company's commitment to expanding its presence in the independent dealer channel.
Other manufacturers identified in the Survey that do not appear in Exhibit 1.28 include Konica Minolta (11%), Canon (9%), Epson (4%), Xerox (3.6%), OKI (2.4%), and Toshiba (1.5%). We still believe Epson is a manufacturer worth watching in the channel with its combination of inkjet printers and MFPs. Epson saw a modest 1% increase in dealers carrying the brand compared to last year. Whatever traction in the channel it may have had coming into 2020 may be slowed down this year because of the pandemic, but we will continue to monitor how the independent dealer channel embraces the Epson brand going forward.
Access Related Content
Visit the www.thecannatareport.com. To become a subscriber, visit www.thecannatareport.com/register or contact cjcannata@cannatareport.com directly. Bulk subscription rates are also available.